Dave Gunning (CAN) – CANCELLED
Sun 15th November 2020
Sorry, Dave's tour has been cancelled. We'll see if we can bring him over in 2021, we'll contact all ticket buyers directly.
Doors 6.30pm, show starts at 7.30pm
One of our favourite artists from Folk Alliance New Orleans was this brilliant and engaging singer songwriter from Nova Scotia, Canada.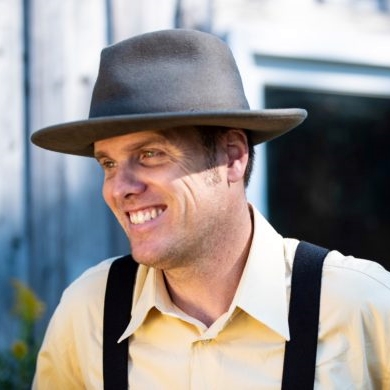 Dave Gunning (CAN)
Dave Gunning is best defined as a master craftsman. Over the course of 23 years and 11 earlier albums, the Nova Scotian folk singer/songwriter has diligently sharpened his skills, developing into a poetic storyteller and emotionally convincing singer with few equals.
The fruits of those labours are now vividly on display in his latest collection of songs, Up Against The Sky. The relaxed and intimate feel of the record reflects its method of creation. "I focused a lot on tones and the vibe, rather than strategic parts on this one. Many of these tunes were sung and played at the same time, and that prevented me from being able to go back and edit, forcing a little more honesty."
The sessions in Dave's home studio were co-produced by Gunning and Jamie Robinson. Gunning contributed the bulk of the instrumentation, including all the bass parts and even drums on every song but one. Musical guests include his close musical comrade J.P. Cormier on fiddle on 'Celebrate The Crop' and Andrew Alcorn on horns on 'In The Time I Was Away', while the Atlantic String Machine added subtle yet atmospheric strings on four tracks.
Along with richly-deserved peer respect, Dave Gunning has earned a shelf full of music industry hon-ours. That tally currently stands at eight East Coast Music Awards and two Canadian Folk Music Awards, plus a 2012 Juno Award nomination in the Roots & Traditional Solo Album of the Year category for his album … a tribute to John Allan Cameron, a compelling homage to another of Dave's Maritime musical heroes.
His songwriting skill has also been internationally recognized, with tunes scoring victories and high placings in major international songwriting competitions. As a fervent hockey fan, Dave was also thrilled to win the CBC's hotly-contested Hockey Night In Canada Song Quest in 2014 with 'A Game Goin' On', a co-write with David Francey. Gunning has also remained in demand as a producer working with many artists.
For now, though, his concentrated focus is on Up Against The Sky. The record, and all that's yet to come from this compelling artist, can be looked forward to with great anticipation.
'Truly, what makes Gunning so remarkable as an entertainer is his rare gift to be able to befriend the audience as a whole from the stage throughout the course of the concert. And, indeed, you do feel as though he's as good of a friend as any after a night of songs, stories and lighthearted laughs.' – The Guardian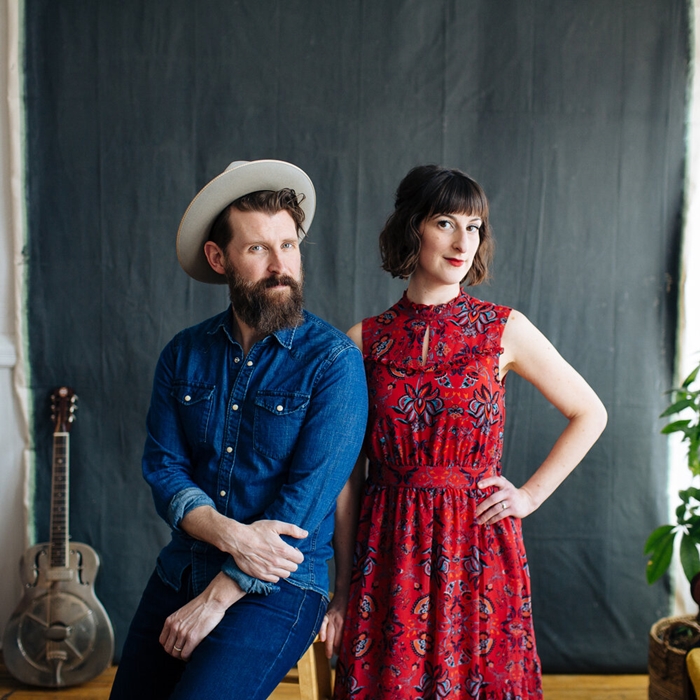 Tomato Tomato
Power duo, Tomato/Tomato perform an eclectic mix of folk and country that will have you clapping your hands, stomping your feet, and playing your air-washboard with reckless abandon! Their live show includes jaw dropping multitasking, dynamic guitar arrangements, and soaring vocal harmonies. Add in compelling songwriting and it's an unforgettable musical experience.
After a build-up of single and video releases (premiering through acclaimed publications, No Depression and The Bluegrass Situation), they dropped their hotly anticipated album, 'Canary in a Coal Mine' in March 2019. They also signed with publishers, Sound of Pop and distributors, MGM Metropolitan Groove Merchants. The album reached #1 on Earshot's folk/roots/blues charts and was added to an official Spotify playlist.
Having toured across Canada, England, and Australia with a collection of award nominations under their belts, this high energy duo will have you on the edge of your seat whether you say 'Tom-ay-to' or 'Tom-ah-to'!