Friday 27th October 2017, The Live Room, Caroline Social Club, Saltaire. Still pursuing their 'hit list', Ron and Hilary brought two artists who have featured on said list. Brooke has been on the it for some while, Blair since Kansas last year (more artists to come from the Kansas trip in the coming months!).
Brooke was a new find for me. Ron turned during the sound check with one of those 'wow' looks which just about summed up the performance. Her music can be described as intricate, sparse, beautifully sensuous and very personal. Using a range of techniques such as drum machines, vocal and guitar loops to build an at times spellbinding, hypnotic sound that was a sheer delight to the ears. Her harmonies with herself were a real delight. Even persuading the audience to contribute to a sing along in Merge and her closing song; very much appreciated by the crowd.
Blair was far more of a known quantity to me, having seen him several times before, though not as often now, as he lives in that there London. It does allow him to see his favourite team Spurs more often though, something he seems to take delight in.
One of a group of very accomplished young excellent guitarists/ singer songwriters that the UK seems blessed with at the moment, Blair entered the stage in true Eric Morecambe style (ie through the curtains). The only other artist to have done that I can recall is Chris Wood. Blair seems to be building on the strength of his 2016 3rd studio album, 'Gilded'. Switching between an acoustic and a new electric Gretsch, he performed many new, as yet unrecorded songs from his next release. His dexterity on both guitars quite staggering and effortless.
From the strength of Friday's performance, both his songwriting and guitar work are going from strength to strength. An engaging, warm personality on stage, Blair brought Brooke on stage for the encore, to bring another great night at The Live Room to a close. Canadian duo Harrow Fair play on Friday November 3rd.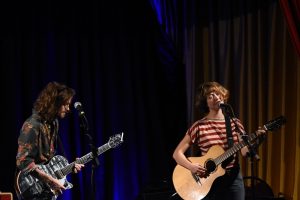 Review and photos by Keith Belcher