The Live Room, Caroline Street Social Club, Saltaire, Sunday 22 October 2017; having watched and listened to the sound check, I knew the audience were in for a real treat.
A voice to stop you in your tracks is an overused cliché but when referring to opening act Emily Mae Winters it really applies, and I do mean that in a most complimentary way. Ranging from a delicate whisper to a fully-fledged growl with no discernible effort, creating a wide variety of moods within the songs. Competent guitar work accompanied most of her self-penned songs, the exception being an absolutely beautiful acapella 'She Moves Through The Fair', which had the audience utterly entranced and fully demonstrated the power and subtlety of both her voice and interpretive skills. Definitely a lady to watch out for.
Hannah Sanders and Ben Savage have been long sought by The Live Room. The wait was worth it. They were, quite frankly, sublime. Ben playing guitars and dobro, Hannah, guitar and mountain dulcimer. Sharing a single, very impressive looking microphone, both sang lead vocals and on occasion some of the most delicate and delightful harmonious merging of voices The Live Room has witnessed. The Live Room audience is usually an attentive and listening audience but last night, as well being able to hear a pin drop, I found myself actually holding my breath at times. I don't think I was alone in this, the beauty of the music was that good.
They opened with a cheery up beat song about death, 'Ribbons and Bows', a Richie Stearns song that features on their CD followed by one about insanity, 'I'll Weave My Love A Garland' from Hannah's solo CD 'Charms Against Sorrow'. As well as enchanting music, they had an engaging manner with the audience throughout. Set 1 finished with 'Awake', the audience joining in a sing along, Ben's husky voice leading then joined by Hannah.
Set 2 opened with another cover, Woody Guthrie's song 'Way Out Yonder In The Minor Key', the music for this written by Billy Bragg. No criticism of Billy, but in his wildest dreams he couldn't make the song sound like Ben and Hannah did. They have just released the song as a single. The oh so delicate 'The Sun Is Gonna Rise Again' followed, with Hannah's voice soaring and circling around the room.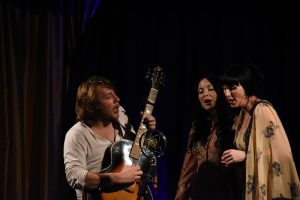 And so it continued for the rest of the night, a mixture of their own material and covers. One notable cover was their two-part dialogue in Dylan's 'Boots of Spanish Leather'. It's strange that you don't hear the song done that way more often. Their covers all had their own individual stamp. Two sing-along encores closed the show 'Oh, Yes I'd Climb The Highest Mountain' and finally welcoming Emily Mae Winters back on stage 'Deep Blue Sea'. The audience would have quite happily listened all night. Catch them live if you can.
Review and photos by Keith Belcher