Just about recovered from Friday night's extraordinary night with Lucky Peterson. What an incredible night. It was like a bomb going off in Caroline Club, such was the energy created by him and his incredible international band. Guitarist, Kelyn Crapp from San Francisco, Parisian trumpeter, Nicolas Folmer and French-based, African-born drummer, Ahmad Compaoré helped Lucky generate enough power to light up a city. Add to that, a startling guest spot from Lucky's wife, Tamara Peterson on vocals, it was one of those nights that will last forever in the memory.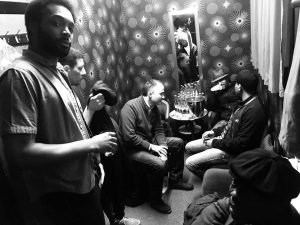 We've had some great gigs here at The Live Room over the past five and a half years, but this one must surely be up there vying for the best ever. We heard a dizzying range of music from the funky jazz of Lucky's mentor and subject of his current album, Jimmy Smith, through to some blistering blues with Lucky on slide guitar and on to powerhouse soul and funk of Wilson Pickett and The Temptations.
Stunning solos from all musicians were met with spontaneous rounds of applause from the packed crowd, none mores so than Lucky himself on his huge Hammond B3 and whirring Leslie speaker. There are some fine digital keyboards out there now, but none can match the genuine B3 for its huge sound – that growl and scream in the hands of a true master, who not only played some blistering runs but was also supplying all the bass via the foot pedals!
We should also mention that Lucky not only held the audience in the palm of his hand for the entire night, but that he has one of the greatest soul voices you'll ever hear.
As we said: what an incredible night! We must do it again.