Thursday 17th December 8pm
Set list by Keith Belcher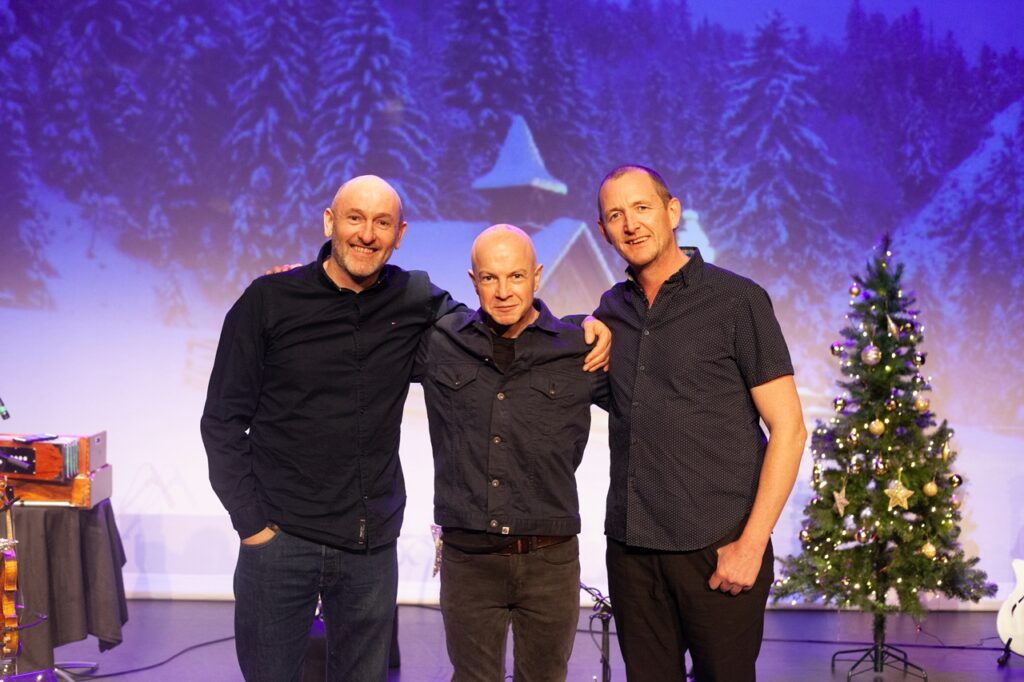 McGoldrick, McCusker & Doyle
17th December 2020
Virtual Show
Intro
Silent Night Set
Bushes Of Jerusalem
Once In Royal David's City
Christ Church
Curoo, Curoo
Oh Holy Night Set (Leaving South Uist/Lochaber Badger)
The Holly & The Berry Set
Willie Taylor
The Wishing Tree Set
Away In A Manger Set
Mike, John and John Chat with Simon Thoumire
Michael McGoldrick, John McCusker and John Doyle have recorded a very special Christmas show to be streamed into the homes of people the length and breadth of the UK. Linking with venues and festivals from the Highlands of Scotland across the sea to Belfast and on to the far south of England, the trio will bring Christmas cheer directly to audiences in their own homes.
The trio are delighted to present their inaugural Christmas concert featuring a diverse mix of classic Christmas melodies, traditional and contemporary songs and tunes. Whether performing material such as the medieval based song Curoo Curoo, John Shehan's hauntingly beautiful melody Christchurch or the majestic O Holy Night, their decades of renowned musical expertise creates a magical and lasting impression.
Best known for their work with Bob Dylan, Mark Knopfler and BBC Transatlantic Sessions as well as artists including Solas, Capercaillie and Kate Rusby, the multi award winning trio have recorded a 45 minute set full of Christmas tunes as well as some firm favourites.
Each show is different and at the end, questions submitted from the audiences of each venue and festival make for some unique moments. All ticket buyers will be given the opportunity to submit a question for their own unique event.
Michael McGoldrick explained "We felt we wanted to connect with people at this time of year and had been looking for a way to do this. This November we were supposed to be performing in Switzerland and the Czech Republic and John Doyle had flown over from his home in the US. The tour was cancelled at short notice and so we thought, this is our chance to use the time to record something special"
Ticket sales will be split between the artists and the individual venues/festivals, so you can be confident that your purchase will not only support McGoldrick, McCusker and Doyle at Christmas, but also your local venues, promoters and festivals.
What happens now:
Go to https://myplayer.uk/christmasathome and find the date below that you want to buy a ticket for. Once you have purchased your ticket you will receive an email with information about how to watch the show in the comfort of your own home. All concerts 8pm. Each ticket will allow one more screening within a 7 day period. Tickets are only valid for one device at a time and cannot be shared.