Sunday 14th April 2019
Review and photos by Keith Belcher
Sunday 14th April 2019, The Live Room, Caroline Social Club, Saltaire. A long overdue first visit from Megson. Currently attracting rave review for their 9th album CONTRADICSHUN Megson are Stu and Debbie Hanna, originally from Teeside now resident in Cambridge. They named themselves after Debbie's family dog .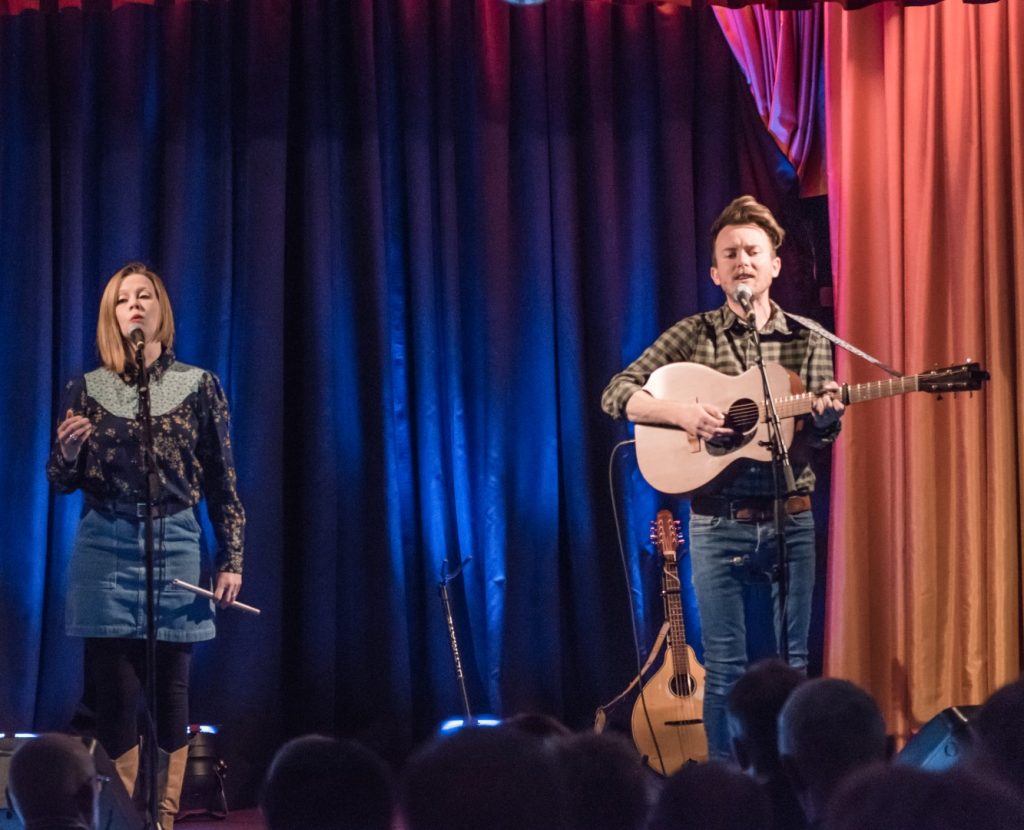 Still retaining their Teeside accents and even still supporting Middlesbrough (someone has to!!) they manage to create folk songs that are topical and meaningful leaning heavily on their Teeside roots. They did slip in a Cambridge based song with Barrington Judo Club, They are very gifted vocally alternating lead vocals and at time combining for superb harmonies. Stu also plays guitar, banjo and mandolin and Debbie plays accordion and whistles. On this tour Stu has added a stomp box to his collection of instruments. Their songs are stories told in that increasingly rare manner of being clearly sung and understandable, always a great thing for song writers to achieve but so many don't.

Artists at the Live Room are always introduced by Hilary. More venues should do the same. It enables the crowd to turn off their phones, put away their crisps, stop their chat and listen. From an artists point of view they don't have to shuffle on stage waiting for the sound/lights guy to turn off the house music and turn up the stage lights and the crowd to notice their presence. Usually Hilary knocks on the dressing room door but tonight the band weren't there they were sitting at the side waiting. It caused a humourous slight confusion to the start of the show.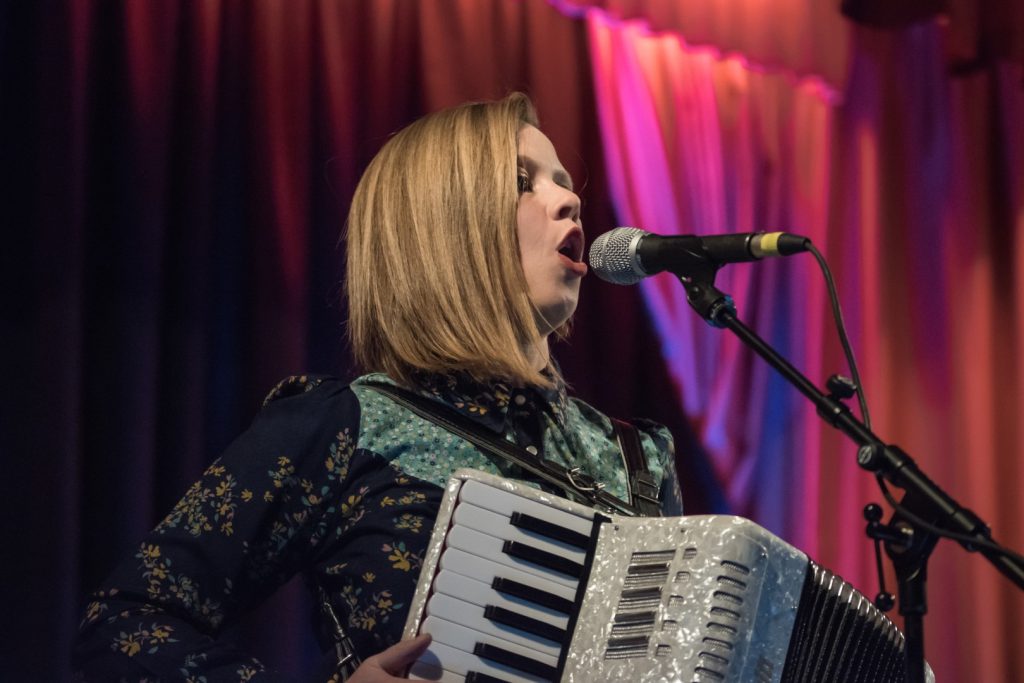 The first set consisted of songs from the latest album. Opening with Are You Sitting Comfortably , a well known catch phrase form Watch With Mother (you need to be of a certain age!!). It's a sombre , quiet , introspective song dealing with humdrum domesticity, lead vocals were alternated to Stu's guitar . A complete change of pace for Contradicshun featuring Stu on mandolin and Debbie on accordion. One of two 19th century songs on the album, obviously not written by Megson. Other songs in the set covered topics such as immigration, martial arts clubs, conflicting memories , songs of sobriety and drinking with Stu creating the image of people skipping around Newcastle after a drink, for some reason he quoted Newcastle as the template for the lack of sobriety…. The set finished with a "night visiting song" . At the end of set one I heard the person next to me say "What a wonderful voice she has". I would say the same applied to Stu's voice and their harmonies were more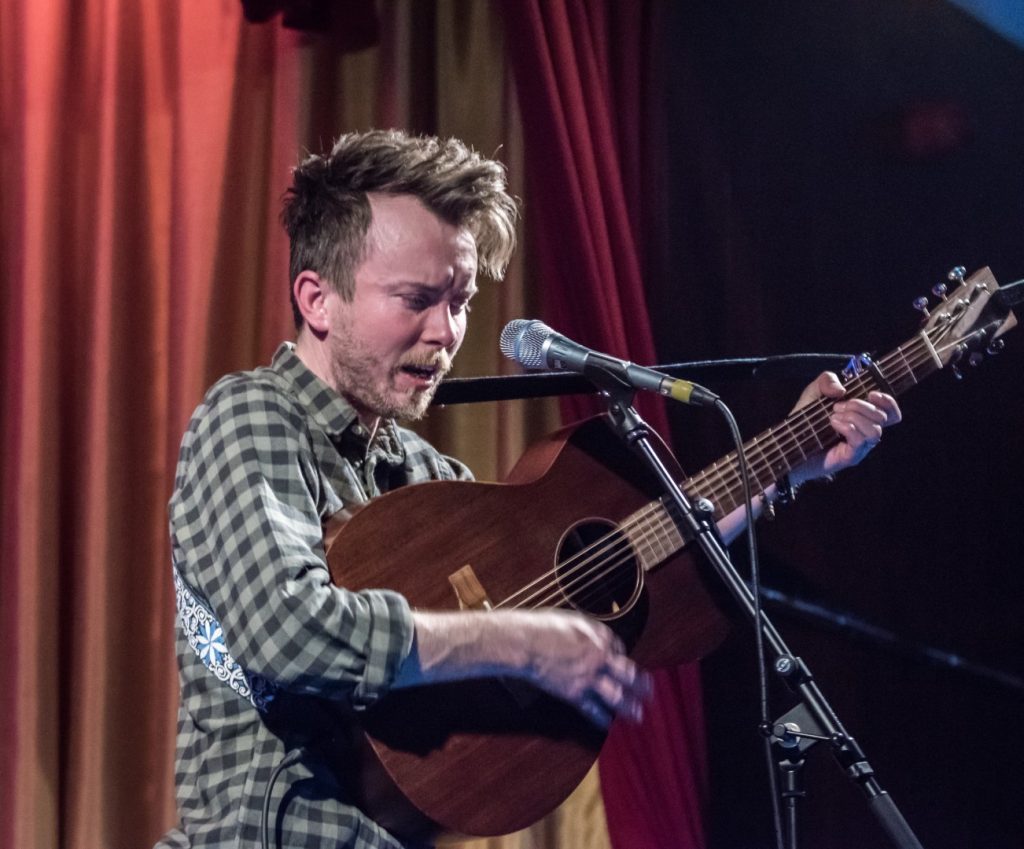 Set 2 opened with 4 songs from their 2016 album GOOD TIMES WILL COME AGAIN. The first two telling of steelworks in the North East followed by The Bookkeeper, a love song for accountants. It reminds me of the Chris Wood/Hugh Lupton song One in A Million (and from me that is serious praise). The still topical and highly relevant Generation Rent tells the story of the hopelessness of a generation who will never be able to afford to buy their own properties.
As with many of their songs they introduce humour to balance the comments on current reality. They even managed with The Long Shot from the album of the same name to make a song of beauty and humour inspired by Middlesbrough Football team from the album of the same name.
The final song of the current album A Week In The Caravan also finished the set. As was expected and deserved they were called back for an encore of When The Good Times Roll, they asked the audience to sing along and sing along they surely did, Stu ramped up the pace on guitar throughout. A great finish to a great show. On their showing and reception on Sunday night I imagine their next visit will not take as long to arrange as this one did.