Gigspanner Big Band
Sun 1st December 2019
N.B. All Chorus seat reserves now taken!
Here is another coup for TLR, one of the handful of annual appearances by a genuine supergroup of the folk world. The coming together of two of the finest bands in the UK on one stage, and tonight, it's ours!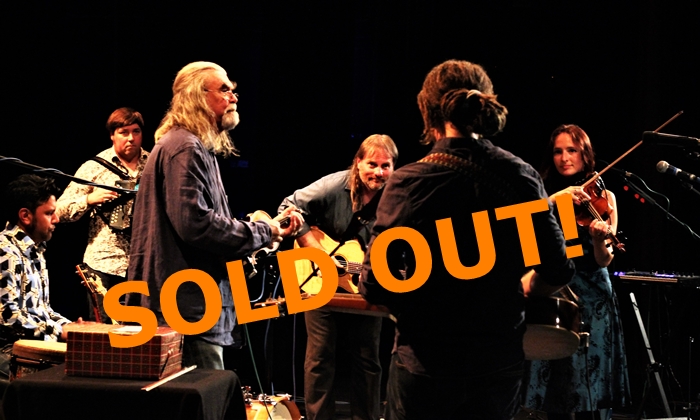 Gigspanner Big Band
'They don't play together very often, but when they do it's spectacular' - 5***** R2 Magazine
'True creativity speaks to the heart and entertains the mind with fresh ideas and images, and what brilliant entertainment this is. Knight has a knack for identifying the essence of a tune or song, pulling it apart and presenting it back to you in a way that surprises and refreshes. Hannah Martin and Phillip Henry simply make sublime music that has an otherworld of undercurrents and motifs woven through it. Put them all together and some alchemical magic occurs' - 5***** Spiral Earth
Periodically, the pairing of two acts, each with their own unique identity, produces an electrifying force that is even greater than the impressive sum of its parts.
As a trio, Gigspanner, formed by fiddle player Peter Knight (ex-Steeleye Span), has established a reputation as one of the most genuinely ground-breaking forces on the British folk scene, inspiring Maverick magazine to write 'Gigspanner are pushing at the boundaries, expanding the possibilities and in the process making some of the most beautiful music the genre has to offer' 5*****
BBC Folk Award winners (Best Duo) Phillip Henry and Hannah Martin are described by The Guardian as being 'Subtle, bravely original...a combination of virtuosity, intensity and charisma'
Their appearances together as the Gigspanner Big Band are a rare, but highly sought after affair, thanks to performances of dazzling musicianship and arresting on stage chemistry.
Taking self-penned material along with music rooted in the British Isles and beyond, with the flick of a bow, a finely chosen chord or slip of a beat, they produce richly atmospheric arrangements layered within a wealth of subliminal musical influences 'with notes seemingly plucked from the stars and rhythms from the equator' - Spiral Earth.