Hilary's 70th Birthday Celebration featuring The Maes (AUS)!
Thu 19th September 2019

N.B. This show is at The Delius Centre 29 Great Horton Rd, Bradford BD7 1AA – Chorus Members Only Release, non members TBA!
It's Hilary's 70th birthday today! And we wanted to do something very special to celebrate. Unfortunately, the club wasn't available, but one of her all-time favourite bands, The Maes from Australia, was. As was the Delius Centre, housed in the German Church in Bradford City Centre, so that's where we're holding this lovely and intimate celebration. The capacity of the church is only 125, so that's why we're giving our members the first chance to come along and give Hilary a lovely 70th birthday party. If you saw The Maes when they were here in June last year, you know just how special they are. The Maes are sisters, Maggie and Elsie Rigby on vocals, guitar, banjo, mandolin and fiddle plus their friend, the wonderful Monique Clare on vocals and cello.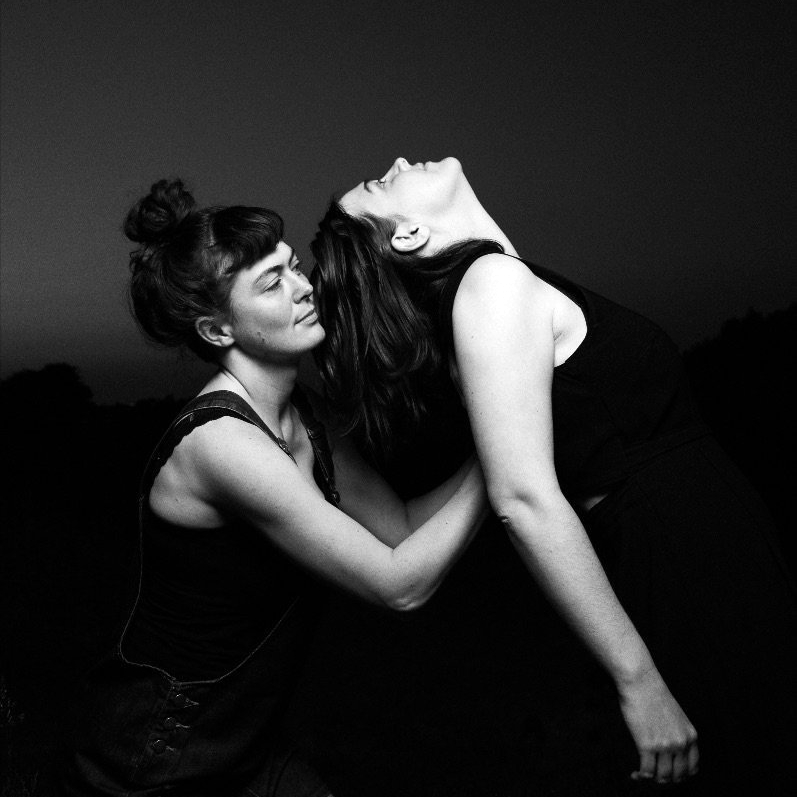 The Maes
Multi-award-winning Melbourne contemporary folk outfit, The Maes (formerly The Mae Trio) is the brainchild of sisters Maggie and Elsie Rigby. Born into the arms of the Folk music community in Australia, both sisters were side of stage at their first folk festival when they were four weeks old and have been absorbing and exploring folk music since that time.
The Maes' latest, self-titled record released in April 2019 is a return to the sisters' folk music roots. Gentle, intimate and conversational, the album is an unadorned showcase of Maggie and Elsie's superb songwriting as well as honest, relaxed and stunning vocal and instrumental performances.
The album was born on a two-month tour of Europe and North America in 2018 shortly after the band changed its name from The Mae Trio to The Maes after the departure of founding member Anita Hillman. The sisters started the tour with a recording session in Canada, intending to make a four track EP. Fired up by the changes in the band, inspired and bursting with new music they kept looking for new recording opportunities as the tour progressed. By the end of the tour they had two tracks from Nova Scotia, Canada, two songs from the Isle of Mull in Scotland, two songs from different studios in Ireland and four songs recorded in their home town of Melbourne.
The album features production from top roots music producers from around the world including, Daniel Ledwell (Oh Pep!, Jenn Grant, Good Lovelies), John Fitzgerald (Christy Moore, Crooked Still, Lisa Hannigan) and Brendon Love (Teskey Brothers). The album also features cello and harmony vocals by award-winning Brisbane musician, Monique Clare who regularly tours with The Maes.
"This is the album we never really intended to make" says Maggie (banjo, guitar, vocals) "we were struck by the ease and serendipity with which it came together, like it was just ready to come out of us. I love this record, I've never made anything that feels so comfortable and honest. I also reckon it's our strongest collection of songs to date".
"We were deep into making this album before we knew we were making an album. There is a beautiful absence of pressure and self-consciousness that happened as a result; like the opposite of having a camera pointing at you while you arrange your face into a 'normal and happy expression'. We were truly playing in the studio. In a few senses." ~ Elsie (mandolin, violin, vocals)
Their latest release follows on from their sophomore album, Take Care Take Cover, which was recorded in Nashville by Grammy nominated producer/engineer Erick Jaskowiak (The Waifs, Crooked Still, Darrell Scott) and featuring some of that music town's finest roots musicians. The record won them the Age, Music Victoria Folk/Roots Album of the Year in 2017 as well as rave reviews in Australia and overseas.
Since 2014, The Maes have been full time touring in Australia and overseas, winning over audiences with their striking songwriting, intricate instrumental arrangements and stunning vocal harmonies. The band's touring history includes a list of some of the worlds largest and most prestigious music festivals such as, the Woodford and Port Fairy Folk Festivals in Australia, The Edmonton and Vancouver Folk Festivals in Canada, Cambridge Folk and Celtic Connections festivals in the UK and the Telluride Bluegrass Festival in the USA.