Hot Club of Cowtown (USA)
Fri 22nd April 2022
Doors 7pm, show 8pm – this is a full capacity show.
N.B. We are a club and this show will be half-standing. What we may lack in comfort, we more than make up for in atmosphere and intimacy! There will only be around 100 seats available. We reserve up to 50 of these for TLR Chorus members in order of purchase. All other seats are first come first served. If you have disability access needs, please contact us and we will arrange for access for you (see the About Us page for more details)
The TLR debut show for this amazing trio!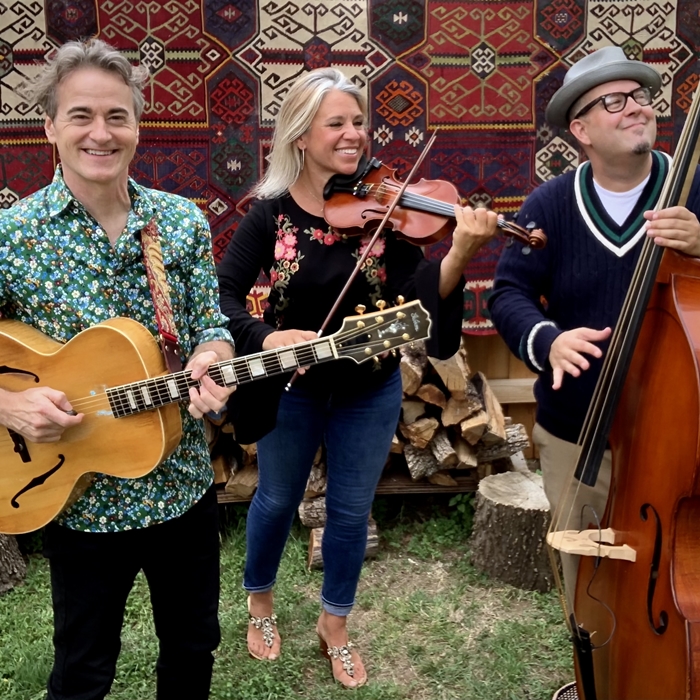 Hot Club of Cowtown (USA)
The hot jazz and Western swing trio Hot Club of Cowtown, from Austin, Texas, blends the traditional 1930s Western swing of Bob Wills and Milton Brown with European hot jazz traditions from the same era. The band writes its own material and also reinterprets everything from hoedowns to American songbook standards in its unique, original style.
Inducted into the Texas Western Swing Hall of Fame in 2004 and voted Ameripolitan Western Swing Group of the Year in 2015, the Hot Club of Cowtown has toured with Bob Dylan and represented traditional American music throughout the world, from Azerbaijan to the Sultanate of Oman, on behalf of the U.S. State Department. After fourteen well-regarded studio albums and a devoted global following, it is the relentless passion of the band's live shows that remain its continuing trademark.
"This trio's stylistic genesis--as well as title--stems from the realization that the great heritage of strings (guitars and violins) originates mutually with the Manouche gypsies of France and the no-less virtuosic hillbilly pickers and fiddlers of Oklahoma and Texas....the threesome of high- heeled violinist Elana James, guitarist Whit Smith and bassist Jake Erwin showed from the beginning that jazz and country music could exist together on the same page, a highly commendable achievement if ever there was one."
—Will Friedwald, Wall Street Journal