Jocelyn Pettit & Ellen Gira (CAN & USA)
Fri 17th February 2023
Another TLR debut show with three fabulous musicians and singers from Canada, USA & Scotland.
Doors at 7, show at 8. All seated.
Blazing Celtic Trio: Jocelyn Pettit & Ellen Gira, with Miguel Girão
Jocelyn Pettit & Ellen Gira are a dynamic North American fiddle & cello duo. Their new album, All It Brings, is hailed as "dazzling" (FolkWorld), and "simply exquisite" (Folk London). They will be joined by Glasgow-based guitarist, Miguel Girão, for a rhythmic trio sound. Catch them on their UK tour for an evening of high-energy tunes and soulful songs, with nuanced fiddle-cello-guitar interplay, vocal harmonies, lively stepdancing, and French Canadian foot percussion.
'Wonderful, captivating… the most joyous and uplifting album in the entire galaxy.' – FolkWales Magazine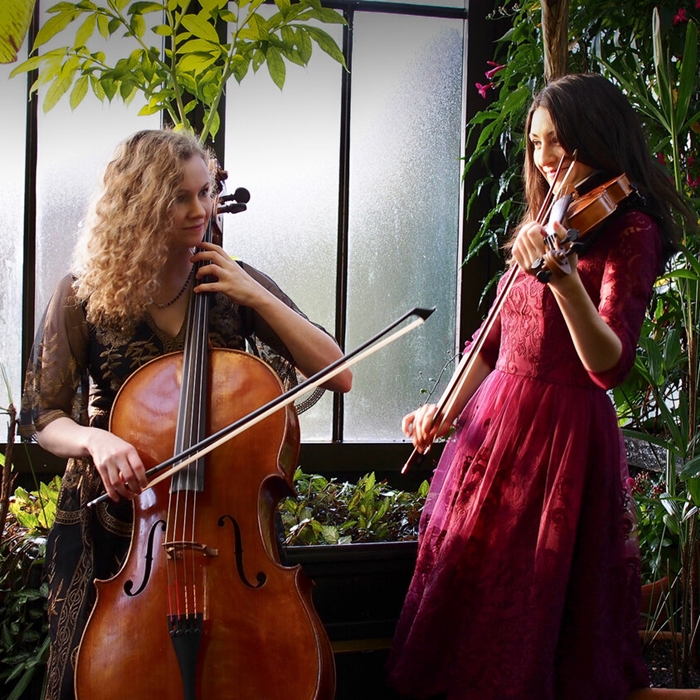 Jocelyn Petitt & Ellen Gira
From Canada and the USA, Jocelyn Pettit & Ellen Gira are a dynamic fiddle & cello duo. Fusing traditional and contemporary music styles, they create a powerfully uplifting and soulful performance, weaving a rhythmically driving and textured sound. Complemented by lively stepdancing, they bring life and fire into original tunes, songs, and high-energy repertoire from Scotland, Ireland, North America, and Scandinavia.
Each an accomplished musician in their own right, with extensive performance history and accolades, Jocelyn & Ellen first joined forces in Scotland in 2018. Since then, the duo has been gracing stages and captivating audiences in both North America and the UK. They have been featured in live broadcasts on BBC Radio 3 and performed at festivals including Celtic Connections (UK), Harrison Festival of the Arts (CAN), Sutton Traditional Fiddle Festival (CAN), New World Festival (USA), and Northwest Folklife (USA).
From the West Coast of Canada, Jocelyn Pettit is a vibrant fiddle player, stepdancer, and singer. As a 4-time Canadian Folk Music Award Nominee (including 2023 "Solo Artist of the Year"), and Western Canadian Music Award Nominee, Jocelyn has released three albums, including her latest, Wind Rose. She has toured across Canada and internationally, appeared on national television and radio, and performed with The Chieftains.
From the East Coast of the USA, Ellen Gira is establishing herself as one of the most versatile
cellists in the Scottish and American Traditional music scenes. Currently based in Glasgow, she
has performed throughout North America and the UK, collaborated and recorded with numerous acclaimed traditional musicians, and is undertaking doctoral studies in Trad Cello Pedagogy at the Royal Conservatoire of Scotland.
Originally from the Portuguese Midlands, and now based in Glasgow, Miguel Girão is an
accomplished guitarist exploring musical traditions from around the world. Moving between solo and collaborative contexts, Miguel's dynamic playing is firmly rooted in the traditional styles of Ireland and Scotland, with classical and contemporary influences. His solo EP, The Courtly Seam, was released in 2022.