Little George Sueref & The Blue Stars
Sun 27th March 2022
We don't do too many blues shows here at TLR, so we're very excited to have at last secured the best blues singer and harp player you may never have heard of – Little George Sueref! We've loved his unique voice since we first got hold of a copy of his eponymous CD about 20 years ago, so come along and see one of the UK blues scene's best kept secrets.
Doors at 6.30pm, show at 7pm, all seated.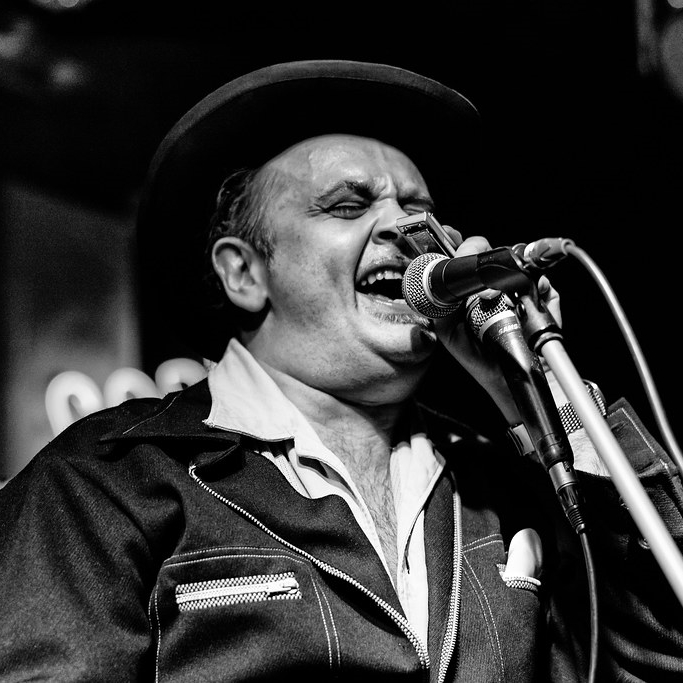 Little George Sueref & The Blues Stars
Born and brought up in Cardiff of Greek parents, Little George moved to London to seek out a career path in music. He was deeply inspired by the classic down-home roots blues of Jimmy Reed, Snooky Pryor, J.B. Hutto and Muddy Waters, as well as the more soulful sounds of Johnnie Taylor and Sam Cooke.
He joined the hardworking and hard playing Big Joe Louis & His Blues Kings as vocalist and harp player and as time went on, Little George's voice began to win its own dedicated coterie of fans and he decided to form his own band, performing all over Europe, Scandinavia & America. Blueprint magazine conferred their 'Harp Of The Year' award on him for three years running.
He has appeared with Jools Holland, John Peel, Charlie Gillett, Paul Jones, Mark Lamar and performed and recorded with many legendary artists such as John Primer, Big Jack Johnson, Ali Farka Toure and Nick Lowe. He has recorded an album for Pussycat Records, featuring to-die-for collaborations from blues legends Lazy Lester and Jimmy Thomas, which went on to become a blues best seller on both sides of the Atlantic.
Little George writes many of his own songs, from soulful ballads like 'Everyday About This Time' to rough & tumble hypnotic blues songs like 'Tell Your Mother' & 'Feel So Lonesome'.