Rob Heron & The Tea Pad Orchestra
Sat 21st September 2019
Filling in for the cancelled Sarah Savoy show is something every bit as entertaining, one of our favourite British bands, from Newcastle, the brilliant and original Rob Heron and The Tea Pad Orchestra! Get your dancing shoes on!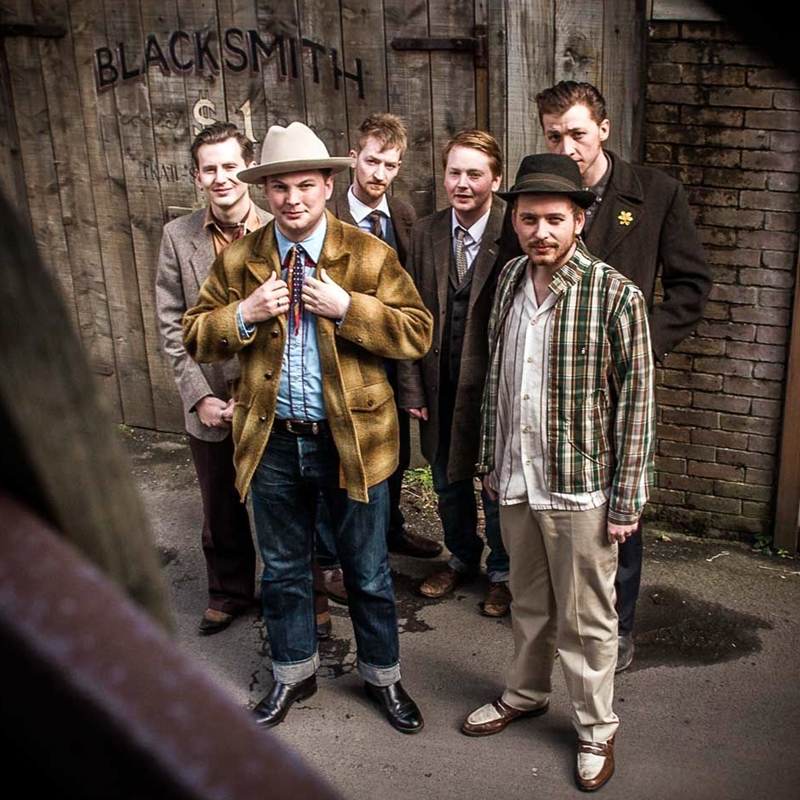 Rob Heron & The Tea Pad Orchestra
Rob Heron & The Tea Pad Orchestra don't care what genre you choose to put them in – western swing, country blues, ragtime hokum or whatever else– as long as you understand that they're 100% sincere and 100% immersed in this stuff. This is no lazy pastiche, no dressing up box. They live and breathe this music and want you to get immersed with them.
The Tea Pad are seven years into a remarkable story that began with four friends studying at Newcastle University and now sees them playing venues and festivals across the UK and mainland Europe. Based in Newcastle Upon Tyne but with members hailing from Orkney to Warwickshire, the Tea Pad sound draws on myriad influences – from Bob Wills to Django Reinhardt, George Jones to Tom Waits – yet ultimately sounds like nobody else, that North Eastern Swing style that's utterly their own and changing all the time.
Across the four wonderful albums – 2012's 'Money Isn't Everything', 2014's 'Talk About The Weather', 2016's Something Blue' and the brand new 'Soul Of My City' – the band have constantly added new flavours to their sound: Heron in particular is a vinyl obsessive, always fired up about some new passion – calypso or boogaloo or whatever this week brings – and that eclecticism feeds into their songs, with the new album adding twangy 60s guitar tones and modernist R&B styles.
The band tour the way bands should – widely and endlessly – winning friends and fans at each new show with notable performances at festivals like Glastonbury, Bestival, Wilderness and Cambridge Folk Festival. They've appeared twice on Radio 4's Loose Ends, and had their music played by everyone from Marc Riley to Huey Morgan.
November 2018 saw the band release their single 'Life Is A Drag' on Germany's Migraine Records ahead of their album 'Soul Of My City', which was released on Tea Pad Recordings on February 1st 2019.
Joining Rob Heron (vocals and guitar) is Ben Fitzgerald (guitar), Tom Cronin (mandolin and harmonica), Colin Nicholson (accordion) and Ted Harbot (double bass).