Robert Ellis
Mon 21st October 2019
We've loved Robert Ellis ever since seeing him support Richard Thomson in Leeds a few years back. It was obvious he was an original, great songs, voice and guitar playing, he managed to grab the attention of an 800 plus crowd that was only really there to see the great man. We've followed him through three very different albums from the mainly acoustic 'Photographs' through 'The Lights From The Chemical Plant' and his eponymously titled third. Now he makes another departure, with 'Texas Piano Man' and he brings his band across to tour for the first time. We just had to grab him and he only had a Monday available, so here he is! Give him a big welcome.
N.B. May contain some strong language!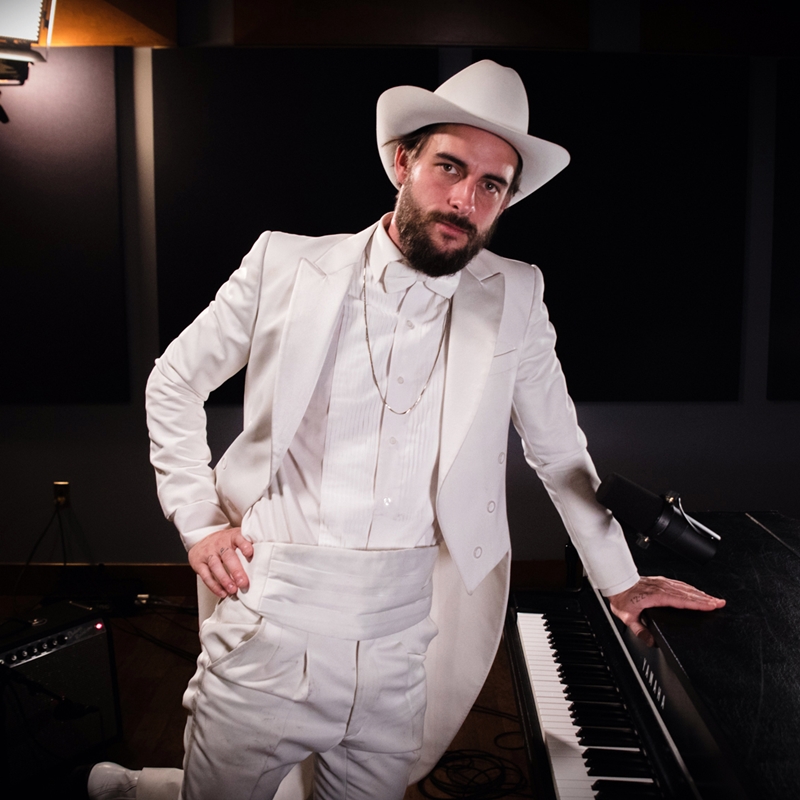 Robert Ellis
"We make a lot of assumptions about different people. Heck, I like Liberace. I got a kick out of him. He played vaudeville. And he was reverent about it. He'd come out with all the rings on his fingers. It was like, 'You could have this, too. I'm going to bring a little elegance into your rotten tomato life.'" – Tom Waits
Indeed, we particularly make a lot of assumptions about people who make songs for a living. Because Robert Ellis and his band were fluent in honky tonk and capable of burning through dozens of George Jones standards on any given night, he could have found his boots set in concrete. He has instead over the course of now four albums done his best to set wide parameters for his musical expression, befitting a guy from a state nearly 800 miles from one end to the other.
Had we paid more attention, we might've seen the Texas Piano Man coming with his white tuxedo and bouquet of yellow roses to hand out to fans. Maybe we made some assumptions about him. After all, Robert Ellis traveled the world for a few years, playing songs and pouring sweat each night into the unforgiving fabric of a lapis-colored western suit with Titan rockets embellishing the sleeves and a space suit-clad Buzz Aldrin standing on the flaps. If rhinestones were truly stars, the stages wouldn't have needed lights. Something inside wanted out. Or as one of his bandmates put it: Ellis had to create a character in order to finally be himself on stage.
Which brings us to the Texas Piano Man, a character or persona that isn't made up whole cloth, but rather a large projection of Ellis' wilder inclinations. A guy who named his publishing company Southern Liberace has embraced the idea of being a Rocket Man from Space City. "With Texas, people expect a certain thing and they want a certain thing, and I fought that for a long time," he says. "I've realized though that Texas shouldn't be made a category. I want to redefine what it means to be Texan a little bit." This is the Texas Piano Man who made ​Texas Piano Man​, a record that nods at its honky tonk roots set by a guitarist as he finds more room to roam while playing a stationary instrument and pulls from a tradition set by Billy Joel, Leon Russell and Elton John. Guys who sat at that large stationary instrument, and plinked away at it in a manner that balanced honesty and mythology.