Talisk
Sun 10th November 2019
THIS SHOW HAS NOW SOLD OUT!
Doors at 6.30pm, show at 7.30pm
While in Montreal, we bumped into Talisk's agent, Craig and got straight on it. One of the most stunningly inventive bands to come out of Scotland, they've been on our radar for a while. And the video below is fittingly of the trio playing……Montreal!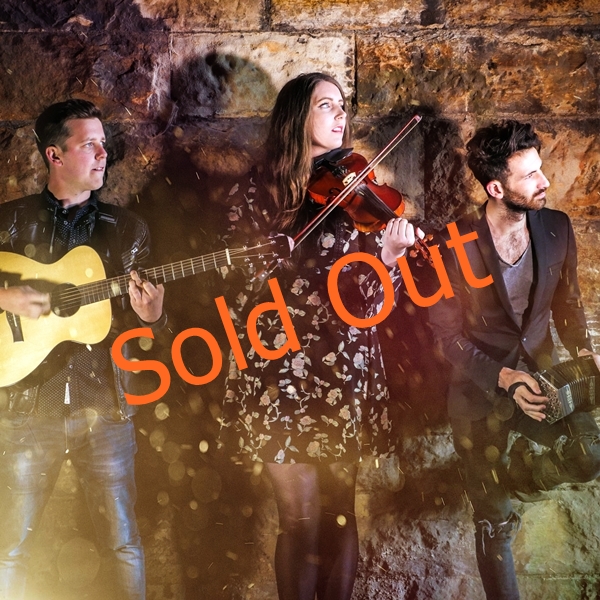 Talisk
In their five years, Scottish firebrands Talisk have stacked up several major awards for their explosively energetic yet artfully woven sound, including 2017's Folk Band of the Year at the BBC Alba Scots Trad Music Awards, and a BBC Radio 2 Folk Award.
Mohsen Amini - the BBC Radio 2 Folk Awards' Musician of the Year 2018, Hayley Keenan and Graeme Armstrong seamlessly meld concertina, fiddle and guitar to produce a multi-layered, enthralling signature that has effortlessly captivated audiences from the USA to Australia, and throughout the UK.
Appearances at world-leading festivals - including the Cambridge Folk Festival, Denmark's Tønder, WOMAD UK and Las Palmas, the Philadelphia Folk Festival, Celtic Colours, Milwaukee Irish Festival
and five successive outings at Glasgow's Celtic Connections - have amassed a die-hard following,
whilst the world's folk and world music media have also lauded high credits upon the trio.
The release of their hotly anticipated second album, Beyond, in October 2018 was met with a five-star
'Top of the World' review in Songlines, praising the band as 'incredibly infectious and endearing…
fresh, invigorating, accomplished and playfully frisky.'
'Extraordinary' - Mark Radcliffe, BBC Radio 2
'Doubling the power of three' - The Scotsman
'the technical ability of each member is clear in the energetic, dynamic sound produced' – Songlines
'creates an exciting sound that, in this case literally, drags an audience out of its seats.' - The Herald
'…completely blown away by the sheer dexterity and musicianship' - The Living Tradition
'setting scary standards' - Simon Mayo, BBC Radio 2