The Often Herd (ENG)
Sun 11th December 2022
TLR 300th Show!
Our replacement 300th show and final gig of 2022. Many thanks to this wonderful band for stepping in at the last minute. We know you're going to love them. Prosecco, sherry, chocolates and mince pies too!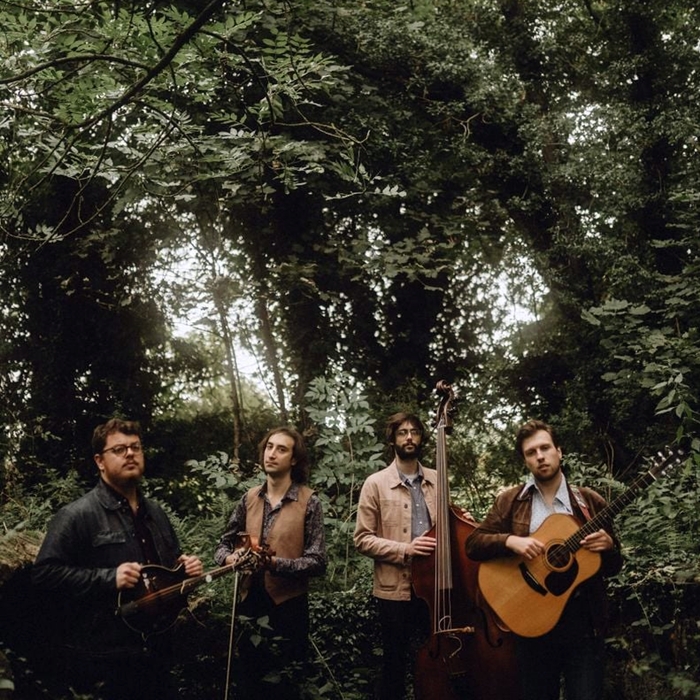 The Often Herd
The Often Herd transcend the traditional boundaries of bluegrass music. Although they might resemble an American string band, complete with driving energy, tight vocal harmonies and dazzling instrumental interplay, their vibrant, transatlantic sound is deeply coloured by their surroundings; the striking natural and industrial landscapes of Northern England. This unique approach won them the title of 'Best European Bluegrass Band 2018' at the prestigious La Roche Bluegrass Festival in France.
Rupert Hughes (guitar) and Evan Davies (mandolin), write songs steeped in personal experience whilst drawing from a wide pool of influences ranging from old-time to psychedelia. American-born fiddler Niles Krieger and jazz bassist Sam Quintana add fiery instrumental skills to the mix, launching the band's arrangements into the stratosphere. Together, their sound is both boldly contemporary and soothingly familiar, taking time-honoured traditions to new places with a fresh perspective. Flock to the herd, you won't be disappointed.
'Traditional, inventive, tight and sharp […] for those who think they don't like bluegrass this could be the point they change their minds.' - Tom Franks, FolkWords
'Sprightly and lively; [The Often Herd's debut EP] most certainly affords them welcome membership to the UK's burgeoning bluegrass scene.' - Mike Davies, FATEA
'A study in virtuosity from a supremely talented group of musicians.' - Claire Dupree, NARC
'Satisfying, contemplative and desirable, ****' - Ian D. Hall, Liverpool Sound and Vision