The Sugaray Rayford Band (USA) SOLD OUT
Fri 18th January 2019
The last few tickets are available only at the Spa Convenience Store in Titus Street, Saltaire!
N.B. ALL SEAT RESERVES FOR CHORUS MEMBERS WERE FILLED ON 1ST JANUARY! SEATING IS GOING TO BE VERY LIMITED AS SUGARAY CALLS HIS SHOWS PARTIES – HE WANTS THE DANCE FLOOR FULL!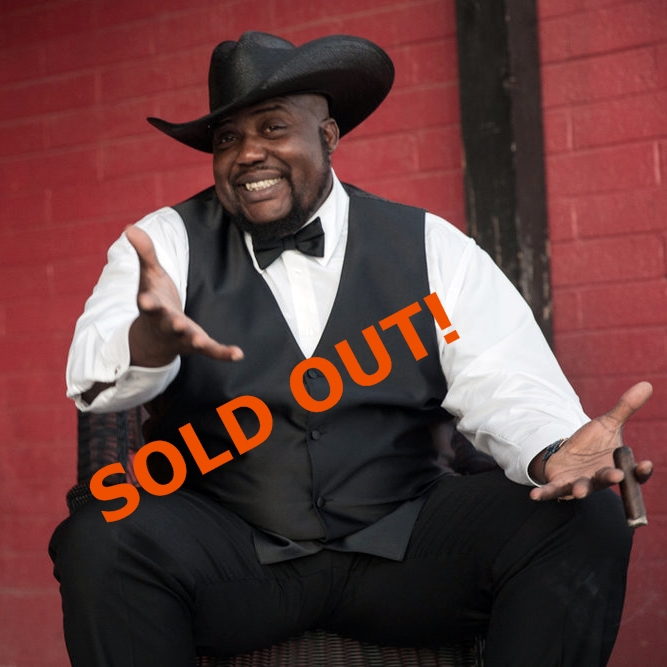 The Sugaray Ray Rayford Band - SOLD OUT
One of the undoubted highlights of our trip to Nashville was this man and his magnificent band. Sugaray came onstage at the 12th and Porter and just blew everyone away with an outrageous, blistering performance that left everyone breathless and with beaming smiles on their faces. A shrinking violet he is most certainly not! This will be one for your scrapbook!
When Sugaray Rayford belts out a song, you not only hear it, you feel it. The excitement in the room is palpable when he takes the stage; he is a superb vocalist and entertainer. His dynamic voice is large just like the man. With his old school vocal style, echoes of Muddy Waters, Otis Redding and Teddy Pendergrass can be heard. At 6'5" he is a big man, but he moves with grace and energy. His fluid dance steps will remind you of the Legendary James Brown.
Texas born Caron 'Sugaray' Rayford began his musical career at the age of 7 singing & playing drums in church, and his gospel influence can be heard and felt in his music. Rayford's phrasing is intimate and conversational and the soulful gravel in his voice hints at his first-hand experience with hardship. He remembered a sad game he played with his brothers, a competition that determined who was skinniest by counting the number of belt holes left unused. His mother struggled to raise three boys alone while battling cancer. When she died, it was a kind of relief. "She suffered, and we suffered," Rayford said. "Then, we moved in with my grandmother and our lives were a lot better. We ate every day and we were in church every day, which I loved. I grew up in gospel and soul."
Sugaray has fronted his own band since 2010, called the Sugaray Rayford Band. This band is currently made up of world-class musicians who tour extensively internationally: Gino Matteo on guitar, Drake 'Munkihaid' Shining on keyboards, Alan Markel on bass, Lavell Jones on drums, and Allan Walker on sax.
'Sugaray is a first-rate blues artist with a deep-running, church honed soulfulness.' — Living Blues Magazine
'Whether it's rompin' Chicago blues, Memphis Stax-powered soul, scorching Texas blues or New Orleans-tinged jazz, Sugaray fields whatever's his way with confident versatility.' — Colorado Blues Society