TLR Live Online: Carrie Elkin & Danny Schmidt (USA)
Sun 7th February 2021

The AmeriCanada Sessions!
Stream intro: 7.50pm, shows starts: 8pm. All shows are available for a week.
When you buy your ticket, you will receive a confirmation email with the link to access the show, use your account details you created to login to the page to watch it. If you do not receive the confirmation within a few minutes, check your spam folder! If it isn't there, email ron@theliveroom.info
N.B. For best results on this live stream, use Chrome or Firefox browsers and wherever possible, use an ethernet cable to connect directly to your router.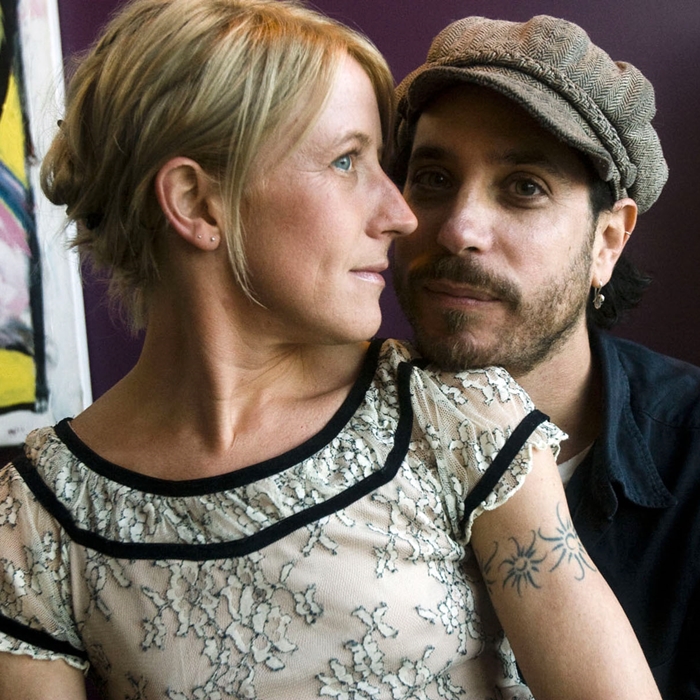 Carrie Elkin & Danny Schmidt
Two Great Songwriters, One Great Night
It's a special treat when Danny Schmidt and Carrie Elkin share the stage together. These two great songwriters from Austin, TX generally tour solo and separately, but if the chemistry seems especially amorous, they come by it honestly, as they are a rare breed: a romantic partnership in real life, as well as a musical partnership in artistic life. And the two together on stage makes for a classic case of the whole being greater than the sum of its parts.
Danny Schmidt is best known for his riveting poetic lyrics, which have drawn favourable comparisons to Leonard Cohen and Townes Van Zandt for their depth and complexity. And gypsy spirit Carrie Elkin is best known for her incredibly soulful and dynamic vocals, which have drawn favourable comparisons to Patty Griffin at her most powerful, and Nanci Griffith at her most intimate.
Together, the respective strengths they each bring, individually, merge into a much greater whole, a performance of great energy and spirit, and one that audiences seem to be able to connect with on a multitude of levels, at once: Emotionally, Spiritually, and Intellectually.
About Danny:
Named to the Chicago Tribune's list of the "50 Most Significant Songwriters in the Last 50 Years," Austin, TX-based singer/songwriter Danny Schmidt has amassed a cult following for his stunningly poetic, poignant lyricism. With comparisons to Leonard Cohen and Townes Van Zandt, Schmidt is considered a preeminent writer. Sing Out Magazine proclaimed: "Schmidt is a force of nature: a blue moon, a hundred-year flood, an avalanche of a singer-songwriter. His songs are a flood of poetry, mythology, folk wisdom, and surprise. He is perhaps the best new songwriter we've heard in the last 15 years."
On Carrie:
Carrie Elkin is one of those rare artists with a tidal wave singing voice, and a stage whisper writing voice that brings you to the edge of your seat, emotionally. Like Patty Griffin or Brandi Carlile, she straddles the Americana, Folk, and Indie Rock worlds, where meaningful songs meet the fierce-yet- fragile voices of powerful women. Like these other seminal artists, Elkin has the gift of projecting very personal intimate moments into transcendent universal experiences that move us all. Maverick Magazine said it best, after a recent festival performance: "I have never seen a performer so in love with the act of singing. That's the gospel truth, and from what I've subsequently learned, I'm not the only one to believe or state that. Onstage, Elkin was simply a force of nature."
Don't miss these two great artists in a rare split-bill performance, sharing songs back and forth, and lending their voices to each other's tunes, in harmony.