TLR Live Online: Daoiri Farrell (IRE)
Fri 20th November 2020
Stream intro: 7.50pm, shows starts: 8pm. All shows are available for a week.
When you buy your ticket, you will receive a confirmation email with the link to access the show, use your account details you created to login to the page to watch it. If you do not receive the confirmation within a few minutes, check your spam folder! If it isn't there, email ron@theliveroom.info
N.B. For best results on this live stream, use Chrome or Firefox browsers and wherever possible, use an ethernet cable to connect directly to your router.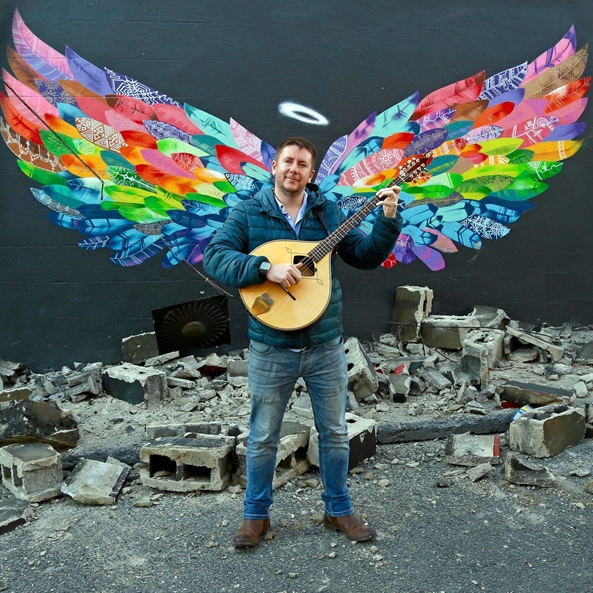 Daoiri Farrell
Singer and bouzouki player Daoirí (pronounced 'Derry') Farrell is described by some of the biggest names in Irish folk music as one of most important singers to come out of Ireland in recent years. Six months after releasing the album 'True Born Irishman' Daoirí won two prestigious BBC Radio 2 Folk Awards 2017 for Best Newcomer and Best Traditional Track, and performed live at the awards ceremony at London's Royal Albert Hall. Since then he has toured the UK, and played at festivals in Australia, Canada, the UK, Belgium, Denmark and more. In February 2018 he toured with the all-star Transatlantic Sessions in major venues across the UK. Daoirí released his new album 'A Lifetime Of Happiness', produced by Dónal Lunny, in February 2019. In autumn 2019 he was also nominated for three RTÉ Radio 1 Folk Awards 2019 for best singer, best traditional track and best album for 'A Lifetime Of Happiness'.
As Lockdown hit Ireland in March 2020, Daoirí responded with one of the earliest live streams, performing from the 'Covid Corner' of his kitchen on St. Patrick's Day. The response to the broadcast was overwhelming with more than 15,000 views and many, many requests to repeat the concert. What followed were twenty-five consecutive concerts, every Sunday night at 10pm, live streamed across the world and attracting audiences from Australia, the USA, Canada, Europe and more. His shows made the news around the world and as a result he was invited to co-host the BBC's Folk Show with Mark Radcliffe and on 4th May 2020 he performed on BBC Radio 4's Today programme.
'His powerfully unadorned vocals might be from any era, variously recalling Paul Brady and Andy Irvine…it's a powerful statement.' **** Mojo
'Daoirí is one of the most important traditional singers to emerge in the last decade' - Dónal Lunny