TLR Live Online: Evie Ladin & Keith Terry (USA)
Fri 29th May 2020
Stream intro: 7.50pm, shows starts: 8pm. All shows are available for a week.
N.B. For best results on this live stream, use Chrome or Firefox browsers and wherever possible, use an ethernet cable to connect directly to your router.
Innovative musicians/dancers with a quirky neo-trad soul, Oakland, California-based Evie Ladin & Keith Terry throw down original folk songs and deep interpretations of old songs, with the kinetic thrill of percussive dance.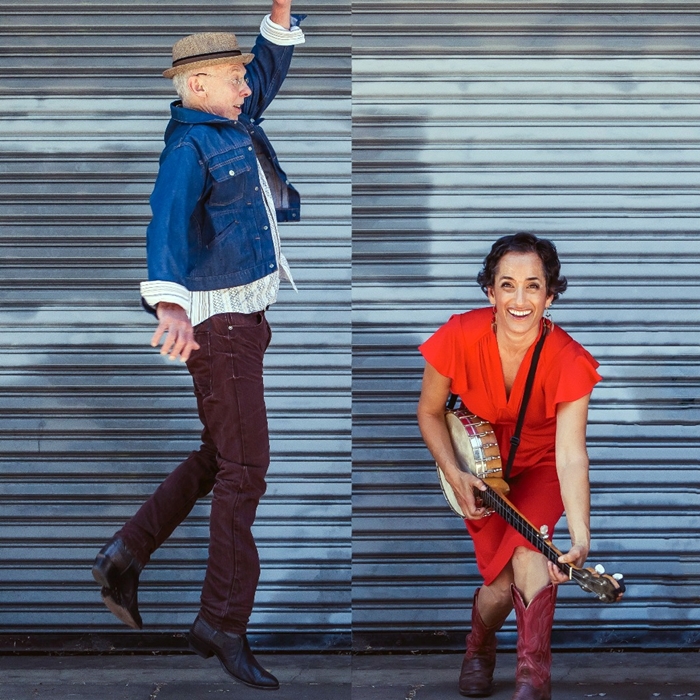 Evie Ladin & Keith Terry (USA)
Evie Ladin and Keith Terry perform a hugely entertaining mix of Appalachian roots music, step dance and body percussion. Multi-talented singer, songwriter, clawhammer banjo player and step dancer Evie Ladin grew up surrounded by traditional music. Playing banjo from the age of 8 and clogging since she was just 5, Evie is steeped in traditional Appalachian music and dance, but also brings a contemporary vision to her music. A sensational live performer, Evie was formerly the driving force behind San Francisco stringband The Stairwell Sisters and since 2010 has released several albums under her own name.
Versatile musician and dancer Keith Terry originally trained as a jazz drummer, and takes care of percussive duties on double bass and percussion, as well as joining Evie in dance elements of the duo's performances. Founder of the International Body Music Festival and a skilled proponent of the art of body percussion, Keith has performed and taught at prestigious venues across the world. Evie and Keith met on the dance floor, and they live a double life between the folk/Americana circuit and the body music scene they helped create – both elements are beautifully integrated into their live show.
'Ladin sings and plays infectious clawhammer banjo, while Terry is a master percussionist. It was Appalachian string band music pared to the absolute minimum of accompaniment, but packed with an orchestra's worth of rhythm'. -MUSIC CITY ROOTS, Nashville