TLR Live Online: Peter Mulvey (USA)
Sun 31st January 2021

The AmeriCanada Sessions!
Stream intro: 7.50pm, shows starts: 8pm. All shows are available for a week.
When you buy your ticket, you will receive a confirmation email with the link to access the show, use your account details you created to login to the page to watch it. If you do not receive the confirmation within a few minutes, check your spam folder! If it isn't there, email ron@theliveroom.info
N.B. For best results on this live stream, use Chrome or Firefox browsers and wherever possible, use an ethernet cable to connect directly to your router.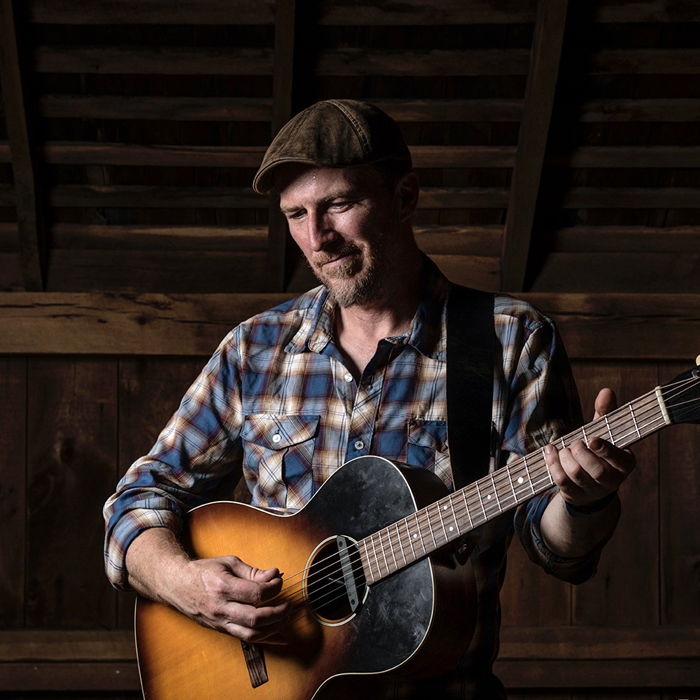 Peter Mulvey
Peter Mulvey has been a songwriter, road-dog, raconteur and almost-poet since before he can remember. Raised working-class Catholic on the Northwest side of Milwaukee, he took a semester in Ireland, and immediately began cutting classes to busk on Grafton Street in Dublin and hitchhike through the country, finding whatever gigs he could. Back stateside, he spent a couple years gigging in the Midwest before lighting out for Boston, where he returned to busking (this time in the subway) and coffeehouses. Small shows led to larger shows, which eventually led to regional and then national and international touring. The wheels have not stopped since.
Nineteen records, an illustrated book, thousands of live performances, a TEDx talk, a decades-long association with the National Youth Science Camp, opening for luminaries such as Ani DiFranco, Emmylou Harris, and Chuck Prophet, appearances on NPR, an annual autumn tour by bicycle, emceeing festivals, hosting his own boutique festival (the Lamplighter Sessions, in Boston and Wisconsin)… Mulvey never stops. He has built his life's work on collaboration and an instinct for the eclectic and the vital. He folds everything he encounters into his work: poetry, social justice, scientific literacy, & a deeply abiding humanism are all on plain display in his art.
In late January 2019, Mulvey and his band, SistaStrings (Chauntee & Monique Ross) with Nathan Kilen on drums, decamped to their home turf, the Cafe Carpe, in Fort Atkinson, WI where they spent just five days making two records in the tiny back room. The live record, 'Peter Mulvey with SistaStrings Live at the Cafe Carpe' is out now on Righteous Babe Records. It's a celebration of a world that is temporarily on hold: a small folk club, packed with listeners, and a band shoulder-to-shoulder, playing and singing with intimacy and abandon.
The other shoe, 'Shenandoah' a studio album about love and family in the midst of a dying empire, will drop in early 2021, provided there is still a republic within which to drop it.