TLR Live Online: Track Dogs (ENG/IRE/USA)
Sun 4th October 2020
Sadly, the band could not make it over fro  Madrid for the show, so we're streaming them live from their home city for your enjoyment!
Stream intro: 7.50pm, shows starts: 8pm. All shows are available for a week.
When you buy your ticket, you will receive a confirmation email with the link to access the show, use your account details you created to login to the page to watch it. If you do not receive the confirmation within a few minutes, check your spam folder! If it isn't there, email ron@theliveroom.info
N.B. For best results on this live stream, use Chrome or Firefox browsers and wherever possible, use an ethernet cable to connect directly to your router.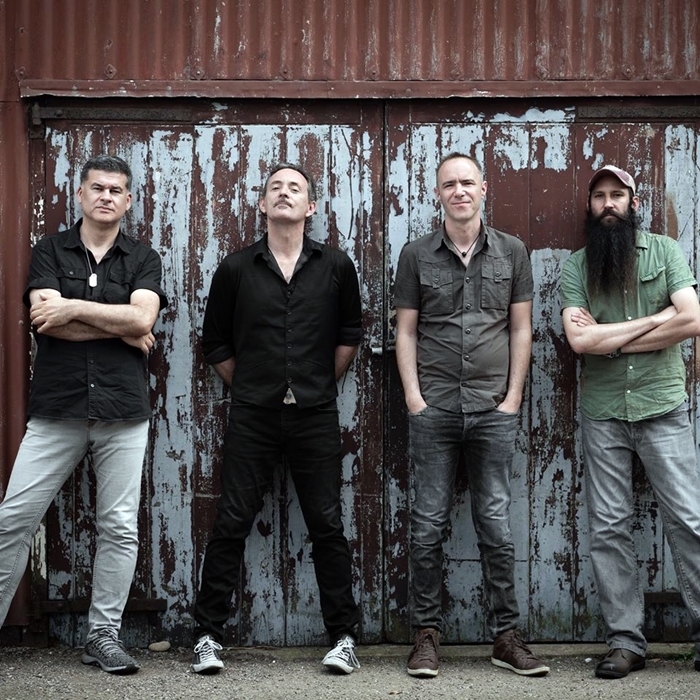 Track Dogs (ENG/IRE/USA)
'Sun-shiny songs thriving on dark themes behind irresistible rhythms.'
Comprised of 2 Irishmen, 1 Englishman and 1 American the band came together in 2011 to make their unique brand of acoustic music; a veritable 4×4 of voices and instruments identified for their dynamic fusion of styles including folk, latin, Americana & even some bluegrass.
The four international 'madrileños' (Garrett Wall, Dave Mooney, Howard Brown & Robbie K. Jones) whose artistic names derives from the dark subterranean world of New York's subway system, present Fire On The Rails, a kicking album that grows on the work that has opened so many doors for the band.
Fire on the Rails is Track Dogs' second LP recorded on the Studer A80 analogue tape machine recovered from Abbey Road at Playground Studio in Madrid. Since Kansas City Out Groove (2018) and their compilation of ukulele-based recordings, Uke Songs By Track Dogs (2019), the band has deepened and elaborated its sound explored. Producer Germán Gutiérrez has managed to make Track Dogs pack even more punch and achieve grandeur in the sound that they've been cultivating over more than 100 songs in their recording career.
Track Dogs turned to Nashville talent to up the game on their new compositions. Eli Bishop (Grand Ole Opry, Wynton Marsalis) provides string arrangements for 'Love And War', 'On The Last Night' and 'Abi's Lullaby'. In line with the Nashville connection, Americana star, Ashley Campbell, lends her pristine banjo picking to 'Don't Delay'. Track Dogs have extended the reach of their established sound to the realm of world music with 'Love And War'. Apart from the strings of Eli Bishop and a cracking doumbek, the album's lead track pulls together folk legends Phil Beer of Show of Hands, Grammy-winning Lisa Gutkin of the Klezmatics and Fergal Scahill of We Banjo 3 to elevate the call for unity and tolerance that 'Love And War' shouts for. Danny Erker (The Jones St. Boys) also adds some stellar mandolin to the track 'Dragonfly's Castle'.
Track Dogs show off the group's strength and growth in that lead vocals, are also shared out by trumpeter Howard Brown in 'And The Piano Sings' – a tribute to Freddy Mercury – and percussionist Robbie K. Jones in 'I've Needed You' and 'Dragonfly's Castle'.
'One of the great strengths of Track Dog's music is the eclectic mix of genres they so successfully blend…It's far easier to identify it as the "Track Dogs sound" than it is to tease apart individual elements' - Johnny Whalley, Folkradio.co.uk
'From the opening notes, the listener is taken on a journey, that explores Americana, Tijuana brass, folk, sultry swing, and Revival. With three vocalists in the band, they collectively work wondrous memorable harmonies into their songs.' - Gerry McNally, folkandtumble.co.uk
'…they dramatically revive the early-seventies serenity of the first Eagles and Burrito Brothers. - **** Paris-Move
'This is their sixth album and continues their inventive cocktail of folk, jazz and Americana…there's no denying the infectious ebullience they create.' - Mike Davies, Fatea Magazine