Track Dogs
Fri 15th March 2019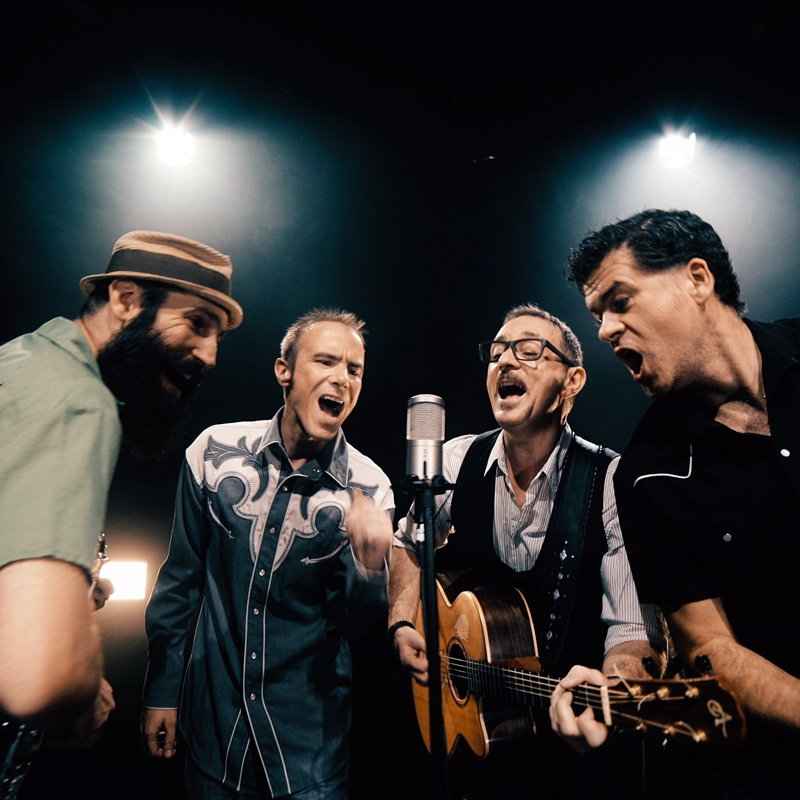 Track Dogs
One of the great things about being at the Folk Alliance in Kansas (we're mentioning that again!) was wandering around the floors of the hotel in the early hours and popping your head through a door to find stunning music being played by a bunch of musicians on the other side of the bed! One such discovery occurred when we came across the Track Dogs as we staggered down the heaving corridors in the early hours and heard four voices singing in wonderful harmony. The songs and performance were sublime, so we booked them there and then - yep, two years hence! We hope you love them too.
The Madrid-based band is comprised of two Irishmen (Dublin & Wicklow), an Englishman (Sheffield) and an American (Vermilion, Ohio) and came together in 2011 to make their unique brand of acoustic music; a veritable 4×4 of voices and instruments identified for their dynamic fusion of styles including folk, Latin, Americana, bluegrass and…dare we say it, pop!
The name Track Dogs derives from the maintenance crews working the New York subway system and the band released their fourth studio album 'Kansas City Out Groove' in March 2018. Inspired in part by their career-changing experiences at the Folk Alliance festival in Kansas City in 2017 the album is a mix of all that makes the Track Dogs sound so special, in healthy doses of Americana, Latin & Folk.
'Track Dogs were the hit of Rochester Sweeps Festival 2016. Their close harmonies, instrumentation but above all, interaction with the audience, proved a winner.' - Doug Hudson, Director Rochester Sweeps
'The antidote to a bad day' - Maverick, UK ****
'It's the music as a whole that shines brightest of all' - Folkradio.co.uk ****
'Never in danger of overstaying their welcome – R2 Magazine