WinterFolk: O'Hooley & Tidow
Fri 30th November 2018
N.B. All seats for this show are now taken and only standing places remain – entry from 7.45pm!
Feel the first icy fingers of the winter in this re-imagining of the season of goodwill from two of our most loved and respected singer songwriters. Drawing heavily on their 2017 album of the same name, WinterFolk will take us on a seasonal journey more dark and Dickens than happy and Hollywood, but eventually warming the heart. Look out for hot toddies this night!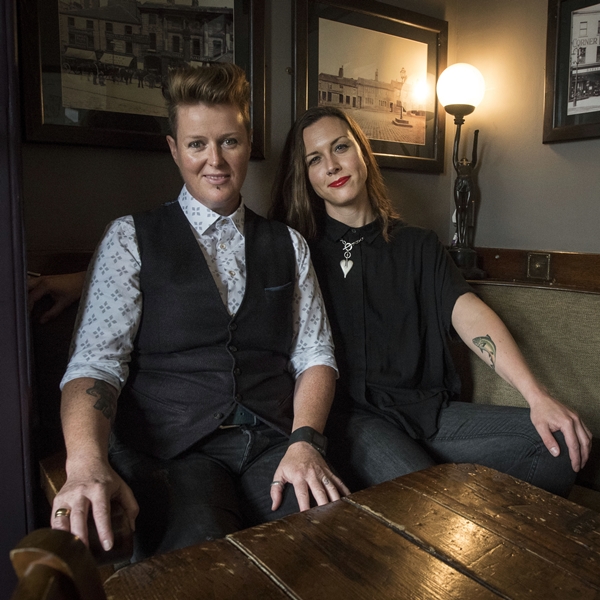 O'Hooley & Tidow
Join 'one of British Folk's mightiest combinations' (MOJO), O'Hooley & Tidow, for an evening of beautifully performed original, contemporary, and traditional winter songs from their latest album 'WinterFolk Vol 1', produced with BBC Radio 2 Folk Award winner Ben Walker.
Nominated this year for the fourth time in the BBC Radio 2 Folk Awards, and described by the Guardian as 'exceptional songwriters', Belinda and Heidi's powerful, deeply moving, and soulful performances are infused with an
honesty and empathy that will disarm the hardest of hearts.
BBC RADIO 2 FOLK AWARDS 2018 'BEST DUO' NOMINEES
'They sing together in the way families do…like The Coppers or The
Watersons' Tom Robinson, 6 Music
'I have just listened to your track, Beryl, with tears in my eyes! It's beautiful and brilliant.' - Maxine Peake
'Exceptional songwriters.' - * * * * * The Guardian
'Insightful, determinedly left-field angles on the human experience.' - * * * * MOJO Folk Album of the Month (Shadows)
'Have Belinda and Heidi done it again? Certainly.' - * * * * * R2
'Dense, complex, beautifully performed.' - * * * * Songlines
'A fine study of human emotion' - * * * * EDS
'One of the most vital and experimental acts on the folk circuit and beyond.' - Folk Radio UK
'Formidably brilliant.' - Independent
'Brave, beautiful and full of love.' - Martin Simpson