Plus support Malcolm MacWatt
Sunday 3rd April 2022
Review and photos by Keith Belcher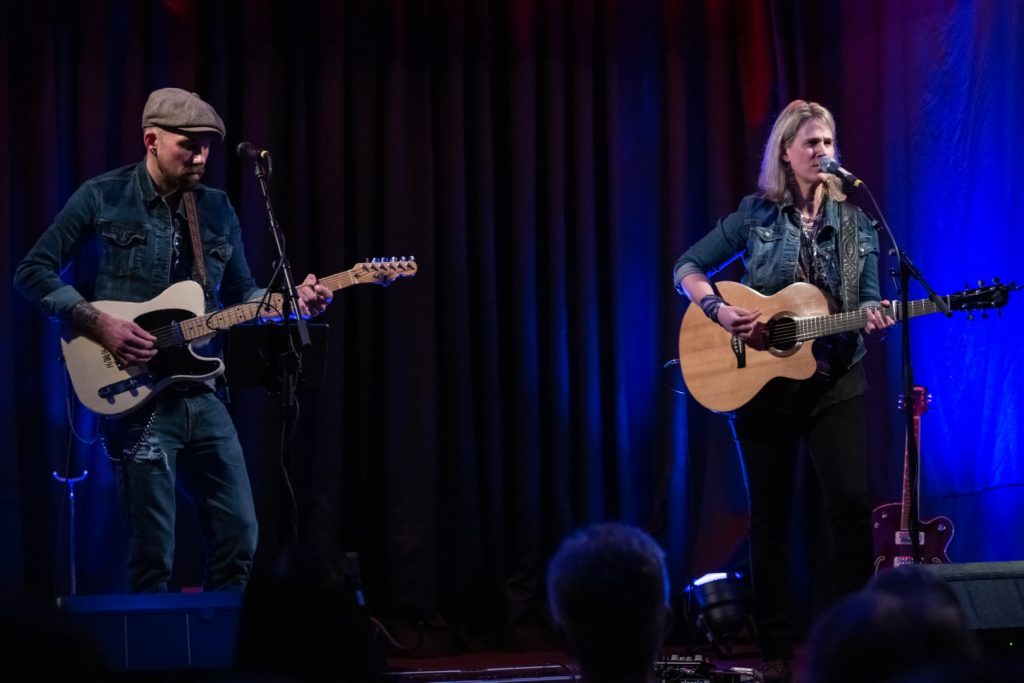 Canadian Lynne Hanson's second visit to TLR had been one of the many gigs delayed , postponed and rescheduled due to you know what.  This time around she was accompanied on guitar, vocals and electronic wizardry by the very excellent Ottawa based Blair Michael Hogan. London based Scots singer songwriter Malcolm MacWatt was making his TLR debut.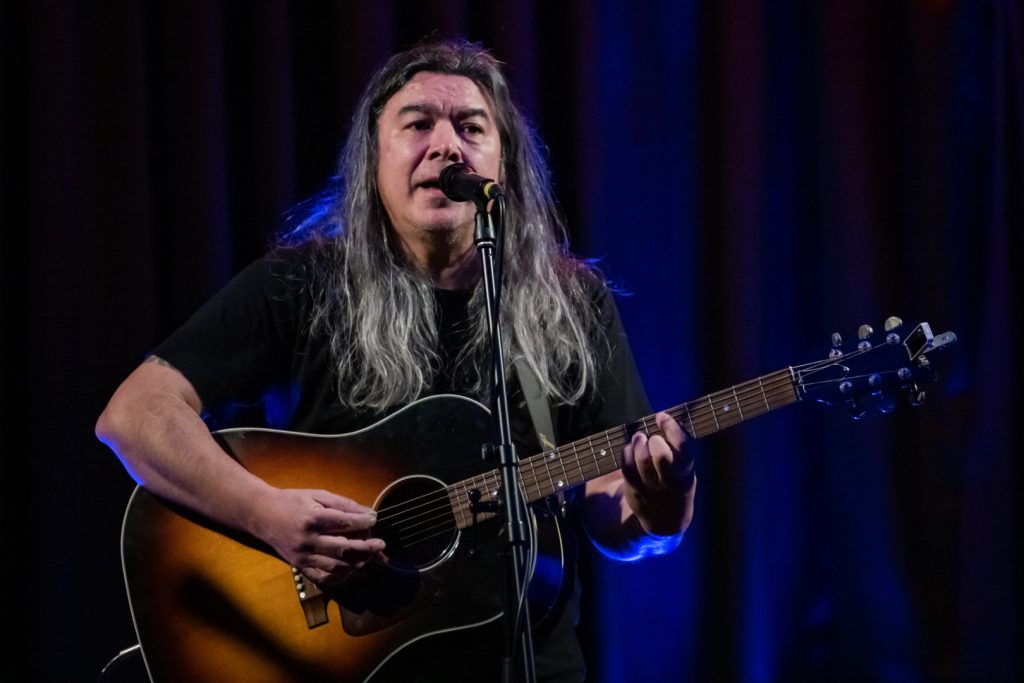 Following his debut performance I am fairly certain that Malcolm MacWatt will be back at TLR soon headlining his own show. He was very well received by the TLR crowd, some of whom had travelled far and wide for tonight's show. Morayshire born, currently living in London. One only has to look at the guests on his new album SETTLER and its many glowing reviews to get an idea of the rep he's making for himself with his excellent song writing. The album features no less than Jaimee Harris, Laura Cantrell, Gretchen Peters, Eliza Carthy and Kris Drever. That's not a bad guest list. A multi-instrumentalist playing almost all instruments on the album himself.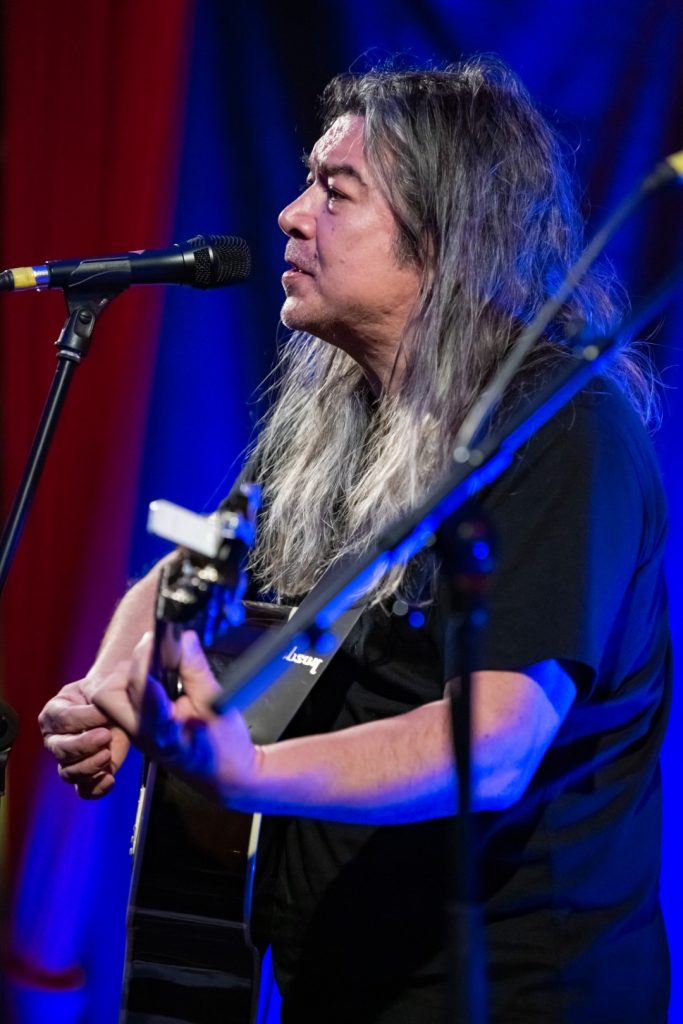 Tonight, he limited himself to guitar only. A very good selection of songs. A theme of Celts abroad present in many of the songs such as the opener The Crofter and the Cherokee, followed by a tragic Letter From San Francisco, a sad letter written from an emigrant to his mother. A slightly disturbing (these days) recount of his Dad keeping a shotgun in the car in case they saw any game. That helped towards the song Trespass a very intelligent and observational song. He finished his set with a taste of Red River Woman, a song he's currently recording . His opening remarks to that song about hating misogyny and prejudice of any kind reminded me greatly of Dick Gaughan, another Scot with a huge social conscience.
Hilary introduced Lynne Hanson and Blair Michael Hogan to huge applause. A lot of people had been waiting a long time for this gig, postponed and rescheduled over the last 2 years.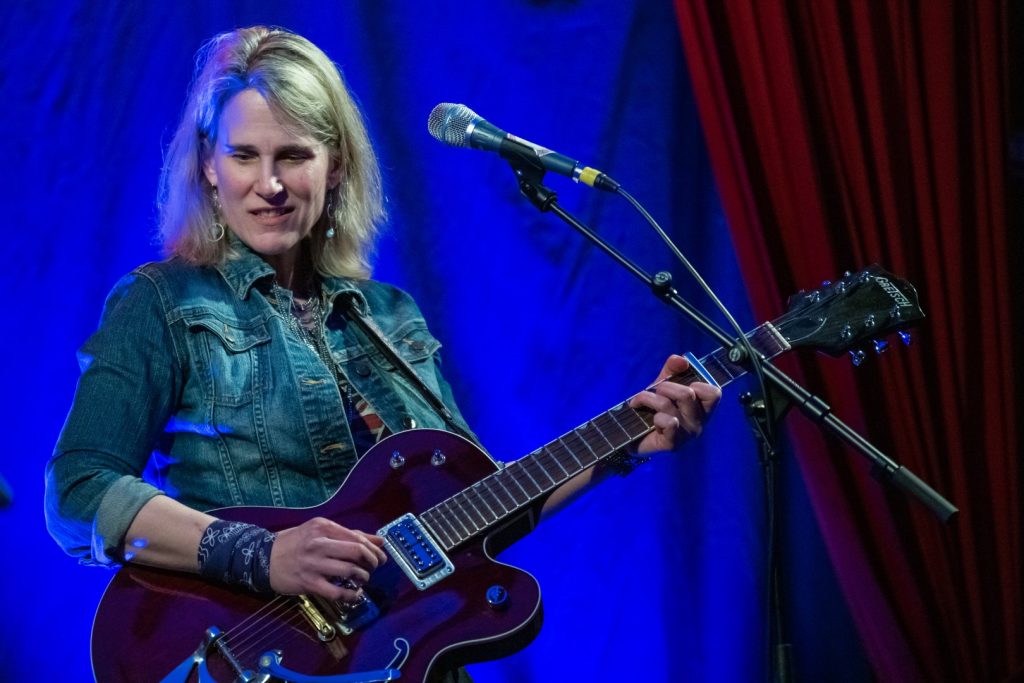 Blair's guitar painted a lush sonic landscape from the opening notes of Hold My Breath and continued that way all night. The song, about friendship and living in the moment inspired by the period of you know what making us think about our lives and relationships. Blair's guitar was superb throughout. An array of pedals at his feet and the skill in his fingers creating wonderfully diverse textures and emotional backdrops to Lynne's guitars and vocals. Blair also sang harmonies but mainly played really superb guitar with very little conversation (except for one point – more later).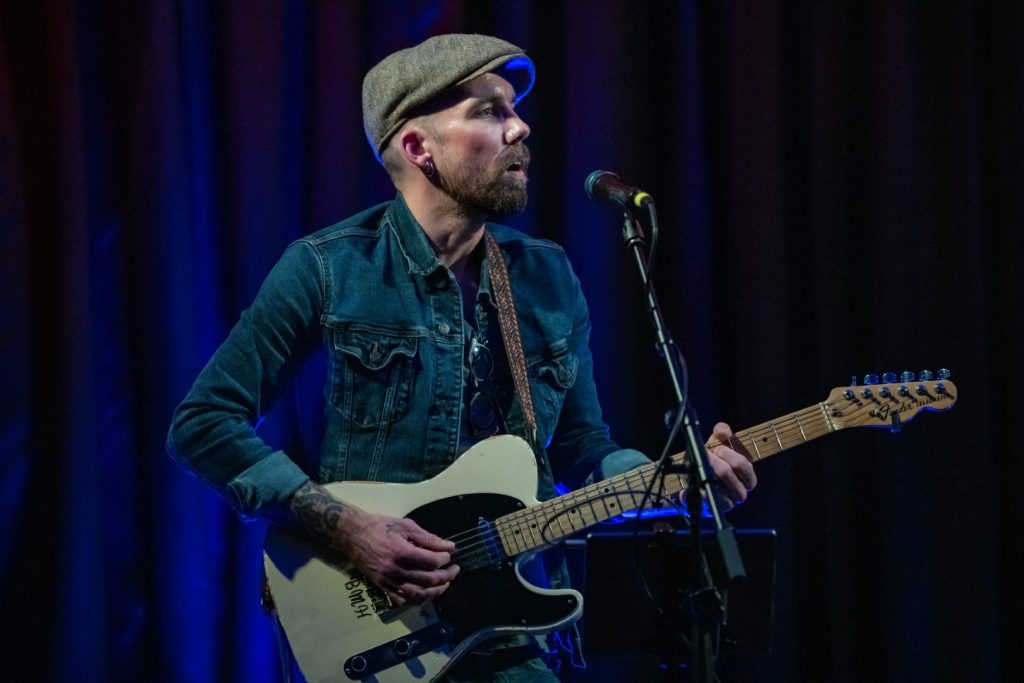 The next song 100 Mile Wind had a Wizard of Oz intro about filling up her car with gas and almost being blown to Kansas. Lynne's album JUST WORDS was written before lockdowns ("Before Times") happened and it never got the extensive  touring it deserved and then along comes ICE CREAM IN NOVEMBER , to be released officially on April 22nd. Lynne commented on how lonely the songs from JUST WORDS must have felt not being allowed out to meet the world.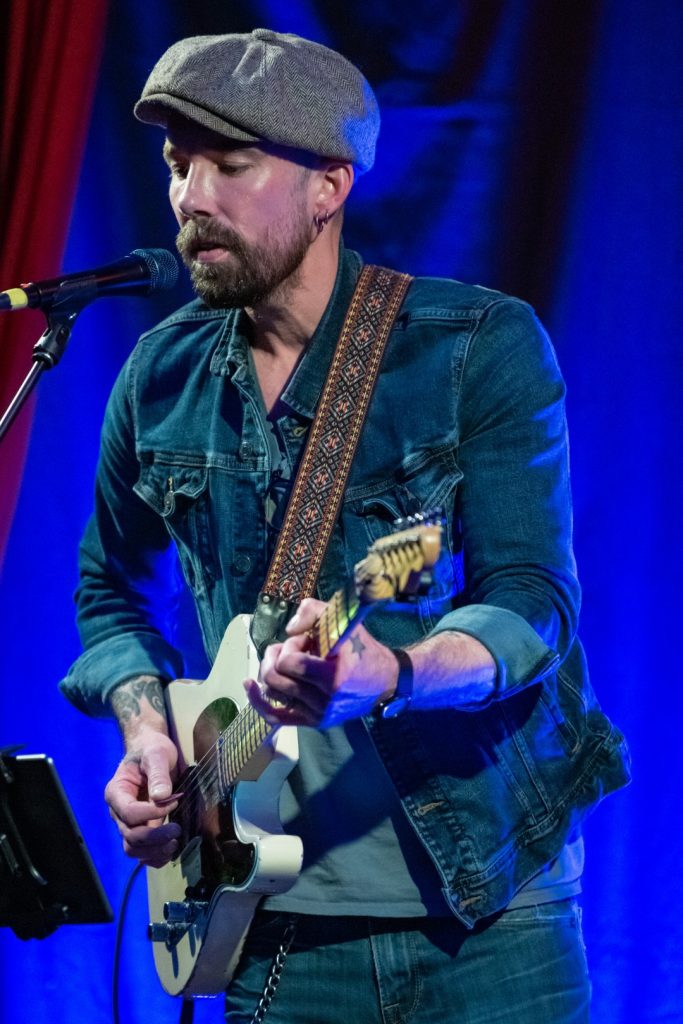 Lynne's lyrics and songs cover a huge range of topics as do her in between song banters. It would be fair to say she could probably hold her own at TLR's comedy nights as a stand up comedian. The audience were, at times, in stitches with her highly theatrical, animated conversations and gesticulations. They covered all sorts of topics from observations about Canada's "big" neighbours and health services and huge vats of maple syrup, jigsaw puzzles, being vetted for a "Nice Canadian" card to allow exit from Canada. Imagined meetings with Ernest Hemingway and strangely named deserts.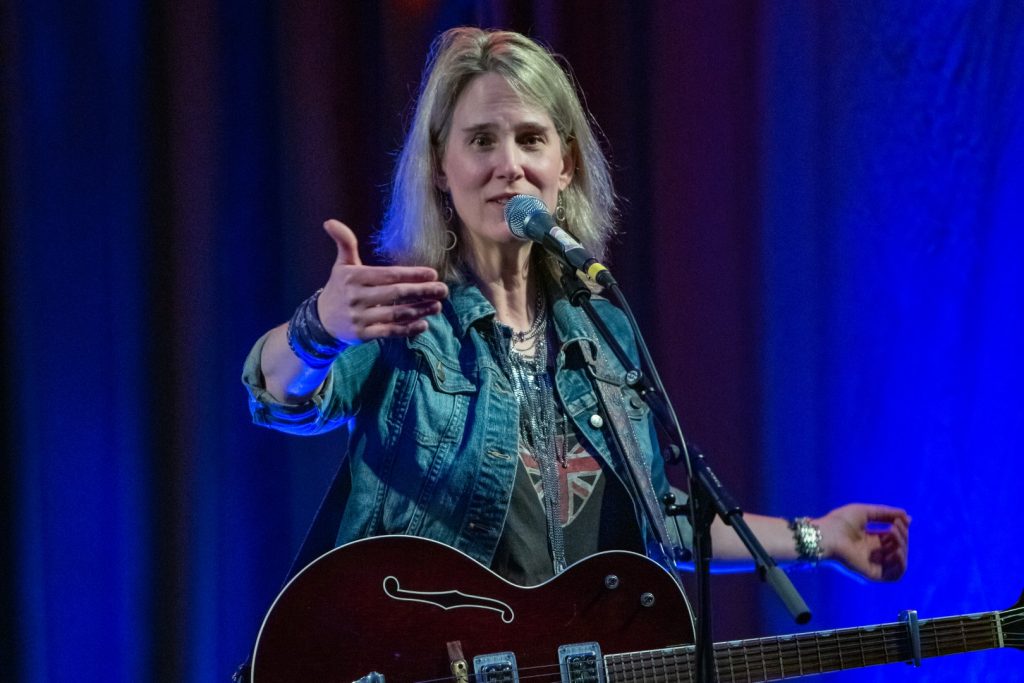 Lynne has a really infectious energy that crackles about her. Feeding on the energy from the audience and giving it back in spades. Blair 's only comments of the night were when she was relating her experiences of drinking (she stopped in 2011), something along the lines of finding it difficult to imagine her as a drunk. The song Long Way Home was written after giving up booze. It really reminded me of another TLR favourite the great Bronwynne Brent, it had that nice easy, bluesy, jazzy feel to it.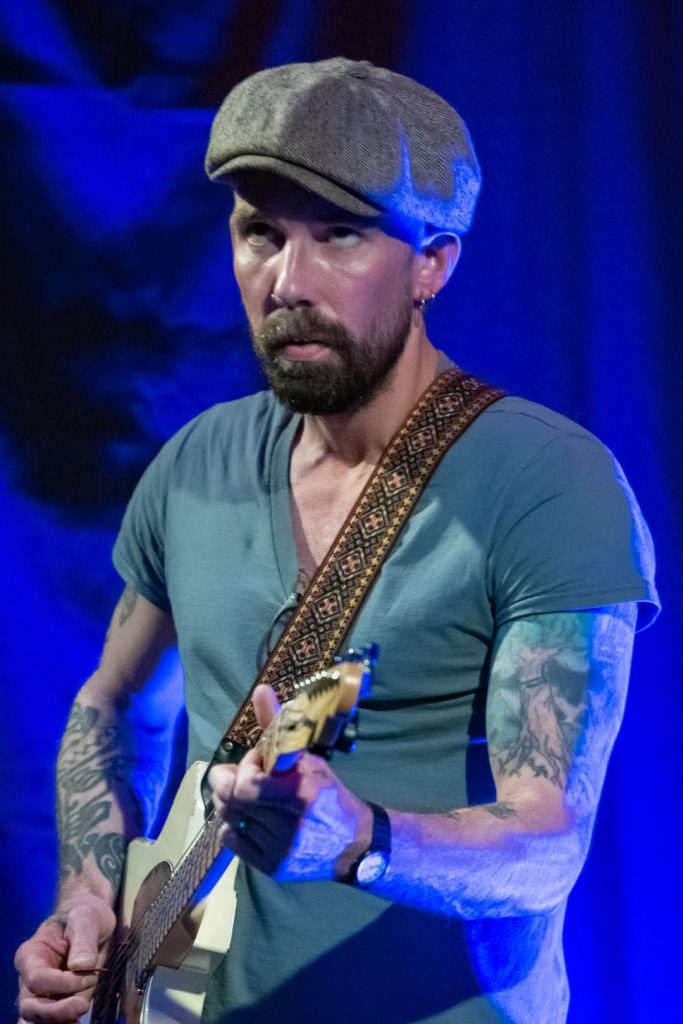 The pace and delivery of songs was very varied. The banter from factual, comical to philosophical sophistry – (did the colour blue exist before someone called it blue – Orion's Belt). What was very evident from the start and throughout was the sheer joy at being back on a stage in front of real people playing live music. It's been a common theme amongst artists since lockdowns ended but so far none quite so evidently displayed as tonight.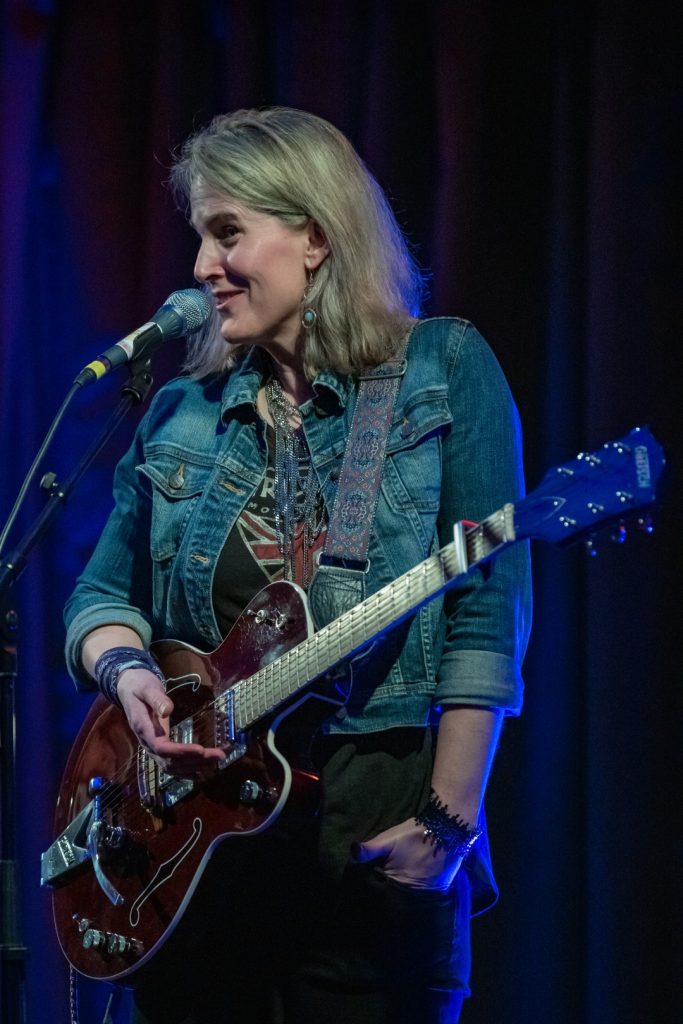 As the set drew to an end Lynne had the audience singing along with a very upbeat Shadowland with Blair pulling out all the guitar stops. In another country he would have been given several bursts of spontaneous applause for his breaks. With dramatic contrast Lynne and Blair finished set proper with an unplugged version of Gotta Have Rain, perched precariously on the stage edge. She said in the "before times" it was a song about gratitude and in the (hopefully) "after times" it is even more of a song about gratitude and appreciation of the way things are. " You want to have flowers, you gotta have rain". It was dedicated to as especial thanks to promoters and audience who are turning out to support live music.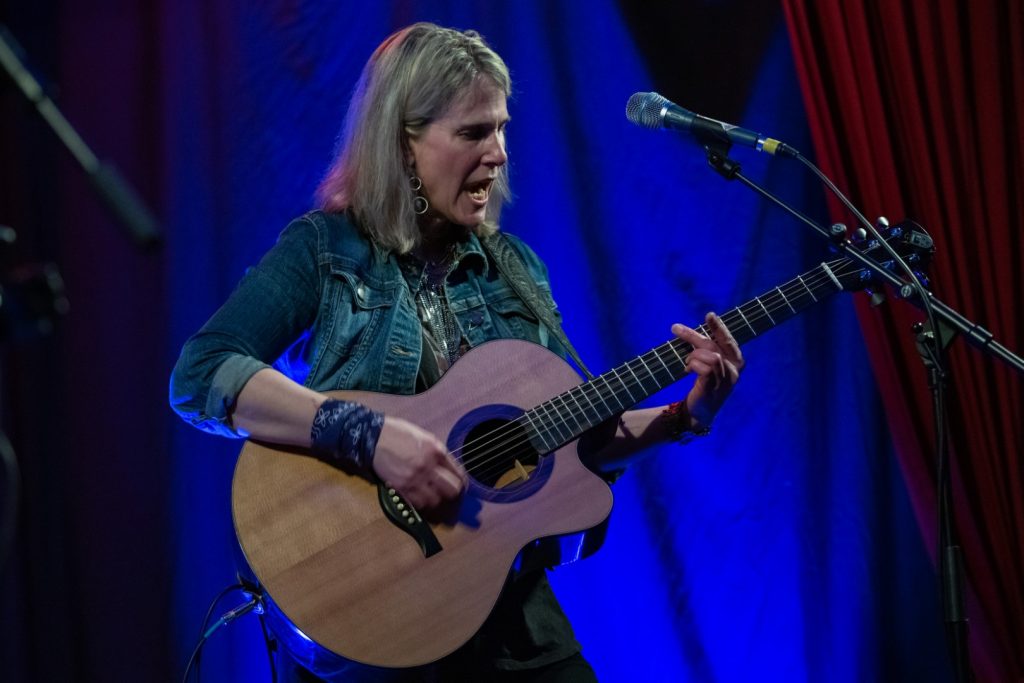 They weren't getting away without an encore which was the very superb River of Sand. A great night, good time had by all, performers, audience and everyone involved. What else do you want on a Sunday night?