Sunday 13th February 2022
Review and photos by Keith Belcher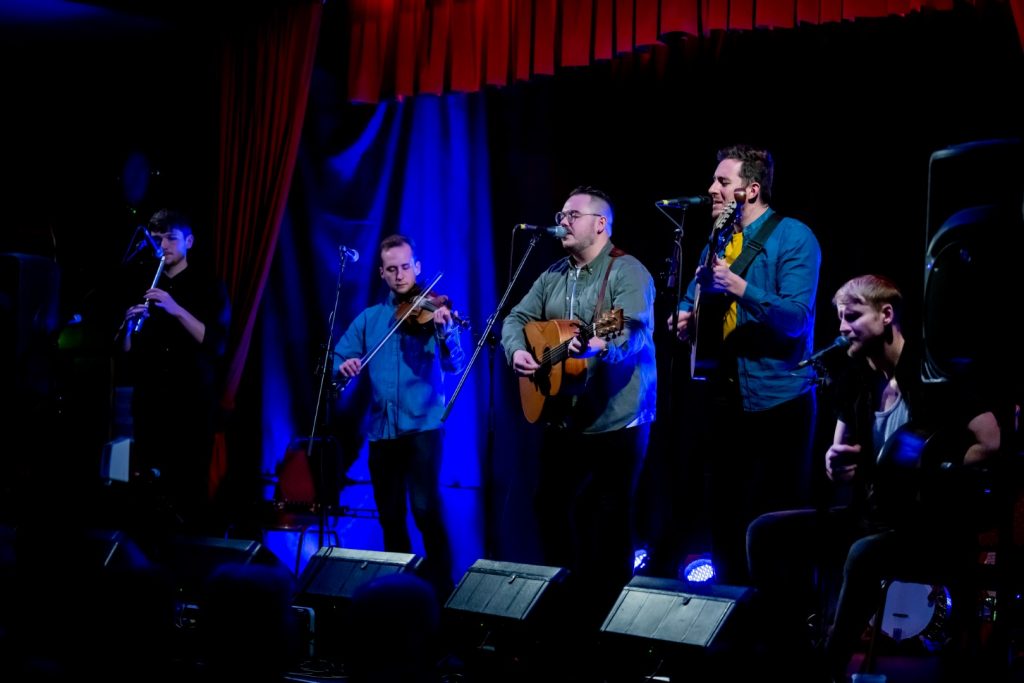 A debut appearance at TLR for the 5-piece Glasgow based band comprising Paul McKenna, guitar and main vocals, Conal McDonagh, pipes and whistles, Robbie Grieg, fiddle, Conor Markey guitar, tenor-banjo, bouzouki and backing vocals and Ewan Baird bodhrán and backing vocals. A fairly rare but very welcome appearance south of the Scottish border.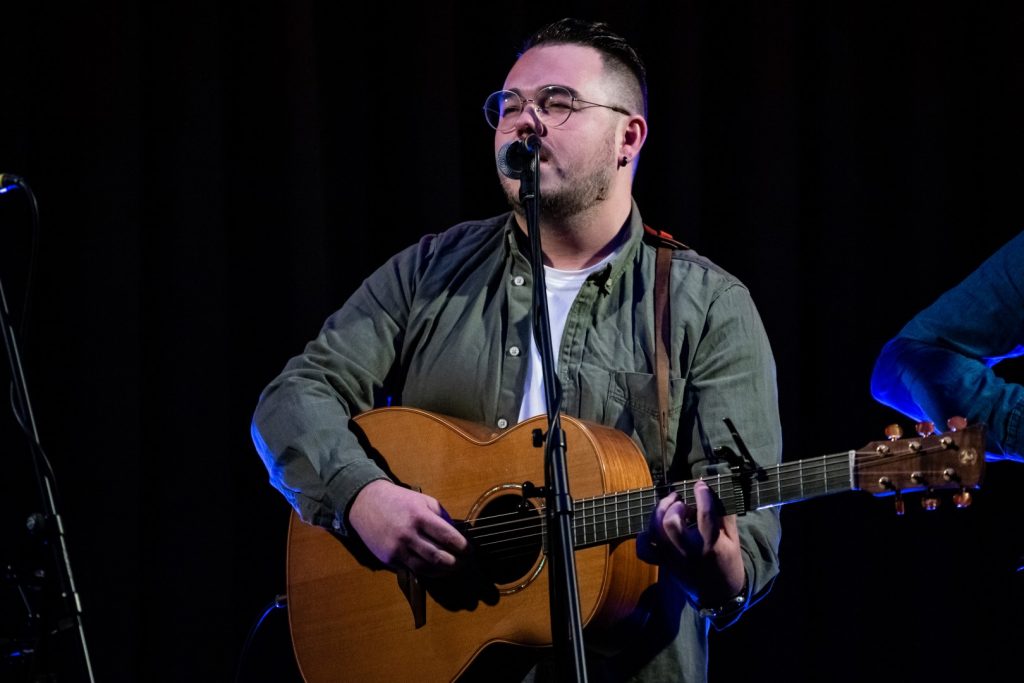 Last week we had Sarah Allen from Flook playing standing on one leg, out of choice. This week we had Paul limping painfully on one leg due to an injury picked up playing 5 a side football which attracted the absolute minimum of sympathy from band mates. There was certainly no limp to his voice, that was firing on all cylinders throughout the show. It was evident on the night just why he is regarded as one of the finest and most exciting Scottish voices. There was excitement all around, for the band the pleasure of actually playing in front of live audiences and as well as having the band appear, for the Live Room, the fact that for the first time there were 3 shows scheduled for this week. As well as 2 one leggers we also had 2 bodhrán players on the trot also with John Joe Kelly last week and Ewan Baird at this gig.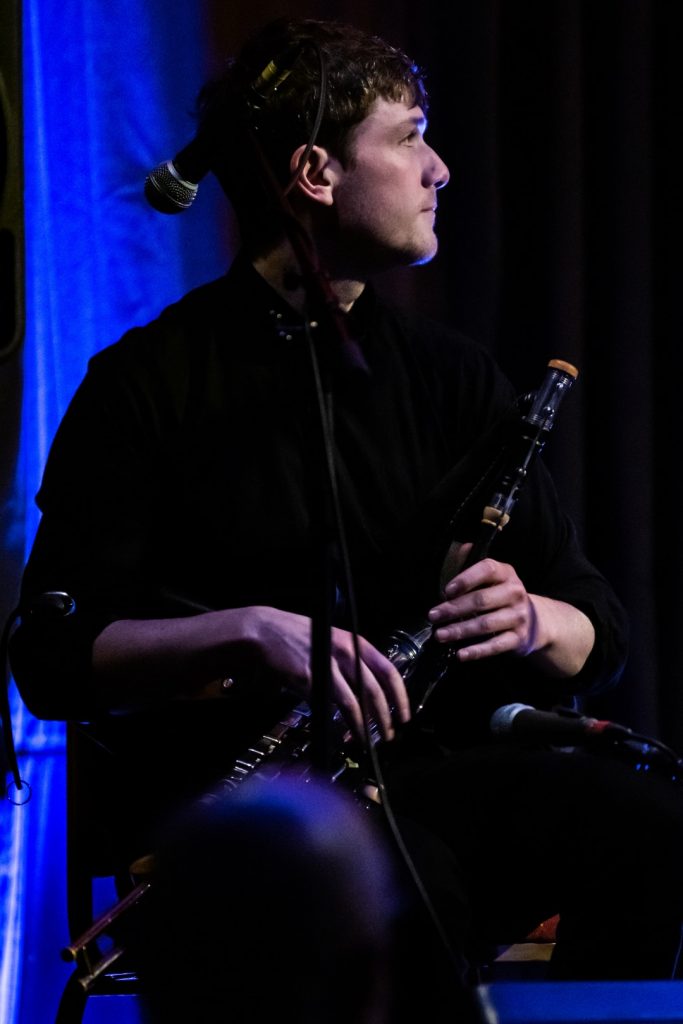 Introductions over the show started with The Mickey Dam a traditional Irish song about Immigrant labourers working on the Dam at Milngavie (pronounced Mil-guy) in Scotland. It's rousing choruses got the night off to a great start. Throughout the night we had traditional Irish and Scottish songs, Paul's own compositions, covers and also co-writes with other artists. Superb harmonious sounds coming from left of the stage with Conal and Robbie merging pipes, whistle and fiddle in a very pleasing to the ears sound. It's not surprising that Paul's voice has been compared favourably to the great Dick Gaughan. In Paul we have one of the most powerful and emotive voices on the musical circuits in any genre. Like Dick, Paul also writes songs with a social conscience, not yet as forthright as Dick but Dick didn't get that outspoken overnight. There is a Dick Gaughan song called Whatever Happened which could have been the forerunner to Paul's song The Dream, listen to both and see if you agree. Not surprising that Dick helped with the production of Paul's album Between Two Worlds.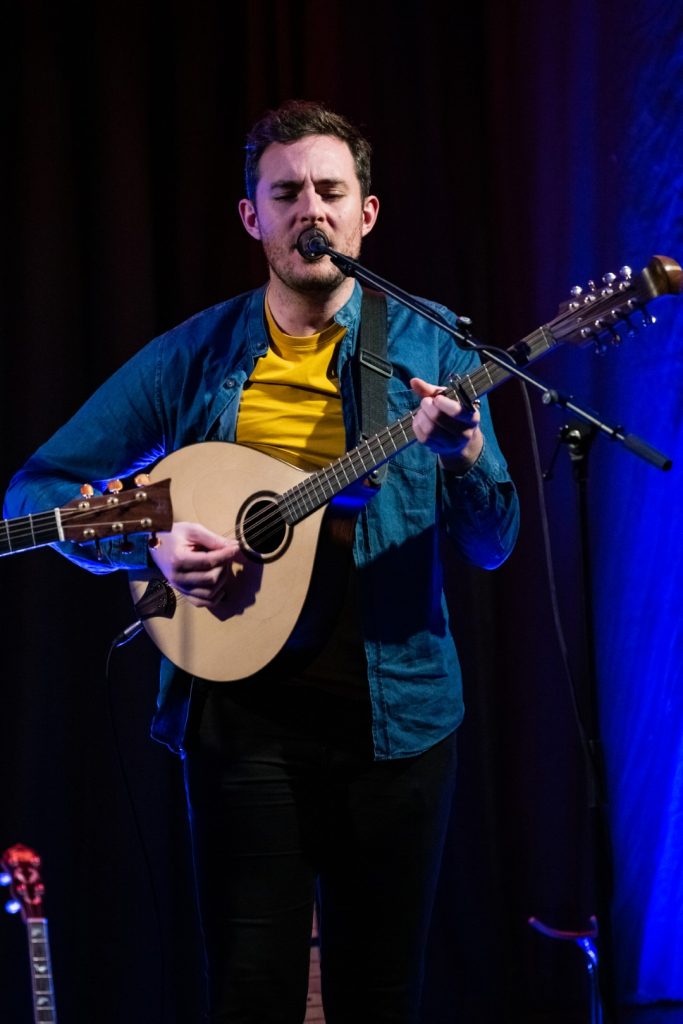 Conal switched between whistles and pipes throughout the night, playing both to great effect, likewise Conor switched between guitar, tenor-banjo and bouzouki as well as providing great backing vocals. A rock steady beat and great vocals from Ewan sitting mainly in the shadows at far stage right. The evening extremely well-paced, rousing songs alongside contemplative ones and 2 sets of very foot tapping tunes of jigs and reels. Lots of funny stories about Paul's residency at Disneyworld in Florida and adventures in the States and Canada. There seemed a lot of alcohol involved with some stories. A co-write with the great Tim O'Brien, Can You See Me Sister, evoked stories of digital, transatlantic song collaboration.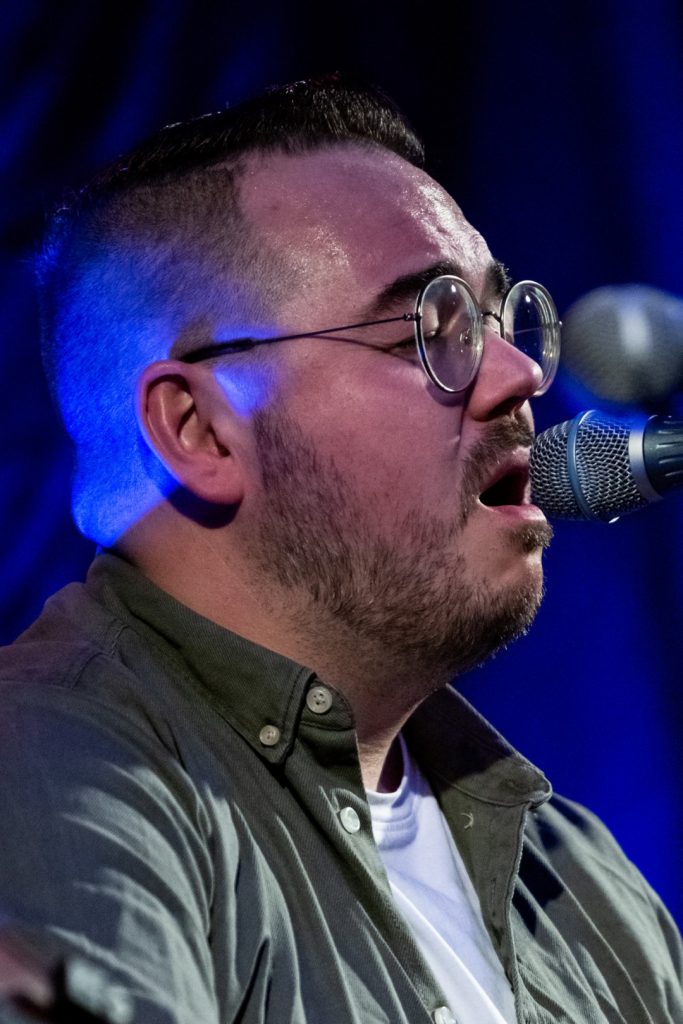 Robbie weaved in and around all the other instruments superbly all night. The audience participated enthusiastically and brilliantly on Paul's own composition Home, which was the last "real" song of SET 2, an easy one as it didn't involve words. They went off stage to rapturous applause, possibly a mistake for Paul to leave the stage as he had to hobble back for the encore, much to the amusement of his "sympathetic" bandmates. The encore of Walt Aldridge's No Ash Will Burn also invited the same level of participation from the audience, this time a bit more complicated but the audience passed the memory test with flying colours. Outside it was very cold and wet but inside TLR a very entertaining and warming evening, a great debut appearance by a great band.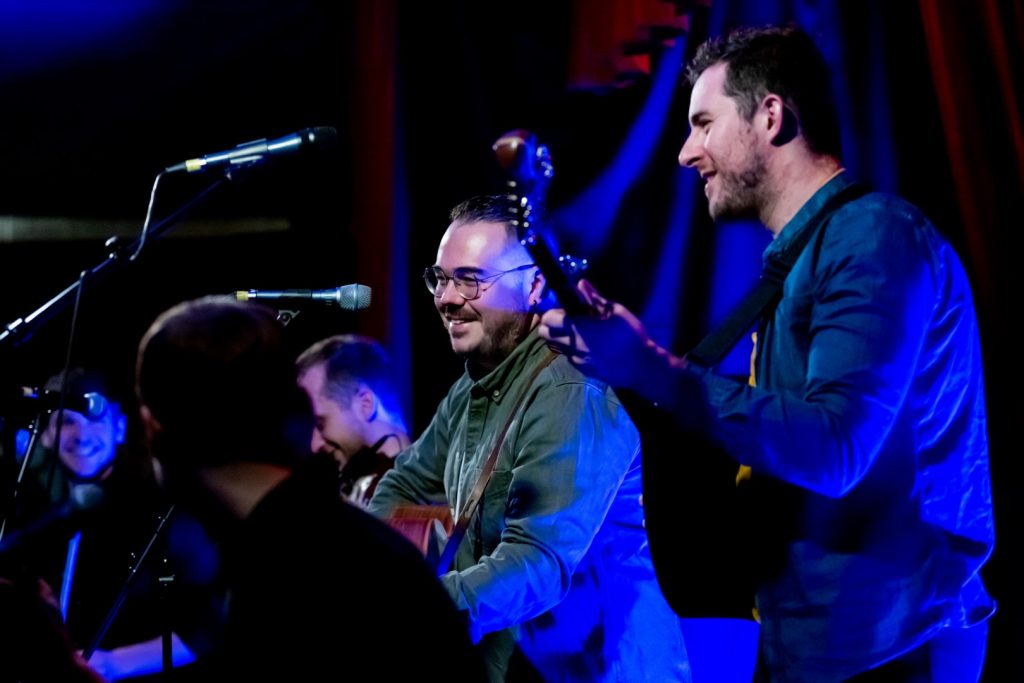 It was also the first of trial early starts for Sunday nights. Having started at 7pm the show was over shortly after 9pm. Those with "school" the next day were grateful. The trial worked well in my opinion.