Sunday 25th March 2018, The Live Room, Saltaire. The Secret Sisters with special guest Danni Nicholls opening the show. There was a tangible sense of anticipation and excitement from the maximum capacity crowd for tonight's show. Many guests, judging from the rapturous applause throughout and some of the remarks at the end found tonight one of the best ever Live Room shows. Both Danni and The Secret Sisters wowed the Saltaire crowd.
Danni Nicholls, originally from Bedford opened. A very competent guitarist, strumming and picking her own richly imaged songs and also singing them beautifully. Danni is well regarded by musicians and media alike. Her latest CD MOCKINGBIRD LANE features, amongst others, the legendary Al Perkins on dobro. Danni opened with "Long Road Home", a homage to returning to Bedford (or anywhere else you knew well).
She was well paced in her delivery and stage manner. The tempo was mixed throughout with the upbeat "Hey There Sunshine" followed by a break up song "Beautifully Broken" which was really well received by the audience who were listening intently to every word. Danni finished her set with huge crowd participation with a sing along "Back to Memphis", closing with a humming part to "A Little Redemption" from her 2013 CD of the same name. From the reception and comments Danni would be very welcome as a headliner next time around.
Onto the main act. The Secret Sisters, Lydia and Laura Rogers from Alabama. They and Danni had set off at 05:15 from Western Ireland so it was a very long day for them. The performance did not reflect that. They had spectacular reviews earlier in the year while appearing in the Transatlantic Sessions tour, many reviews claiming they and Daoirí Farrell stole the shows. Easy to see why. From the start they warned the audience that there were no happy songs in store, but everyone was "welcome to spiral down together".
On stage Lydia as well as singing plays guitar and delivers the punch lines and comments to Laura's many stories. Laura sings and does most of the on-stage banter. Laura can and does talk a lot. Their show consists of beautifully sung and arranged songs, some covers but mainly self-penned. Their versatile voices equally as effective whether singing solo or merging into the kinds of spine tingling sibling harmonies that can genuinely touch your soul. An equal part of the show is very good natured and very humourous sibling bickering. Laura's recollections and stories of her previous break ups and the songs they have inspired cause the audience to laugh out loud on many occasions.
They opened with the very popular "Tennessee River Runs Low", the opening track from their latest CD YOU DON'T OWN ME ANYMORE. This set an extremely high standard to follow. However, follow it and build on it they certainly did. Their songs are well crafted and superbly performed. There is some leaning towards old school doo-wop which makes the songs that much more catchy and infectious.
Throughout the night Laura related their history, talking of both ups and downs and how life led them through record label loss, court cases and bankruptcy to just where they are now. Where they are now seems a very good place to be. The songs "Girls Who Cry" and "You Don't Own Me Any More" expressing their feelings of downs and subsequent ups very eloquently.
The highlight of the night, for me, was "Bad Habit", another love song but so well sung and moving that the crowd just went into raptures at its conclusion. They had a very fancy looking microphone that they used for a medley of songs. The songs being Graham Nash's "Wasted On the Way", Paul Simon's "Kathy's Song" and inevitably an Everly Brothers classic "Let It Be Me". This medley, of course, allowed further confessions of crushes on Graham, sisterly bickering as to who was Paul and who was Art, both wanting to be Paul ….and Don Everly joining the stage at a tribute show.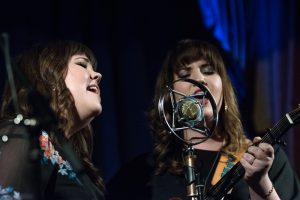 Thankfully, they dispensed with the usual pantomime of going off stage for an encore by telling the audience that they were getting an encore whether they wanted one or not. I wish more acts would do the same. The audience would have actually liked several encores. Their penultimate song was the very sing along hit "He's Fine". Who would want to be the person that song is about – hell hath no fury etc.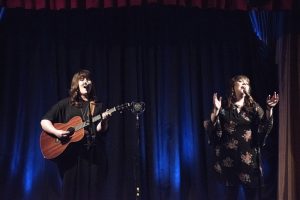 The audience were invited to hum and snap their fingers to the final song of the night but only if they had a fine sense of rhythm. This was a very sweet acapella rendition of the 1926 song "You Belong To Me". They ended the night just as well as they began it. The audience were on a definite high as they made their way home.
Review and photos by Keith Belcher