Plus support Lady Nade
Sunday 19th May 2019
Review and photos by Keith Belcher
Sunday 12th May 2019, The Live Room, Caroline Street Social Club, Saltaire. Yola and band came to Saltaire accompanied by opening act Lady Nade. A sold out show for many months with a long waiting list for returns brought people from far and wide to watch Yola in what may be her last tour in such intimate venues. Her career seems to be taking off like a rocket. This was , unusually for The Live Room a predominantly standing gig and had been advertised as such for many months.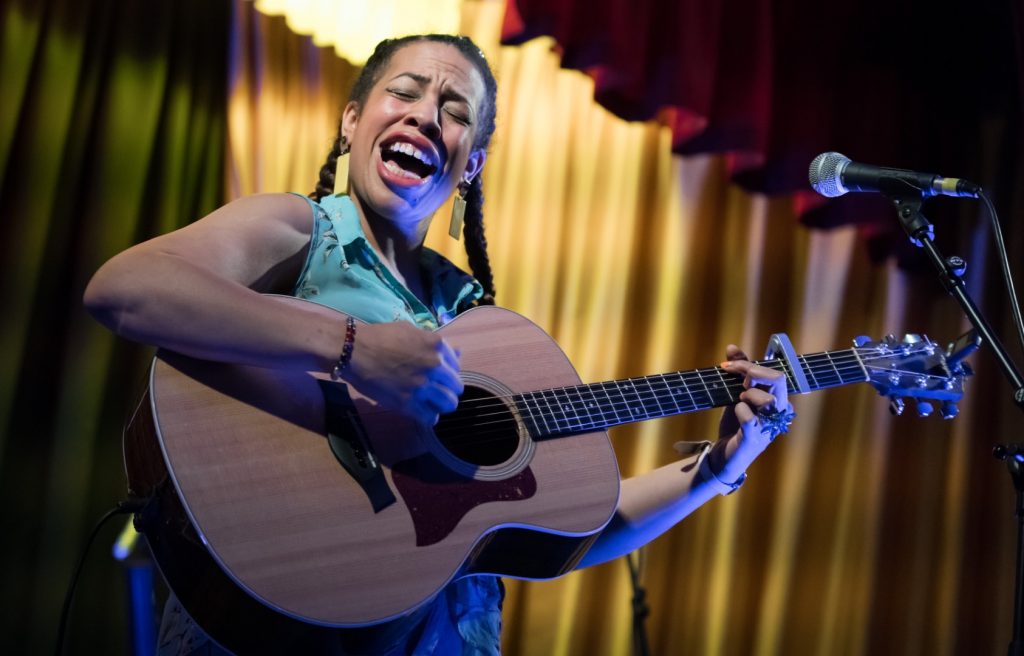 By the time opener Lady Nade took to the stage there was a discernible buzz of excitement. Lady Nade, real name Nadine Gingell handled this with ease. Lady Nade describes herself as a rootsy-songstress fusing modern soul, roots, blues and pop folk. Seemingly very self-assured she engaged instantly with a very receptive audience often talking between songs about one of her other loves, cooking.
Lady Nade , unusually creates recipes to accompany all her songs, amongst tonight's were red velvet cake, salad and red hot lentil dhal, recipes that is, not songs. It can't be easy being the opener for someone like Yola but Lady Nade handled it brilliantly switching acoustic and electric guitars on a very cramped stage and pun intended, whetting the crowds appetite for Yola. (apologies, couldn't resist!!).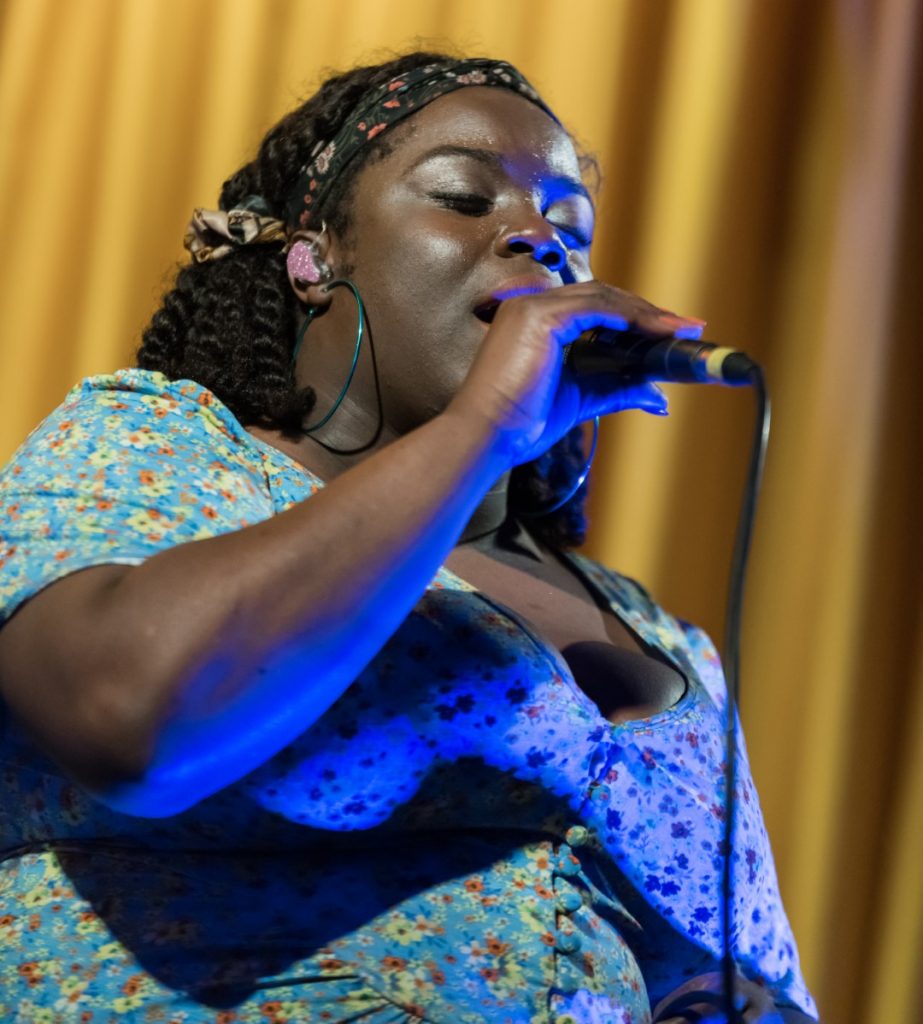 Yola had a very tight 5-piece band to accompany her. Yola obviously took lead vocals and also played acoustic guitar, long time guitarist Kit Hawes on electric , acoustic and vocals, John Blakely on drums and vocals, Mark Lewis, bass and vocals, Daniel Inzani on keyboards and UK Americana Instrumentalist of the year Chris Hillman on pedal steel, lap steel acoustic and vocals.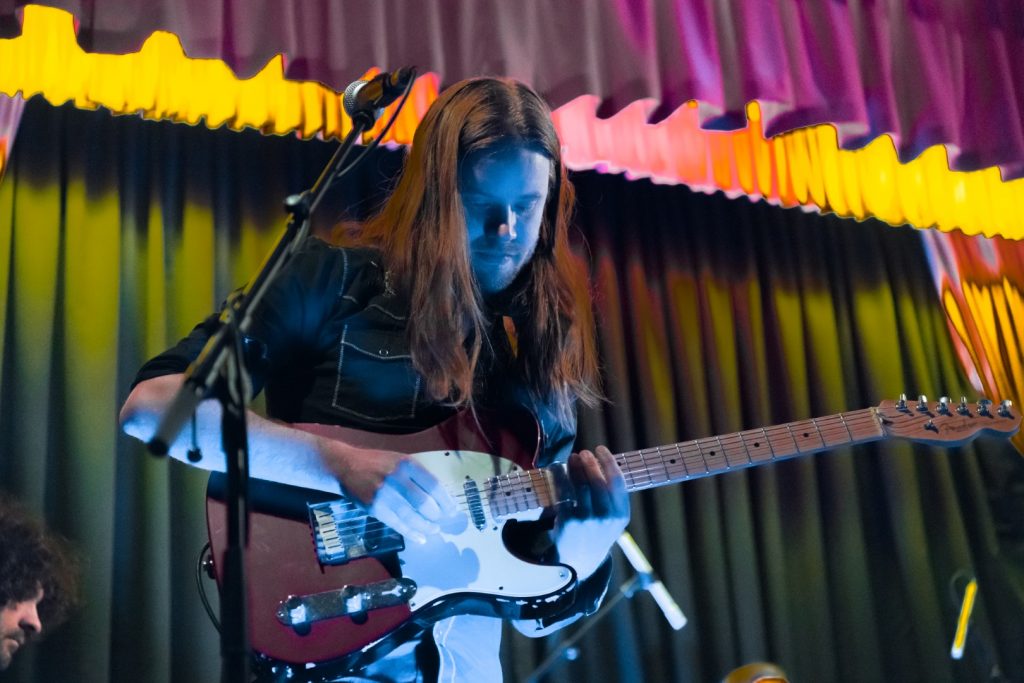 Labelled by many as country soul she and band rocked and equally caressed and soothed the audience from start to finish. Precision playing throughout by a very tight band who seemed to have been playing together forever.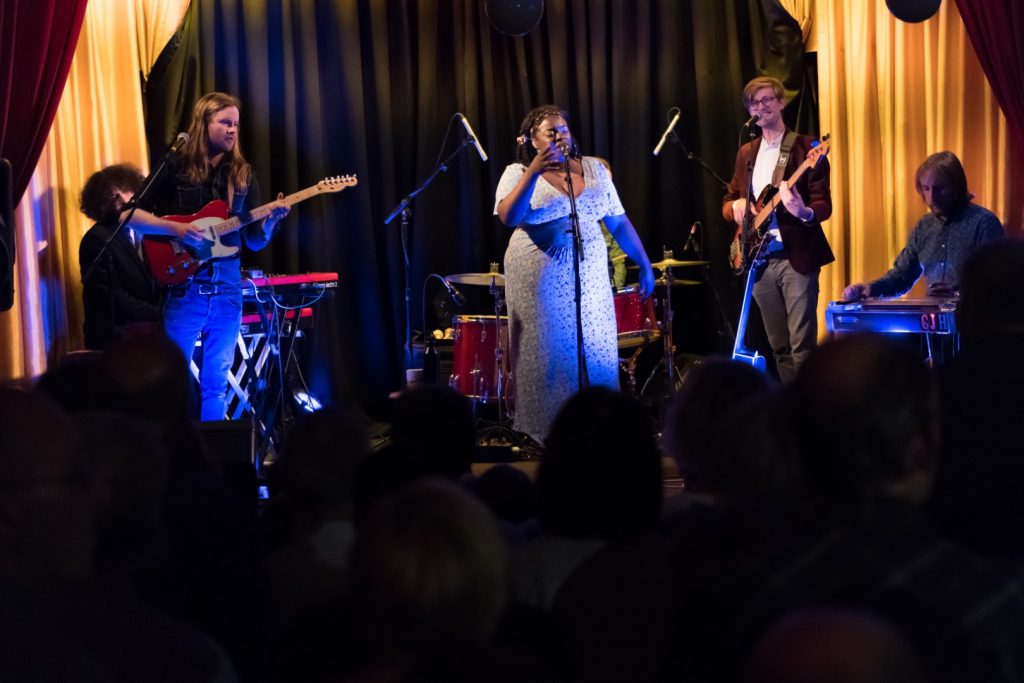 Yola opened with a gentle musical introduction to the very mellow Lonely The Night from the CD WALK THROUGH FIRE, her voice soaring to give hints of the available depth and range, at times gentle at the start of the phrase then fierce midway through. Thanking the audience and creating immediate rapport she followed with the sweet Ride Out In The Country with some beautiful pedal steel accentuating the song. A more up-tempo longing song Still Gone followed, guitar, drums and bass and catchy chorus bouncing the song along.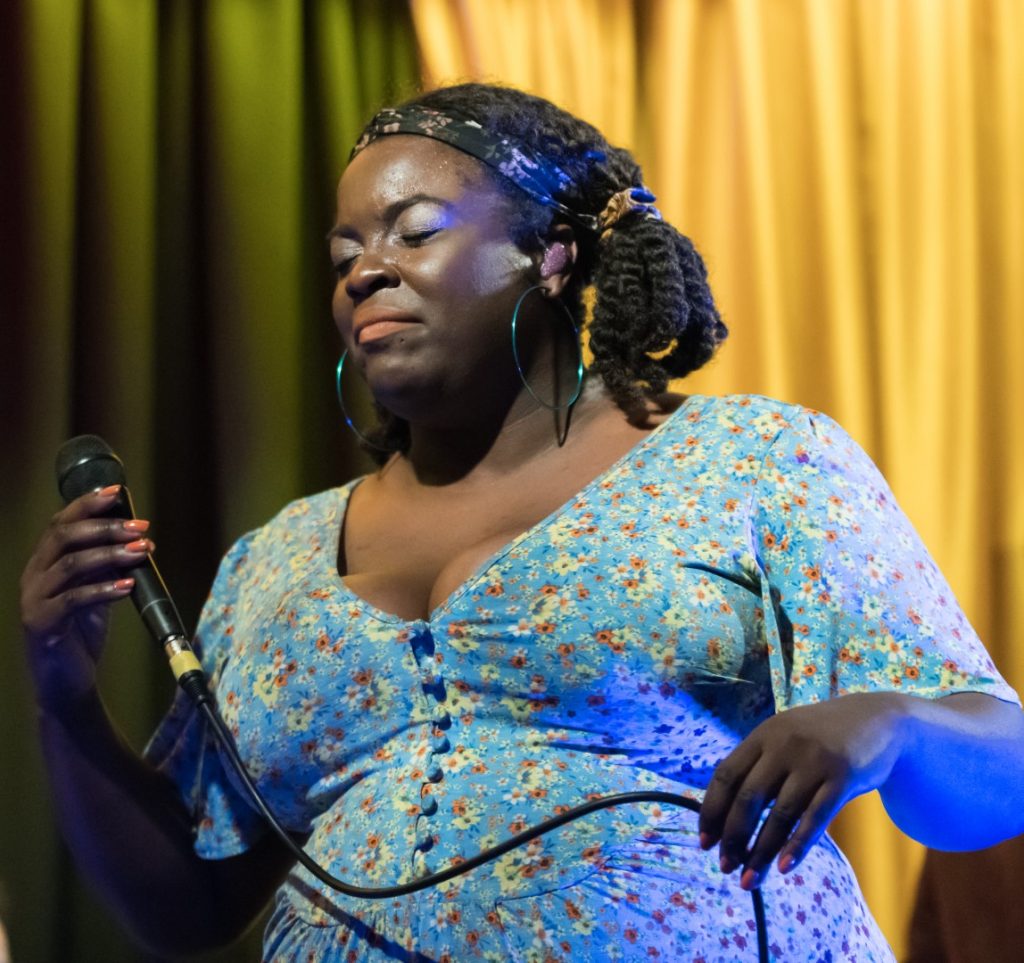 Yola occasionally played acoustic , other times concentrated on the singing. Her band, it must be said contributed some great vocals and harmonies as well as exquisite playing, no one really soloing for more than a few seconds but very, very sound. Her voice at times was a growl, sometimes a whisper. Teasing the audience with a wicked laugh and hint of an encore , a drum intro to the last song of the set , the lovely Far Away Look, a song requested by many in the audience, it allowed her voice to express its full range.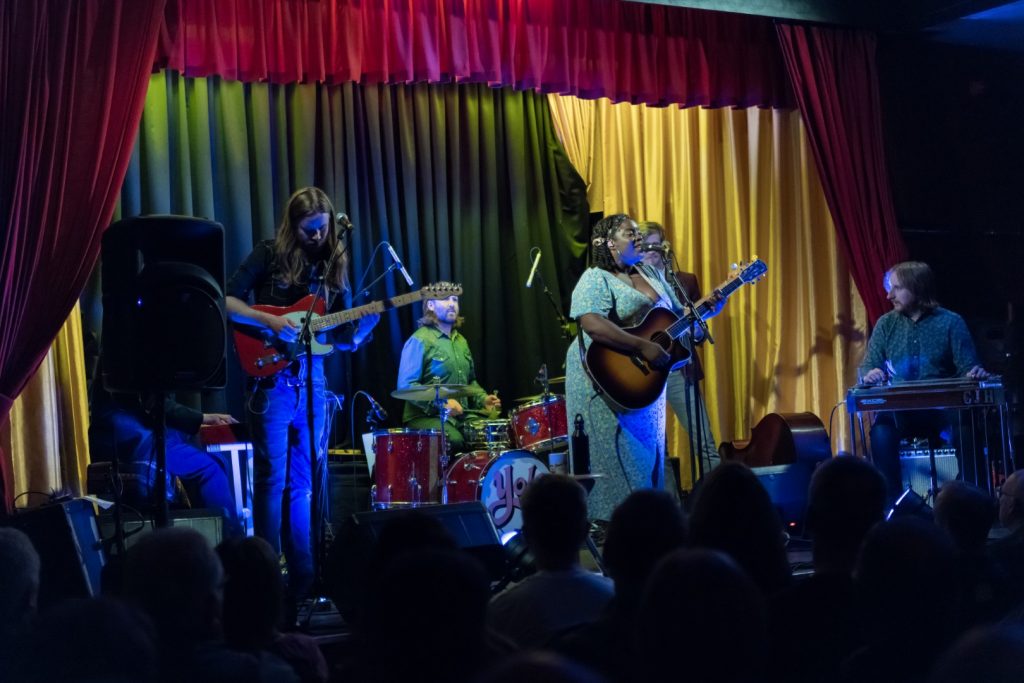 Three covers comprised the encore, the first was a very creditable cover of Spanish Harlem in tribute to her hero , the greatest female soul singer ever Aretha Franklin. Next was a song by , in my opinion, the most influential female songwriter ever, Joni Mitchell. A medley of Big Yellow Taxi segued into the driving beat of The Letter as immortalised by Joe Cocker and Leon Russell on the legendary Mad Dogs and Englishmen tour.
Yola had obviously put a lot of thought into the medley. I think most people left in a very uplifted mood in a way that only really live good music leaves you feeling. A great Sunday night in Saltaire. I suspect next time I see her will be in a far larger venue.