Sunday 12th December 2021
Photographs and review by Keith Belcher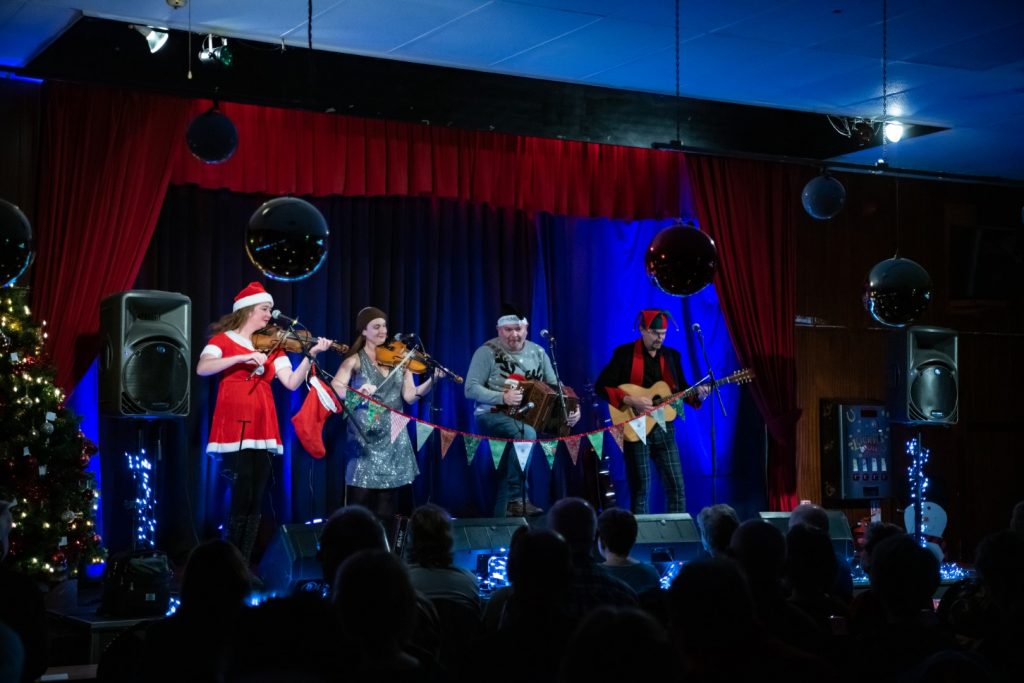 A Bright New Year with The Melrose Quartet. Sheffield based Melrose Quartet are Jess & Richard Arrowsmith and Nancy Kerr and James Fagan. All dressed in festive finery and sweltering on what was a very unseasonably warm night, contributing on vocals to the glorious harmonies and between them playing violin, viola, melodeon, bazouki and guitar. The room was bedecked with Christmas lights and huge baubles as well as a Christmas tree on stage left.
Hilary and Ron welcomed everyone with what has become a traditional Live Room Christmas Show tradition with copious amounts of free sherry, mince pies and chocolates. The show was a sell out albeit restricted to all seating in deference to social distancing and audience and venue concerns.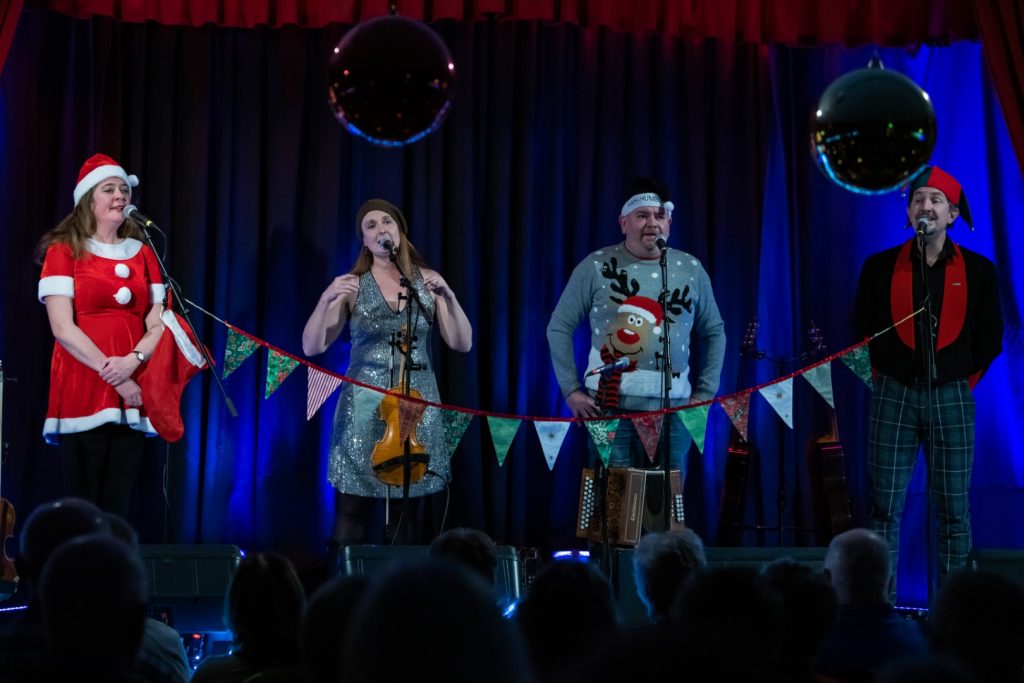 Our "leader" was making his TV announcement midway through set 1 but the audience was, as usual, way ahead of him. Almost everyone turned up wearing face masks and I have no doubt they were also double and triple jabbed as well. Despite the precautions you really couldn't get a more Chrismassy feel to a show than that produced by the soaring harmonies of The Melrose Quartet.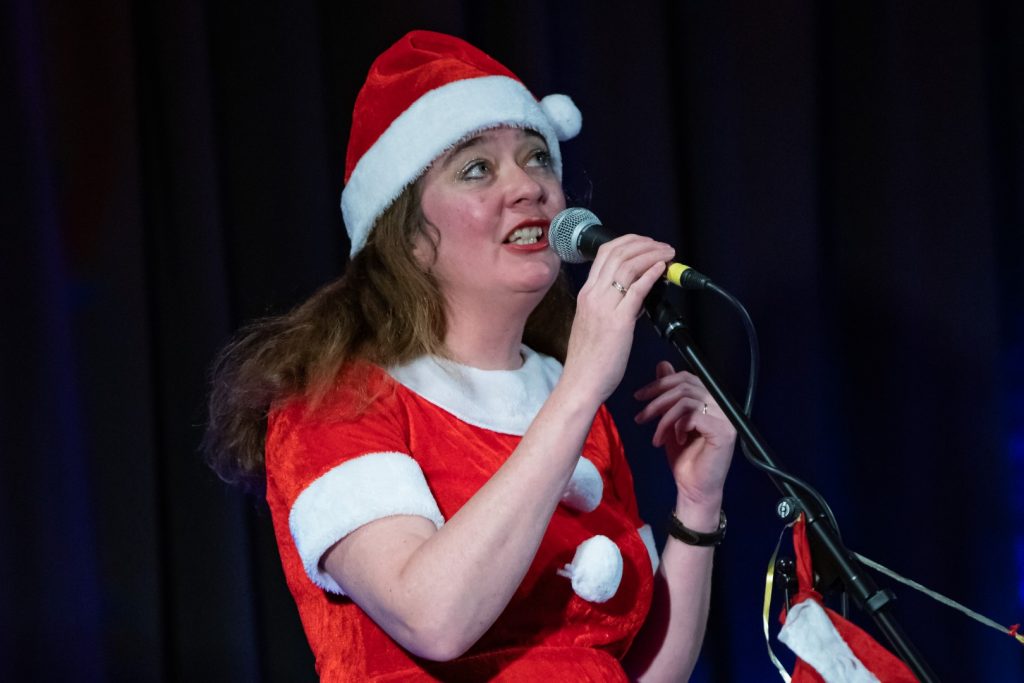 No one would deny there was a party atmosphere and there were also games and quizzes on the night. On the Christmas tree at the side of the stage were 6 red and 6 white baubles with numbers on. These were selected throughout the show by randomly picked audience members. These were for the Rudolph variations. 12 versions of Rudolph the Red Nosed Reindeer but done to totally different tunes. A lot harder than it sounds. The audience had to identify the tune. I admit to being abysmal at said task but one group (conferring was allowed and took place , no one will deny that) scored 10 out of 12 and won a Chocolate Santa. A similar prize was given to the most memorable festive woollies.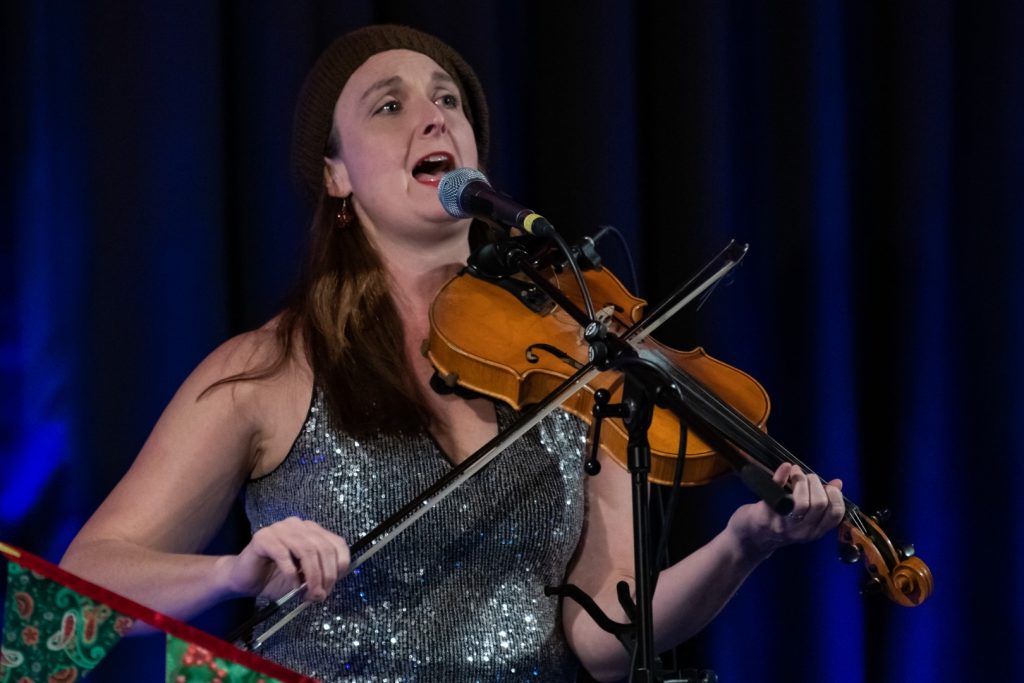 The majority of the nights music was from the new CD THE RUDOLPH VARIATIONS , some traditional Sheffield Carols and modern classics by the likes of Si Kahn and Robb Johnson. They did stress that it wasn't a CD full of Rudolph versions. The encore was a very rousing We Wish You A Merry Christmas. Let's all hope for that and a Bright New Year in 2022.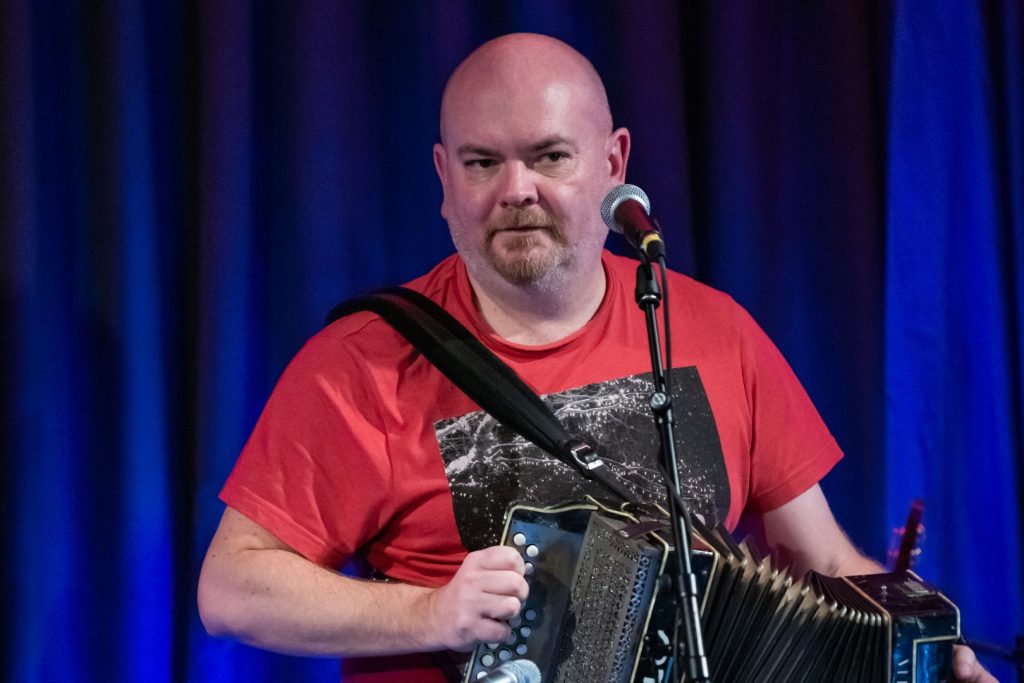 It was great of the band to pay tribute to Ron and Hilary and the staff of TLR for keeping the faith and keeping the music alive during the last 2 years. I would like to also thank Ron and Hilary for continuing to do what they do so well. We are very lucky to have the club.