Sunday 7th November 2021
Photos and review by Keith Belcher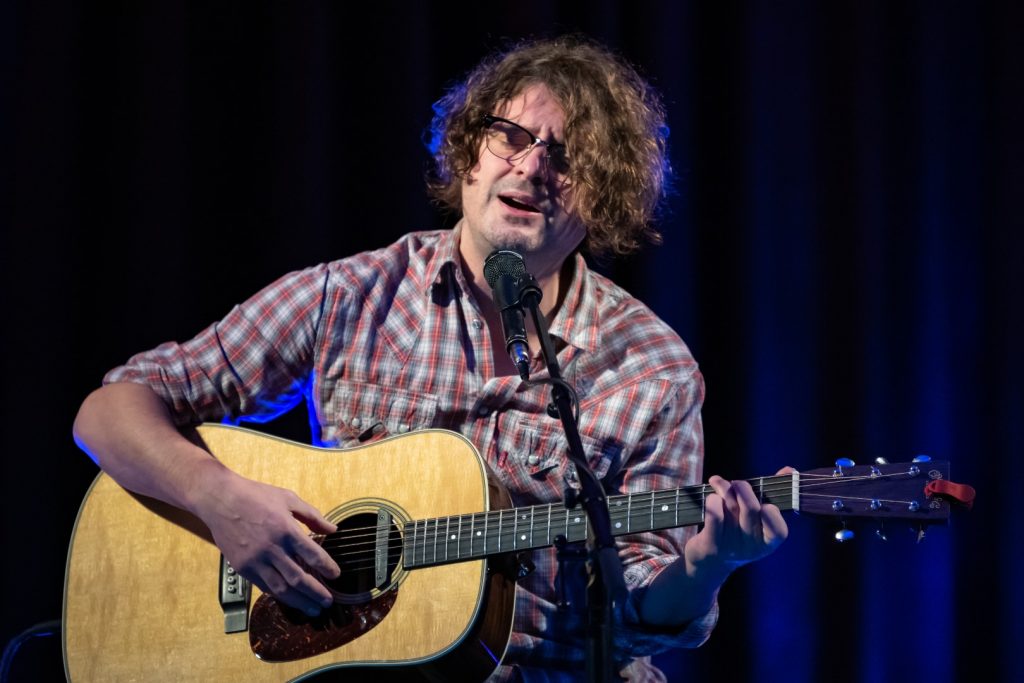 Sunday 7th November 2021, The Live Room, Saltaire: Chris Helme, solo with one acoustic guitar, making his long overdue TLR debut. Being heard singing in the bath got him his first line up in the band Chutzpah, having heard his voice I can see why. Best known for his adventures with the band The Seahorses between 1996 and 1999, he auditioned for that job after being seen and heard busking outside Woolworths in York. During that time he and the band supported the likes of Oasis, U2 and The Rolling Stones. Between 1999 and 2009 he performed solo and with The Yards. Since 2009 he has been mainly a solo performer.
I admit knowing next to nothing about the indie scene of the 90's but I was very impressed with Chris's performance at TLR. During the sound check it was very noticeable just what a great voice he had. I can't recall many people having that powerful a voice and I don't mean the type of histrionics favoured by The Voice, X Factor etc. While setting up Chris requested a small table on stage a la the late Dave Allen, he favoured glasses of wine and water rather than Dave's whiskey. He didn't actually tell any jokes about the Pope but did sit on a tall stool and sip his drink in between songs and anecdotes in a very laid back manner.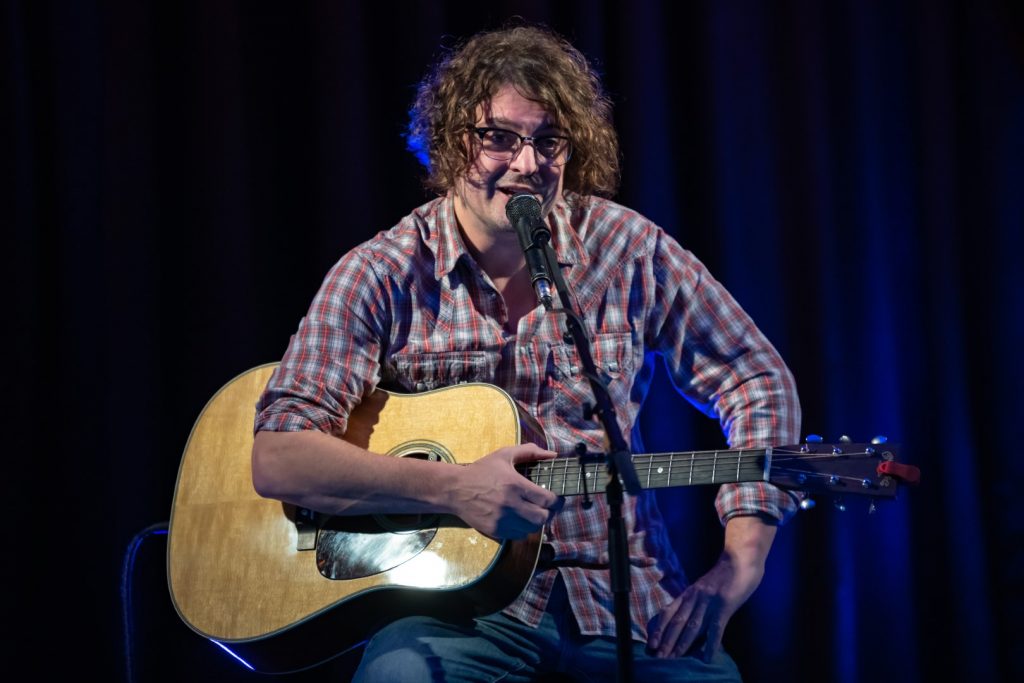 He is a very natural raconteur, having the audience in stitches with his between song stories about all sorts, not just the song intros but his various office jobs. He could just have easily have performed a stand-up routine on a comedy night judging from the laughs and excellent delivery. We did get a few seconds of a George Formby version of Love Is The Law, much singing along from the audience.
Two sets, opening with Hello from Seahorses times. Songs performed on the night were a mixture of The Seahorses and The Yards as well as much of his own solo material . There was also a liberal peppering of covers of The Faces, Paul Simon , Nina Simone and the Doors. A stomping version of The Doors Five To One segueing into Be Your Husband as the encore, the audience being fully engaged in clapping and chorus duties. A different atmosphere in The Live Room tonight with a relatively younger audience than is usual, many making their first visit. I don't think it was just the songs and his history that drew his fans to The Live Room, excellent though his performance was. He seemed to have an astonishing rapport with the crowd knowing many of them and it took an age for him to get to the Merch desk, so many wanted to chat to him. I for one, really hope we see him at TLR again in the near future.