plus support from Native Harrow
Sunday 10th April 2022
Review and photos by Keith Belcher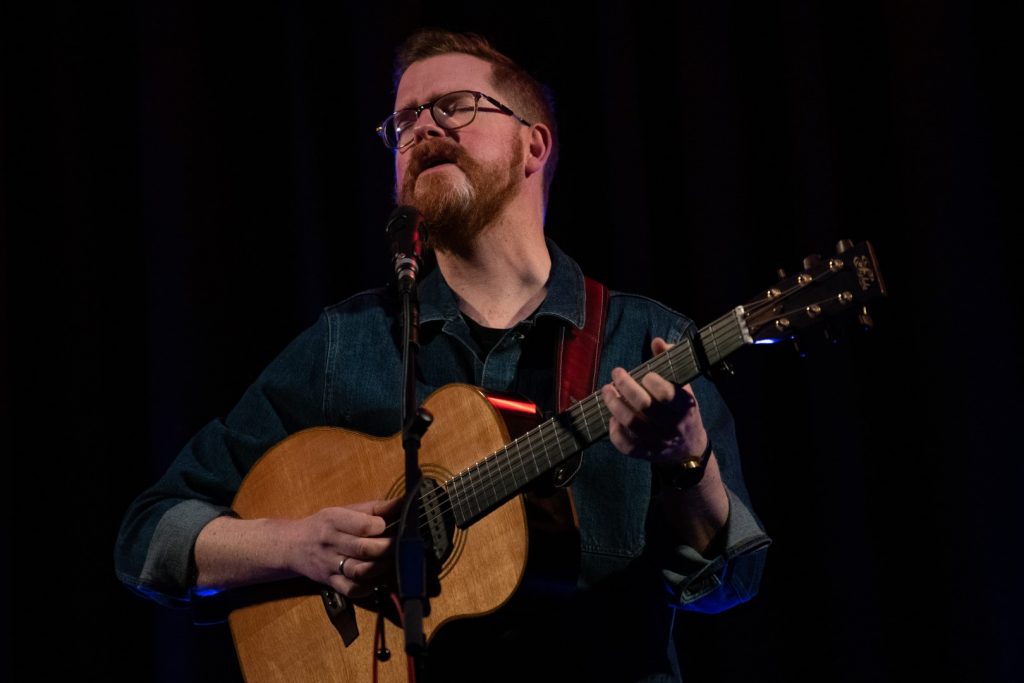 Supporting John on this tour were Philadelphian duo Native Harrow, now resident in Brighton. UK. They are Devin Tuel on main vocals and guitar and musical partner multi-instrumentalist Stephen Harms, tonight mainly on bass and guitar. Both wearing well-made flared trouser suits. They evoked, to me, sounds of the late 60's and 1970's.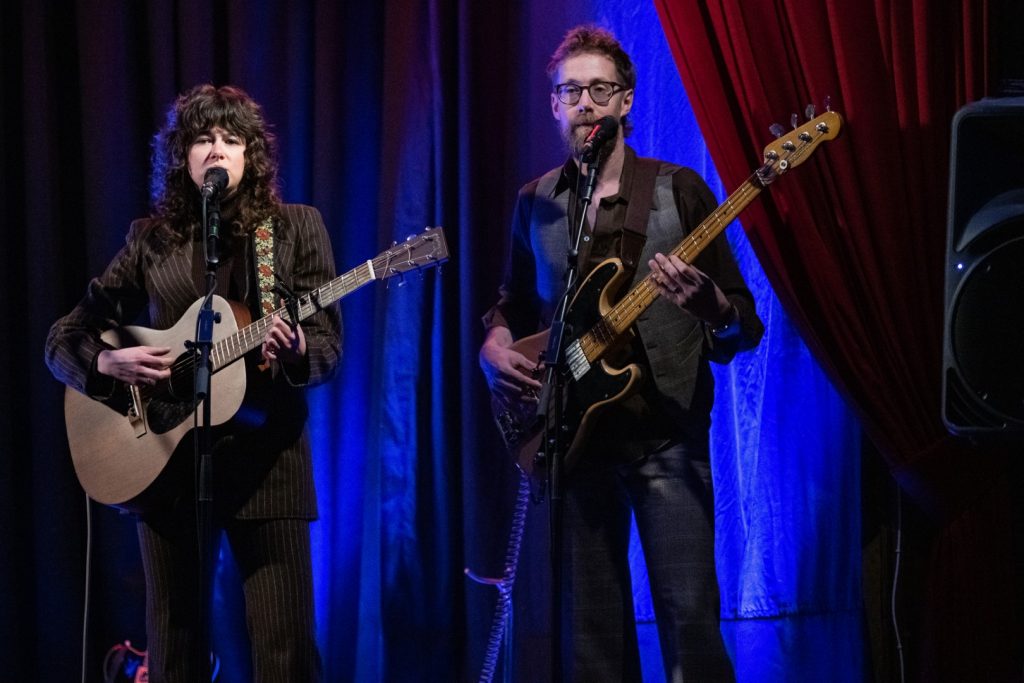 Devin's vocals have been compared to, amongst others, Laura Nyro and Karen Carpenter. They have released 4 albums. The latest being CLOSENESS which garnered very good reviews from Uncut, The Times, Mojo and The Guardian. They certainly seemed to have some avid followers in the audience who greeted their songs with much enthusiasm.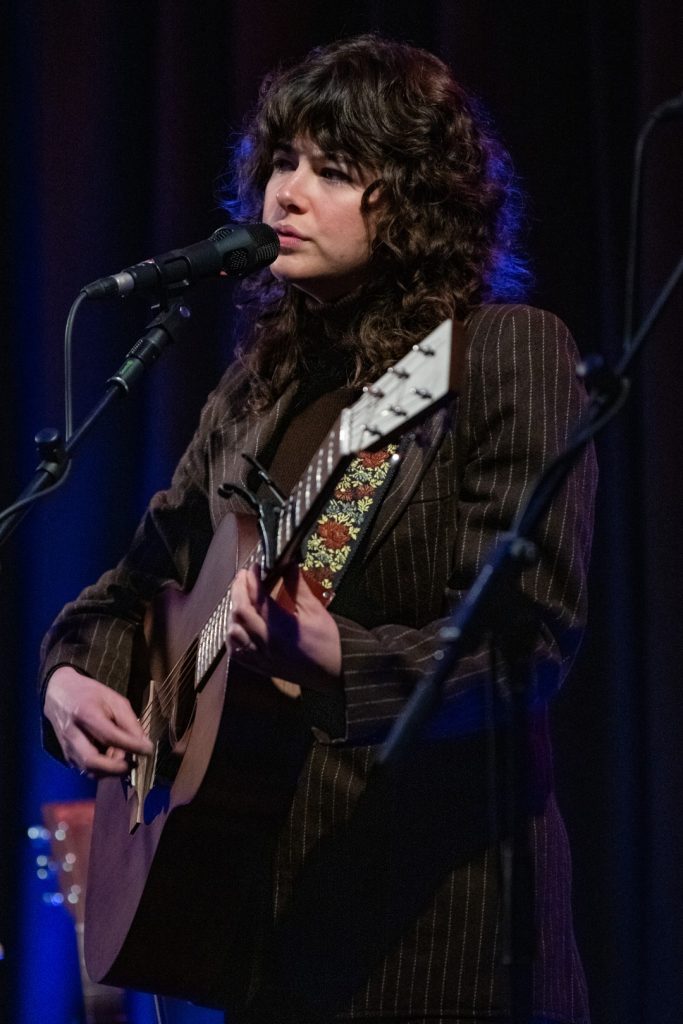 The dictionary definition of exquisite is: adjective: "meaning extremely beautiful and delicate or marked by flawless craftsmanship or by beautiful, ingenious, delicate, or elaborate execution". It could also be justifiably ascribed to John Smith's performance on Sunday night. I have seen John Smith play great shows many times over the last 16 years or so, often taking in several shows in a tour. Sunday's show, however, was just exquisitely sublime. The show was deservedly sold out in advance. That's not bad when you consider he was only playing a few miles away at The Brudenell Club, Leeds the night before. Usually promoters try and avoid that sort of proximity clash but with multiple cancellations, rescheduling etc etc over the last 2 years, life is what is!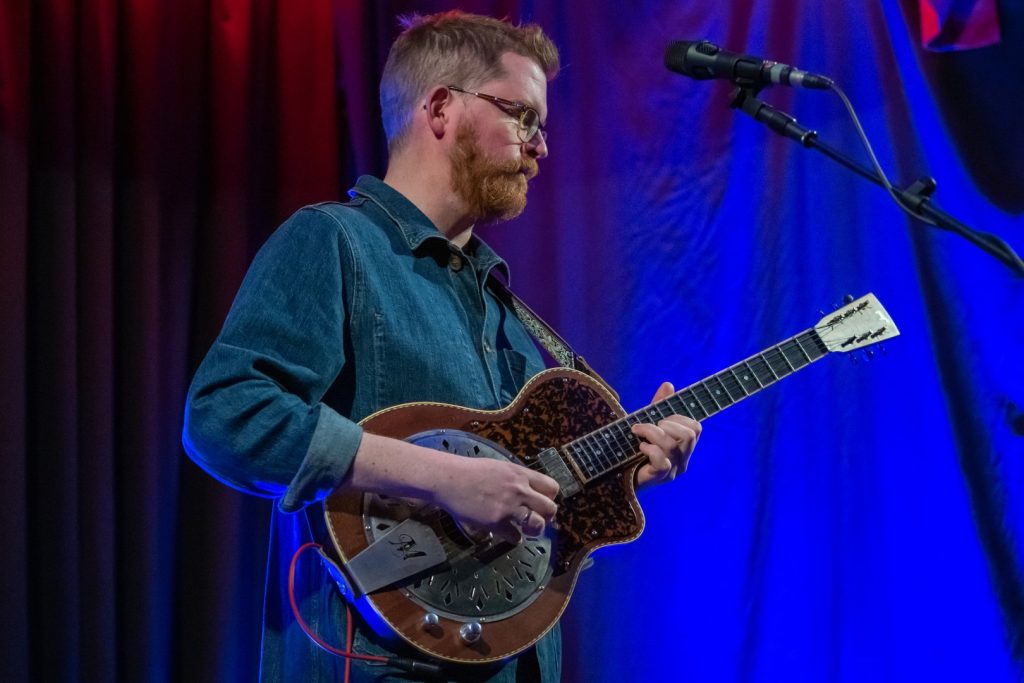 There have been many changes for John over the period of you know what. He's had time for much reflection and introspection. It's resulted in many great new songs. He's moved home from Somerset to North Wales, brought his parents over from Spain to care for them, found out he's allergic to all sorts of things and changed his diet considerably. He's brought out 3 excellent albums over that period. He has also really missed playing to real live audiences.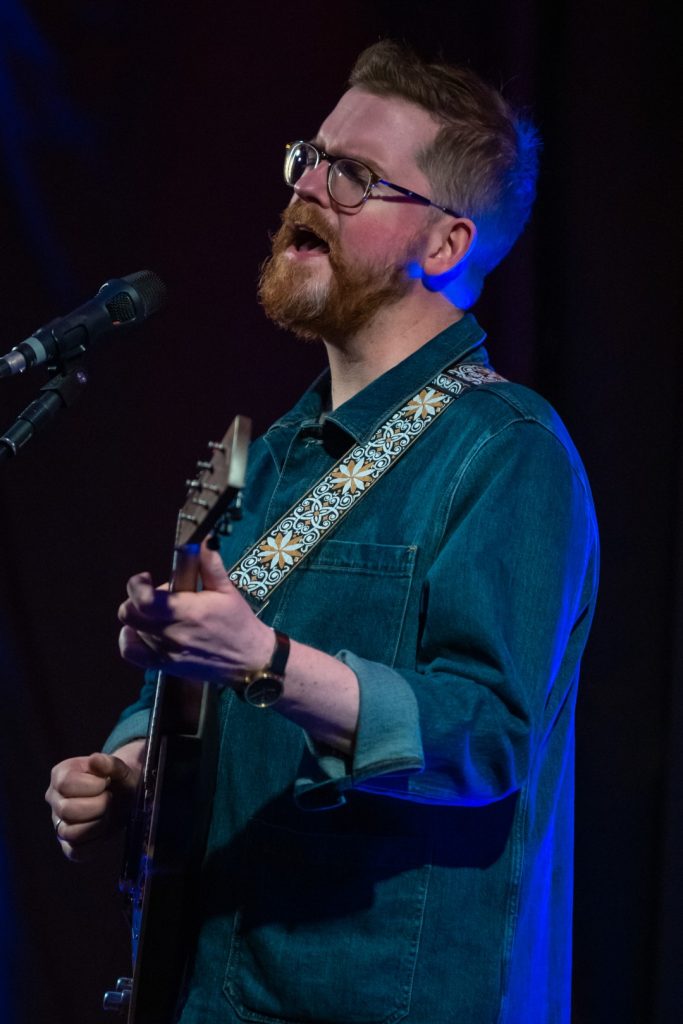 The joy of being able to perform again has been, like for other acts recently at TLR very noticeable. His sound has altered considerably. To my ears it's far more refined and delicate. He was always quiet but never more so than now. The array of effects pedals at his feet also seems to have bred profusely and are used subtly to enhance his voice and guitar. He always used to make do with 2 guitars but he now travels with 3 and one is called Mavis. Perhaps the other 2 also have names but he didn't introduce them on the night.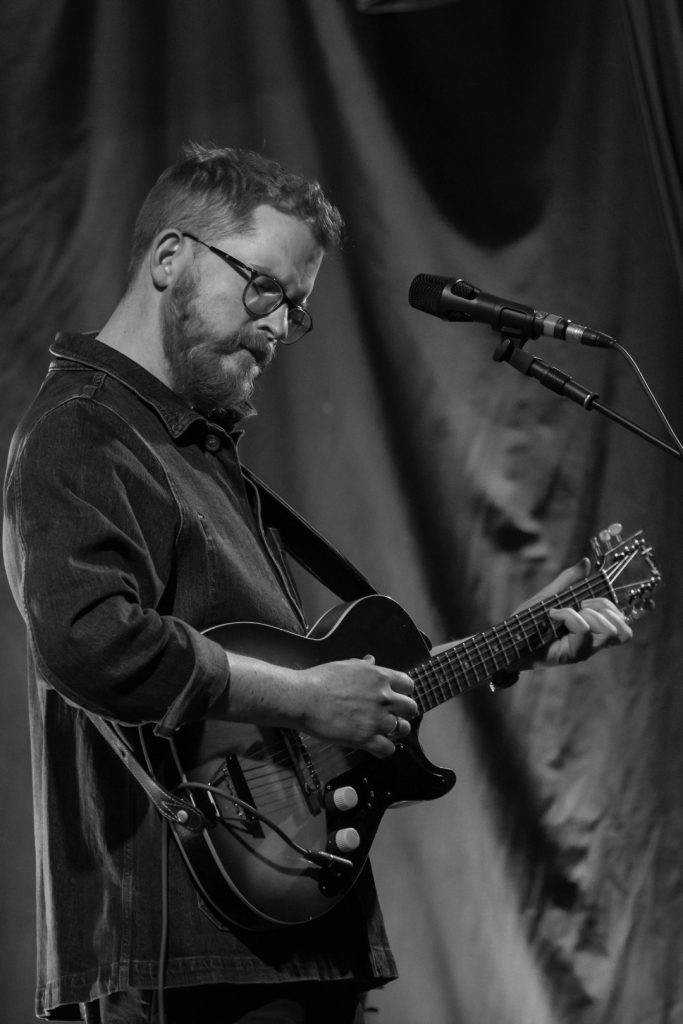 A rare night off sound desk duties for Ron, which, I would imagine made the sold out show even more enjoyable. John and Native Harrow had the skills of Barnsley's Joe Rusby at the desk. Both Joe and John commented at the sound check just what a great room TLR is for sound. Something all the regulars are well aware.
John's set opened with the array of pedals being used to great effect on a long extremely delicate intro to Hold On from THE FRAY. He then remarked it had been approximately 3 years 16 days since he performed at TLR, not that he had been counting! The next 2 songs were also from THE FRAY. Sanctuary had also been re-recorded for THE FRAY VARIATIONS with a String Quartet at Abbey Road. It has, amongst others, a wonderful line, "I saw the future with eyes wide open".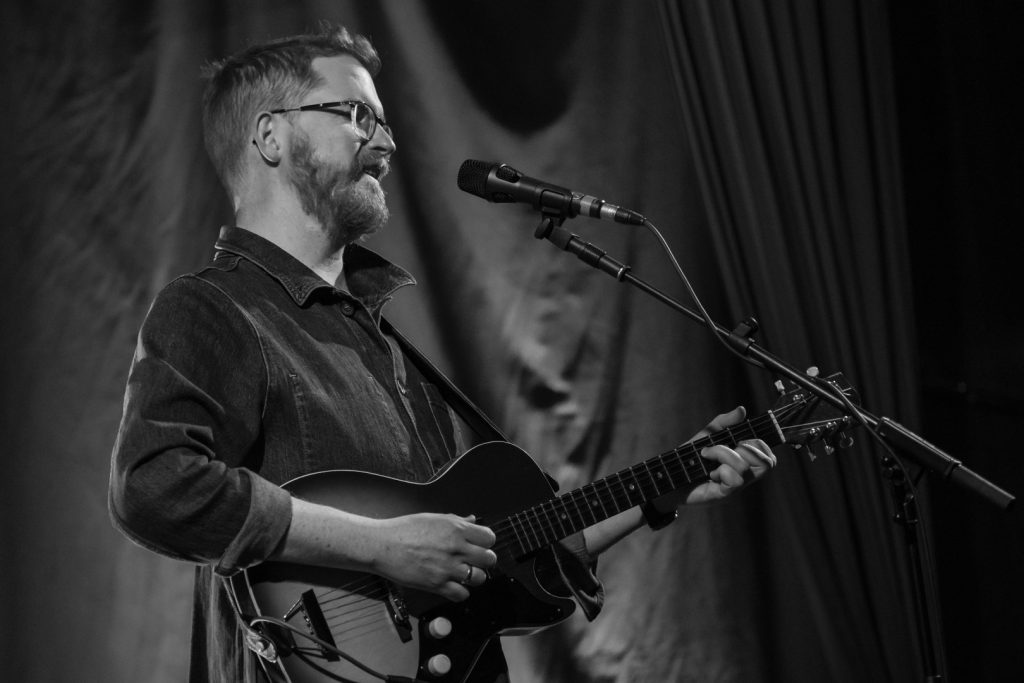 The set also featured the traditional Hares On the Mountain and a Roly Salley cover, Killing The Blues, really beautifully sung and played. Whenever I hear this song played by anyone, I think back to a Martin Simpson comment about the royalties cheque difference when Robert Plant and Alison Krauss recorded the song, considerable I should imagine. John's version was just as good. 
During the time of no live gigs John collaborated with the very phenomenal Sarah Jarosz on a song called Eye To Eye, also on THE FRAY. What a lucky man! He sings with both Sarah Jarosz and the equally brilliant ("big sister") Lisa Hannigan. He commented that when he received the vocals (it was all done at distance, Sarah is US based) from Sarah he thought he had better redo his own already recorded vocals, Sarah's were that good. I have seen her several times and she really is a huge talent and still SO young. She also performs in a trio called I'm With Her with Aoife O'Donovan and Sara Watkins who have harmonies beyond belief, well worth checking if not already known.
He did 2 songs co-written and sung with Lisa. The first was Star Crossed Lovers. John joked if we imagine hard Lisa and Sarah might appear from backstage. I'd think I was hallucinating or in heaven if that happened.
 John in a recent Facebook blog had given a glowing report on TLR audience. His line was a "die hard pin drop audience". I was really aware of this as Sunday really was a "you could hear a pin drop night". I had arranged with John that I would photograph 3 songs to capture the 3 different guitars and I would do most of it from the back. I have never been so conscious of a shutter click, the listening intensity of the audience was so much that to me, the shutter release sounded like thunder. I sincerely hope I did not really annoy too many people. I moved around to "share" the load. John maintained a friendly constant banter with the audience throughout. There was even a little friendly Northern heckling of Get On With It in response to one banter interlude.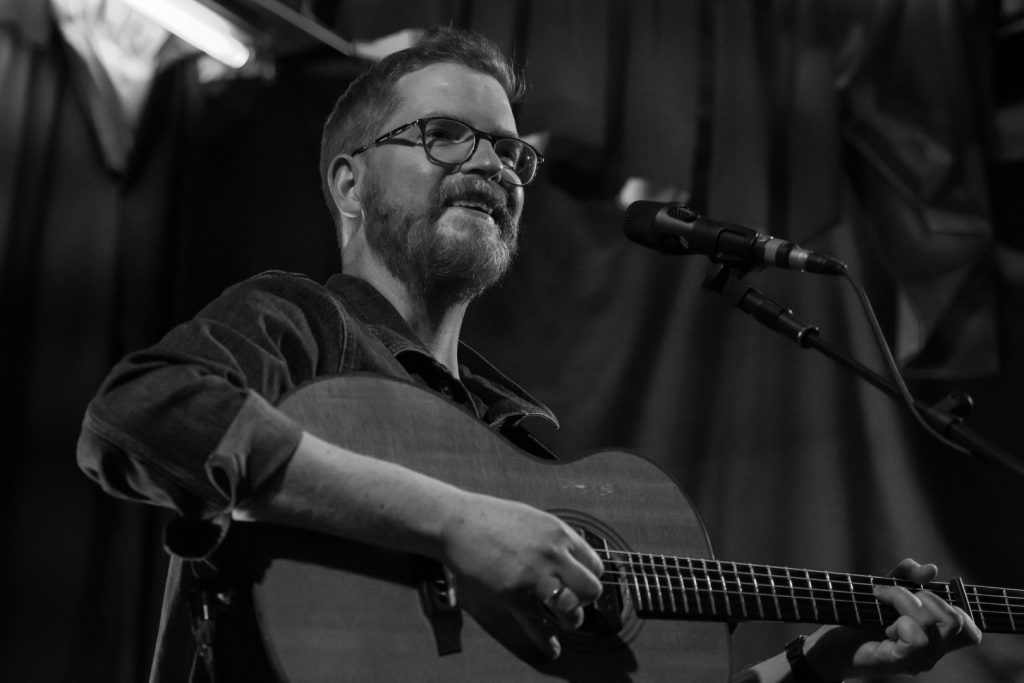 All too soon the show was coming to an end with 2 songs from HEADLONG, Joanna followed by Far Too Good, both songs are incredibly well written and have seriously addictive vocal and guitar hooks. Along with Save My Life (possibly the catchiest song for many a year, sadly not performed) from same album they all need health warnings that once heard they're going to echo around your head for days (or more).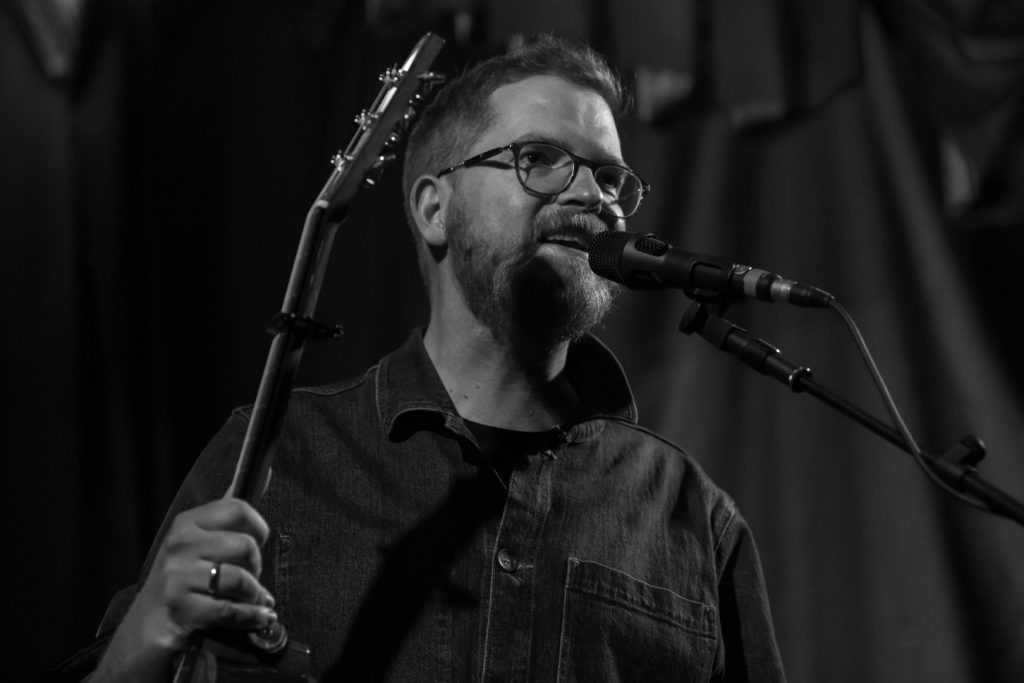 The encore paid homage to John's Brixham , Devon upbringing with another Lisa Hannigan co-write and performed song Salty and Sweet. The audience performed their vocal parts beautifully without being asked bringing a huge smile to John's face. It was easy to see that he really enjoyed the night. Let's not wait another 3 years for the next visit.