plus support Iona Lane
Thursday 8th June 2023
Review, photos and video by Keith Belcher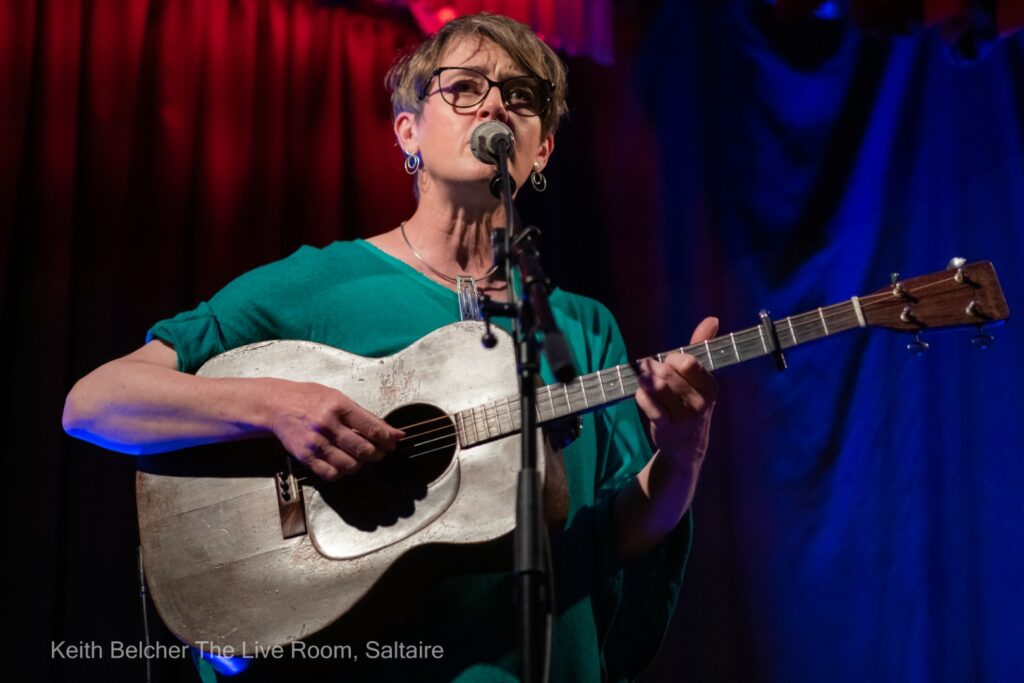 The second of three Scots performers in a row at TLR. A TLR debut appearance of Karine Polwart. By no means Karine's first appearance in Saltaire but a first for TLR . Judging from some of the comments I heard on the night, a first concert by Karine for many. By the feel of the comments she made a lot of new fans who will be very eager to see her again, eveything I overheard was very complimentary . Karine introduced Iona Lane who opened the show. Iona also acts as tour driver due to Karine's vertigo precluding Karine driving. Karine was introduced by Hilary and then went on to introduce Iona, joining Iona on stage to harmonise on Iona's final song 'Humankind'.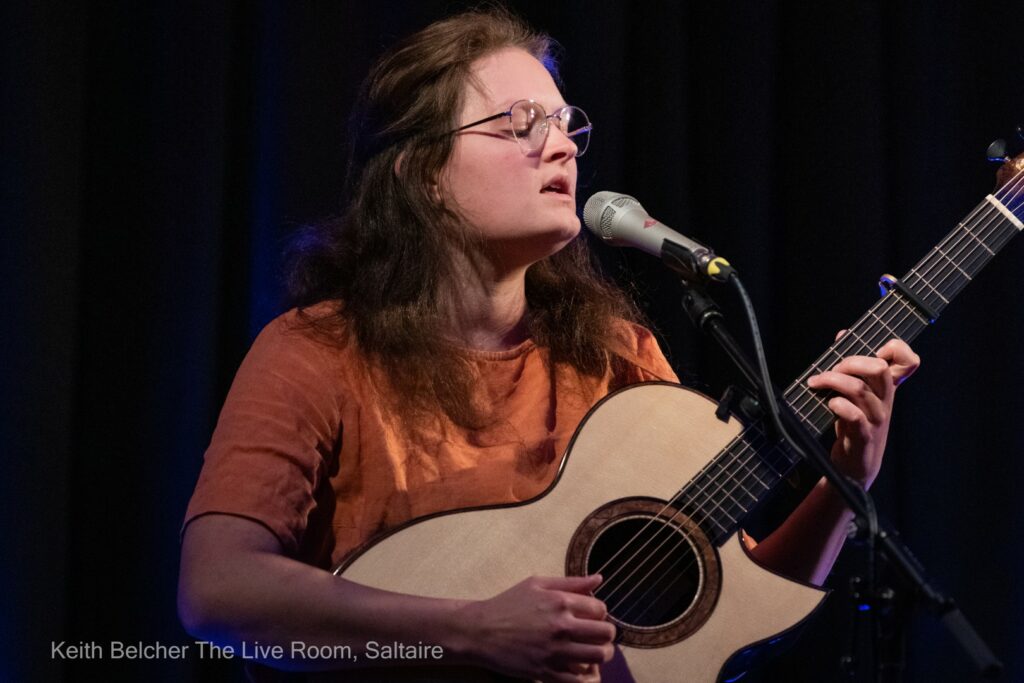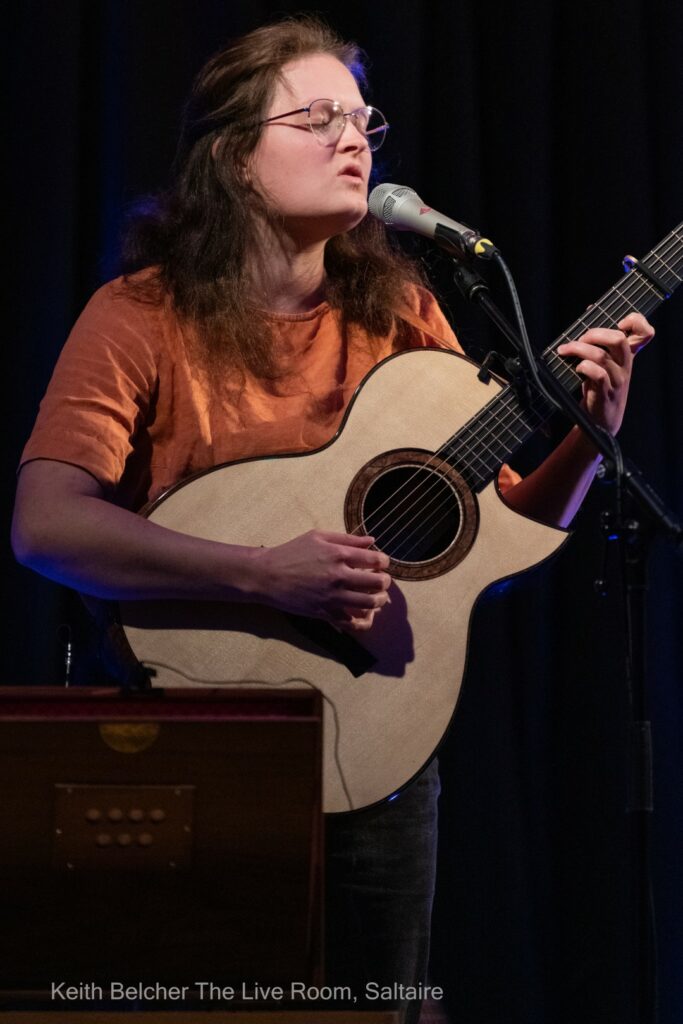 Karine then stayed on stage playing solo for the rest of the set. Those who know or have heard Karine's body of work will know of her huge interest in natute and natures folk lore, especially birds, and trees. Many other aspects of nature fascinate Karine and the show tonight was no exception.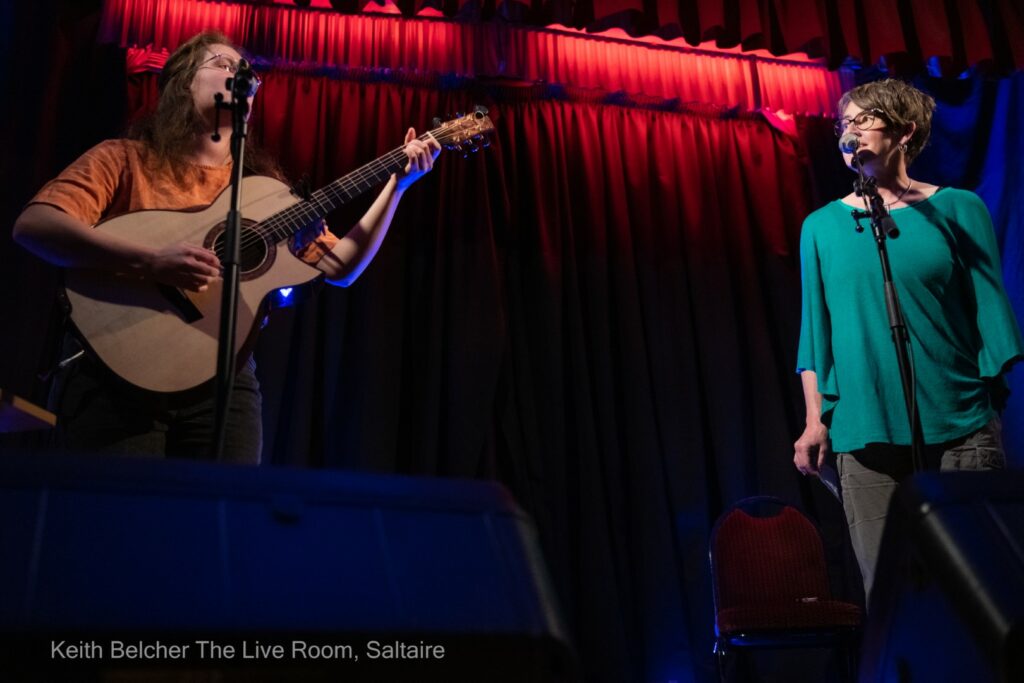 I should start by saying that I am a long time huge admirer of Karine and her many projects and collaborations so I am somewhat biased in any reviews I write. It had been a while since I last saw Karine. That being in January 2020 in Glasgow , just before you know what happened. That night Karine was taking part in Rollin' Roots Review 70th birthday tribute to the boss. Having seen that both Karine and Lisa Hannigan were taking part booking a ticket was a no brainer. Karine rocked out to The Ballad of Tom Joad and The Rising and Lisa featured Tougher than the Rest in her segment. Just sheer unexpected magic. But onto tonight at TLR.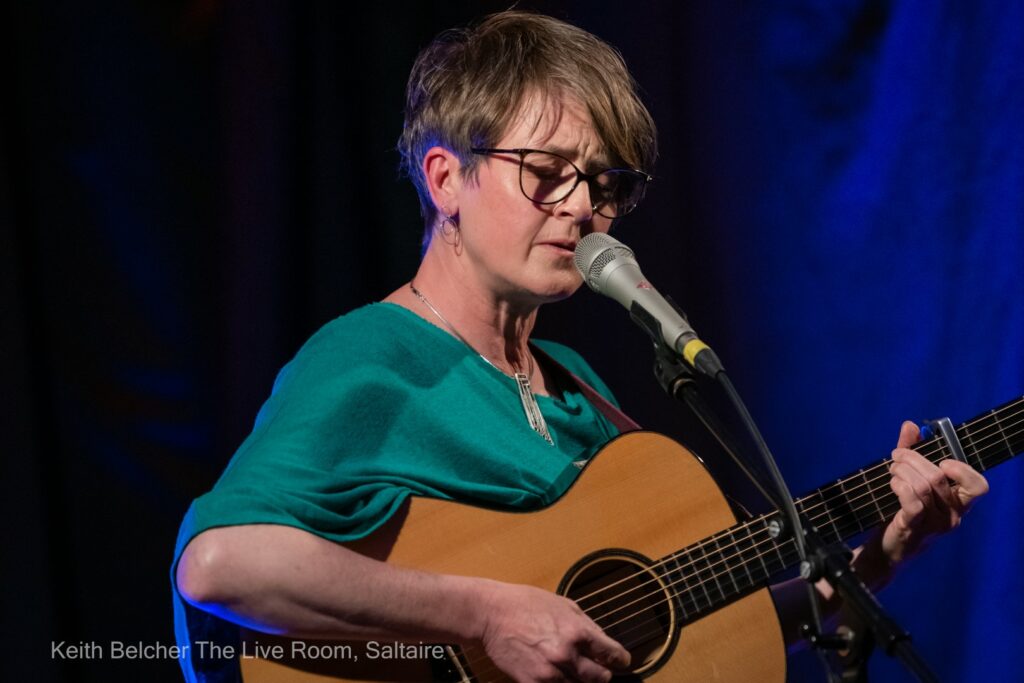 A feature of Karine's solo shows is that sometimes the intros are far longer than the actual songs themselves , tonight was no exception. If she's with brother Steven and multi instrumentalist Inge Thompson they sometimes restrain her dialogue. Not a problem for me as I love both the songs and Karine's distinctive Scots voice, both spoken and singing, also her unbridled enthusiasm for whatever Karine gets involved in.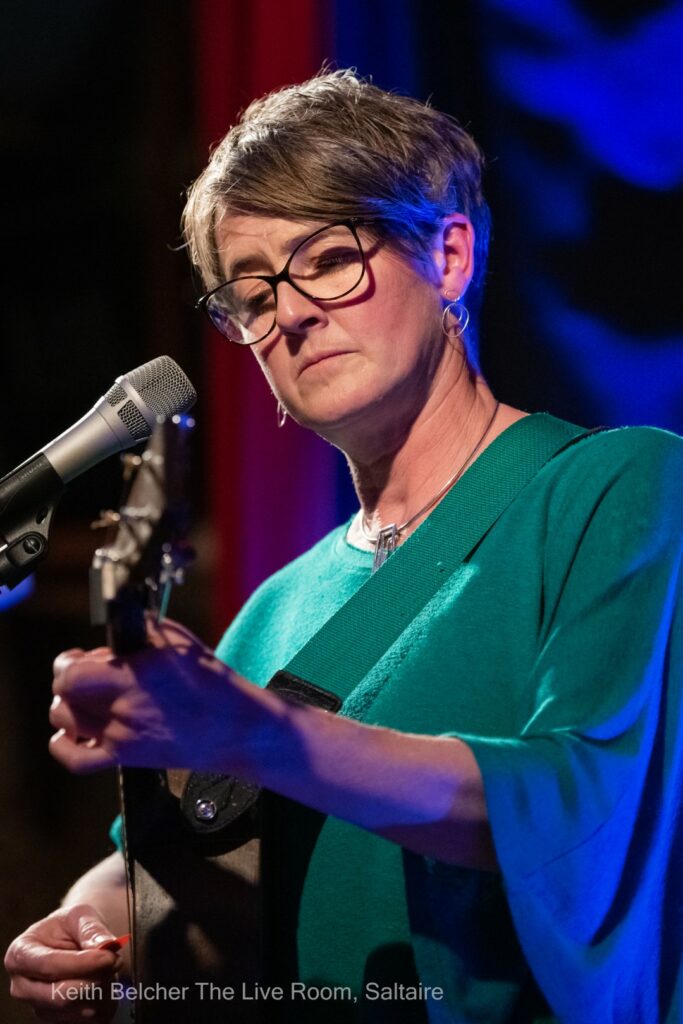 It's very easy to spot that Karine is fascinated by nature in all it's aspects especially birds and trees, nature pretty much ruled tonights shows. She even opened Celtic Connections in 2017 she showed the political side of her nature by portraying Donald Trump, as seen through the nature of the Isle of Lewis, in a song called 'I Burn But Am Not Consumed' (The McLeod family motto), a song telling of his mother Mary Anne MacLeod's emigration to America . A very powerful song well worth checking out if not already aware. Karine had been on stage to introduce opener and driver Iona Lane. Joining Iona for Iona's last song 'Humankind'.
Karine stayed on stage and opened her show proper with 'Rivers Run', a song written for her son (now 16) from This Earthly Spell (2008). The Live Room Choir was in good voice answering to the nany requests for them to join in with the show. As early as song 2 with 'Heartwood' from one of Karine's projects Spell Songs (2019). The first tree song of the night using the voice of an ancient tree addressing it's cutter. There was an as yet unrecorded song in set 1 based on a short poem by Charles Simic. Another song based on a poem by Robbie Burns (The Wrens Nest) called 'Come Away In' closed set 2 with the Choir in good voice. That one from the latest album Still As You're Sleeping (2021).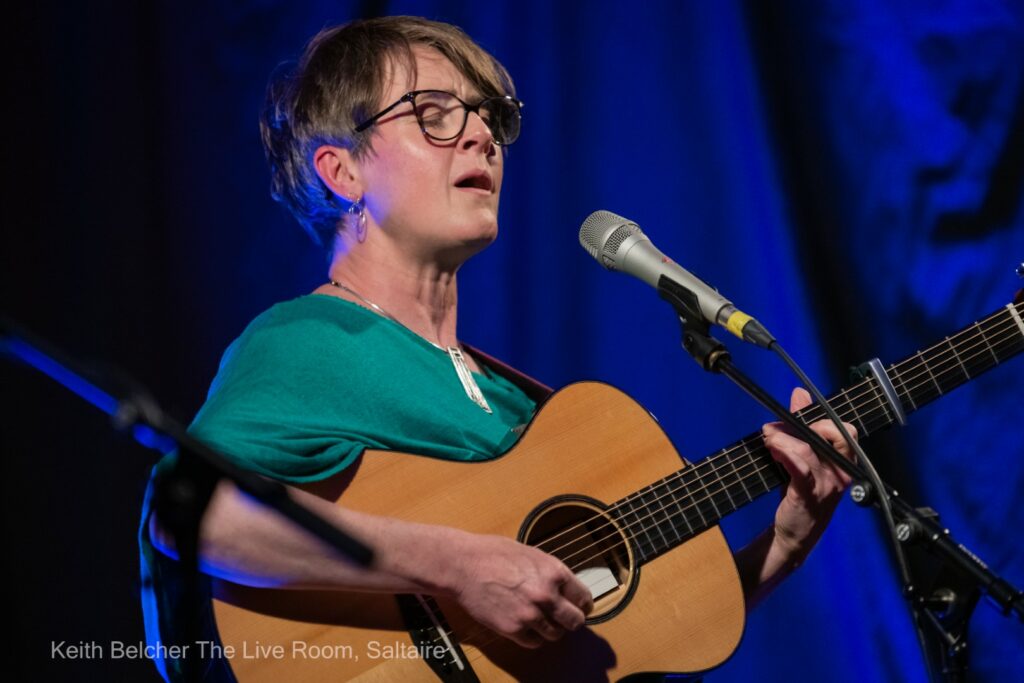 Set 2 opened with 'Terminal Star' from 2006's Scribbled In Chalk . 'Cornerstone' was next from Laws of Motion (2018), song to be used in a new BBC nature related documentary that Karine will feature in, something to look forward to there! More songs about birds with 'The Lark In Clear Air' from A Pocket Of Wind Resistance (2017). More sing alongs with a cover of Deacon Blue's 'Dignity' (Karine Polwart's Scottish Songbook , 2019) and 'Travel These Ways'. A beautiful and as far as I know unrecorded song 'Beechbrae', a 100 year old tree named Rebecca (you needed to be there for that intro) telling the story of it being attacked by a chain saw cutter (and surviving). This song inspired by a Forester friend of Karines.
All too soon we were at the end of the gig. Iona rejoined the stage and combined voices beautifully on 'The King of Birds' (Traces 2012). The final song was a delightful cover of Rachel Sermani's 'Lay My Heart' with a wonderful contribution from Iona and The Live Room Choir . I would imagine Rachel will be on Ron & Hilary's booking list before long. A truly wonderful night. It would be really nice to see Karine at TLR again.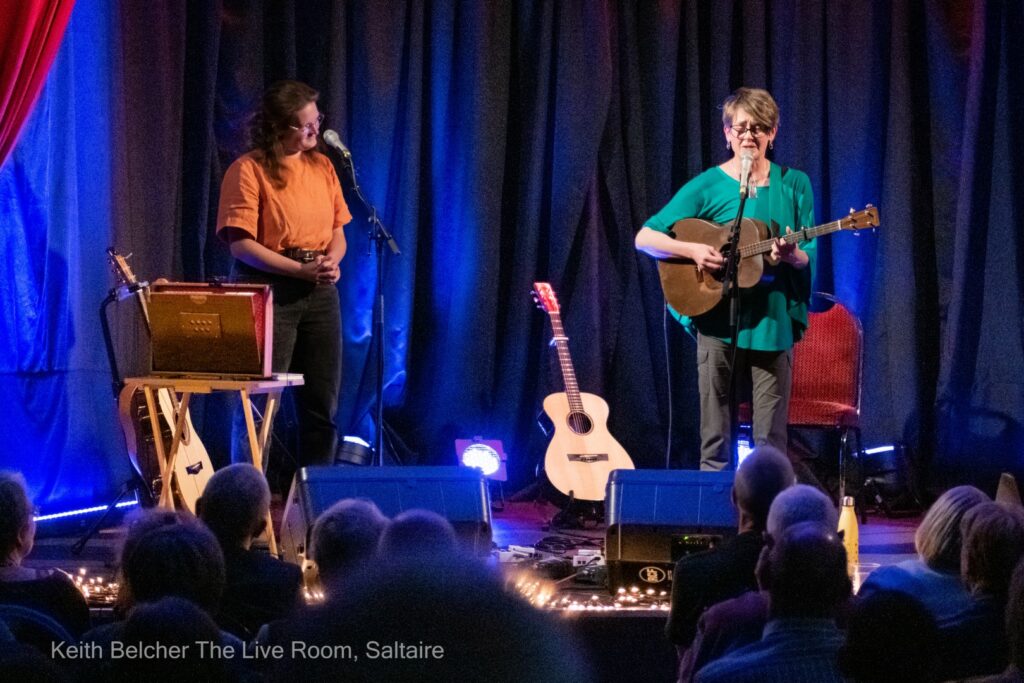 Videos
The Path That Winds Before Us; Cornerstone; and Rebecca
Call of the Curlew